Polk State Flight Team makes historic trip to nationals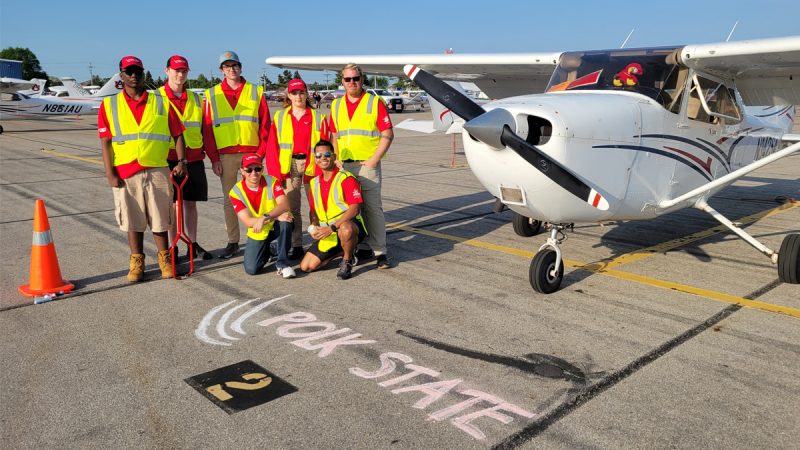 Polk State College's flight team made history this year with a trip to the National Intercollegiate Flying Association (NIFA) competition, but members and coaches believe this is just the beginning for the team.
Polk State clinched a berth in the nationals with a top-three finish at the NIFA Region IX Safety and Flight Evaluation Conference (SAFECON) competition in Lakeland in November. Fewer than 30 teams qualified for nationals.
"Seeing the Aerospace Program get some recognition outside the county was huge," said team member Michael Pavlik. "To be welcomed by some of our competitors like Auburn and Jacksonville University was really cool."
Polk State didn't score any points during the competition at Ohio State University, but there were some strong performances. Autumn Richarz posted two top-30 finishes, coming in 24th in instrument flight rules proficiency. She and teammate Ryan Main finished 30th in unlimited navigation. Adrian Quichocho finished 41st in preflight and 85th in short-field landings.
"It's neat to be part of this, especially with this program being relatively new compared to Embry-Riddle (Aeronautical University) and all the big-name schools," Quichocho said. "It was unique to be part of. One cool thing is that the people we competed against will be the same people we'll be working with in the cockpit at whatever airline we're with. Aviation is a pretty small community."
Polk State's flight team just completed its seventh year – all under volunteer coach Carl Valeri. In speaking with the team after their return home, Valeri could tell the experience was a good one.
"One of the things they loved was that all these people from all these different backgrounds – ex-military, civilians — and different colleges were there," he said. "They got to interact with some people from some very competitive teams and in the end, they realized they were just the same."
In addition to getting to compete at the highest level, the Polk State team also had the chance to interact with representatives from national airline companies.
"I know what that means to have being part of the flight team on their resumes," Valeri said. "I've had students interviewed and offered jobs at these competitions. People ask me why I do this and that's the reason. I encourage people to look into NIFA and see what it's all about. There's a really storied history in aviation."
In total, the Polk State flight team has 14 members. Nine went to the national competition in Columbus and eight competed.
"All of our members contributed (to getting to nationals) in some way," Pavlik said. "Whether it was competing or helping get sponsorships, everyone played a role."
With a smaller team, Polk State doesn't have the luxury of having pilots specialized in individual events, but it has made the group a close-knit one and afforded more hands-on learning.
"We're pretty close," Quichocho said. "This school is small, so we see each other every day. We all have our own ratings and we all work together and help each other."
Pavlik offered similar sentiments.
"I came in completely new," he said. "When I joined the flight team, it was through networking. I got to know people in the program and in the aviation world. We've all helped each other and built strong relationships. I'm confident that I've made some strong bonds that will last for a long time moving forward."
Pavlik said the College was instrumental in funding the trip while Atlantic Blue Capital and (former) Senator JD Alexander helped provide the plane for competition. Aviation Careers Podcast, Sunrise Aviation, Lakeland Linder International Airport, Gulf Coast Avionics, Double M Aviation, Law Offices of Robert Strumor, Powertreads, and Sheltair were among key sponsors for the season.
"Polk State really came through," Pavlik said. "Without Polk State and other donors, this wouldn't have happened."
Pavlik, 32, and Quichocho, 30, are wrapping up their careers as members of the flight team and moving on to professional careers. They reflected on the bright futures of their peers and Polk State's program.
"This team provided a lot of motivation," Quichocho said. "I'm excited for the future of the flight team and all the freshmen and sophomores coming back. We believed in ourselves and it's exciting to see what this team can do in the future. Nationals was a great experience and there's stuff they can build on for next year."
In addition to finishing in 30th with Richarz in unlimited navigation, Main finished 60th in computer accuracy. Landen MacFarland finished 54th in simulated comprehensive aircraft navigation while Chance Jaffray placed 87th in power-off landings. Isaac Castellanos finished 60th in aircraft recognition.
"I'm excited about the future of this team," said Valeri, who has been in aviation since 1989 and a commercial pilot since 2001. "We have a lot of excellent people on board. The most important thing this group has done is they've built a legacy. This is a student-led organization, and they have a lot of knowledge to pass on to the next group of students. Polk State is moving onto the national and international map as far as aerospace is concerned."
Polk State's Aerospace Program will hold an open house for prospective students on Thursday, June 9 from 6 p.m. to 8 p.m. To learn more about the Polk State flight team, visit its website at www.polkstateflightteam.com.