Polk State Fire Science Coordinator designs Florida Fallen Firefighter Memorial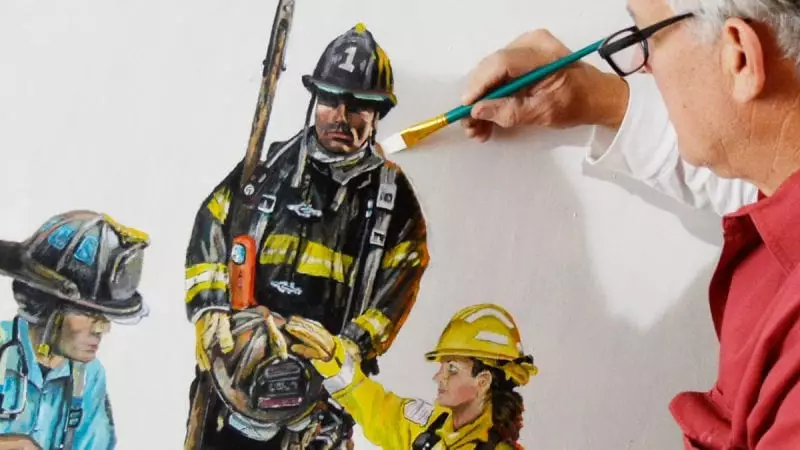 Jim Davis is well known for rigorously training highly-skilled professionals for central Florida fire departments, and that includes instilling in firefighters the importance of honor.
After 42 years in the fire service, 30 years as a part-time fire instructor at Ridge Technical College, and nearly a decade as a Polk State Fire Science Technology Coordinator, Davis continues to pass on his traits of respect and selflessness in addition to the technical skills individuals need to successfully protect the community.
It is this experience and collaboration with sculpture artist Michael Jernigan that inspired Davis' design for the recently unveiled Florida Fire Chiefs' Association's (FFCA) Fallen Firefighter Memorial on the grounds of the Florida Capitol in honor of 184 firefighters, emergency medical technicians, paramedics, and foresters who lost their lives in the line of duty.
"I looked around at the families, mothers, fathers, children, and women with newborn babies who will never meet their fathers," Davis said. "I shared with many of them that during this painting and design, I merely held a brush and received a few finger cramps. Their loved ones gave their lives and no monument or painting will ever heal the tremendous pain they feel."
"Hopefully this monument serves as a powerful reminder of those sacrifices and for us to never forget them," he added. "Hopefully this monument reminds us of the lessons learned so that other names will not become etched on this memorial."
The painting and design took Davis more than 400 hours to complete. The bronze statue created by Jernigan features a firefighter, an EMT/paramedic, and a forester in their respective gear with the names of those who had lost their lives in the line of duty in Florida at the time of its creation. Davis sadly noted that the number has since risen to 197, which may inspire another painting in their honor.
But Davis hasn't always been an artist. In fact, many of his former colleagues from the fire service were not aware of his hidden talent.
As a child, Davis had trouble with his hearing, short-term memory, and dyslexia, which teachers in grade school perceived as stubbornness and disobedience, he recalled. To avoid disruption, teachers put him in the worst place, the back of the classroom, where he couldn't hear or see the lessons. There, he would spend his school days drawing, but when his teachers discovered his "doodling," they "beat that out of me too," he said.
He continued to struggle through school without the support he needed to succeed academically or creatively. When he barely graduated high school, he answered a call for volunteer firefighters in Wauchula and followed in his brother's footsteps by enrolling at what was then Polk Junior College, still unsure of what he wanted to pursue as a career.
Polk State's founding president, Frederick T. Lenfestey, taught his psychology course and saw Davis struggling.
"Dr. Lenfestey told me to go to the library and research mnemonics. In just a few words, he became my mentor and put a rudder on my ship – he set me on a path for the rest of my life," he said. "From then forward, I dedicated myself to overcoming my challenges through mnemonics, remembering things by associating them with other things I already knew."
That ability aided him well – his grades jumped, learning became fun, and he achieved his Polk State Associate in Arts degree. Meanwhile, he was immersed in his volunteer job at the fire department, learning the history, dedication, and sacrifice of the fire service.
"I knew I wanted to be a part of that – a part of something bigger than myself," Davis said, "and now I had the tools to accomplish what I wanted to do."
He then became a full-time firefighter, receiving top marks on fire certification exams and achieving his Polk State Associate in Science in Fire Science. He went on to earn a bachelor's degree from Rollins College and a master's degree from the University of South Florida. He also enrolled in a doctoral program at the USF, which he was one course and a dissertation away from completing when he became the caretaker for his parents who suffered from cancer.
Davis served three fire departments during his career and ultimately became Winter Haven Fire Department's deputy chief.
But his interest in drawing as a child remained. Forty years later, he picked up a pencil and paintbrush, and his "doodles" turned into lithographs memorializing the service of first responders and members of the military, as well as the sacrifices of their families across the country. His paintings and prints are available online at inspirationpaintings.com, with proceeds funding travel for families of fallen heroes to attend memorial events.
"I never thought about the impact my paintings could have on people, but I am thankful for the ability to paint. I have never had a painting class, so I consider it a God-given talent," Davis said. "When the FFCA approached me about the memorial, I gave them the names of other artists I thought could do it better. But this has been one of my greatest honors and I hope the memorial educates the community on the importance of taking care of our firefighters."
Davis pointed to rising suicide rates, cancer, and preventable deaths among those in the fire service and public safety.
"My true passion is teaching and sharing with aspiring firefighters information that will save them in the line of duty. In 42 years, there were many times that could have resulted in me not being here today to hold my daughter," said Davis, who became a first-time father at 62. "My job, as an old firefighter, is to teach young firefighters how to become old firefighters, and I hope this memorial illustrates the importance of providing support for our first responders."