Polk State Environmental Science Students Learn — and Teach — During Project at Crooked Lake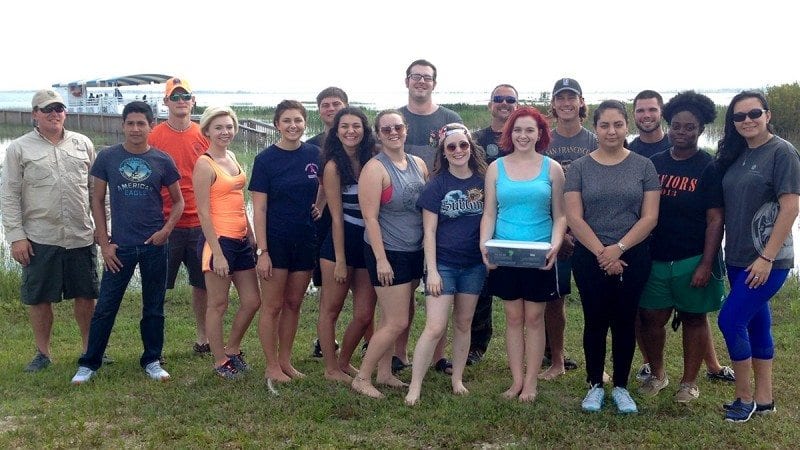 If you didn't know any better, you would have thought the group of students who recently boarded a boat on Crooked Lake were just having a fun afternoon on the water.
How wrong you would have been.
This month, 17 students studying environmental science at Polk State College have been traveling to Bok Academy in Lake Wales to take part in a community-based learning project that involves elementary and middle school students and biologists from the Florida Fish and Wildlife Conservation Commission.
"The students involved in this project are all learning about water quality, the importance of the Floridan aquifer, and how the surface water quality of our lakes impacts overall lake quality — but they're studying at different levels," said Polk State Earth Science Professor Natalie Whitcomb. "By bringing the students together, they learn from one another, and then by bringing in the Fish and Wildlife Conservation Commission, they gain a real-world perspective."
The Polk State Introduction to Environmental Science students, as well as their younger counterparts from Bok Academy and Janie Howard Wilson Elementary School, have taken water quality samples while aboard Bok Academy's floating classroom. They've performed shoreside experiments to better understand sinkhole formation and other water-related topics. They've learned about the fish that inhabit Crooked Lake. They've collaborated on a video that will share their lessons with students in England. They've learned about how people's actions on land affect lakes.
And just as Whitcomb and her colleagues intended, the students have learned much more than they would have from a textbook.
"We've been able to teach the younger students, which has really reiterated what we've learned in class," said Merissa Parker, a Lake Wales High School junior who is dual-enrolled at Polk State.
"By teaching them, I've learned more myself."
Parker added that she wants to study elementary education. Teaching her younger counterparts has given her a bit of practical experience as well.
Parker and classmate Barbie Crumpler, a senior at Lake Wales High, agreed that they've served as role models for the elementary and middle school students, showing them that it's possible to be a college student — even while still in high school.
"They've asked us about what you have to do to get into college, what college is like," Parker said. "Some of these kids may not have family members who have been to college."
Sharon Kochanowski, science lab and resource teacher at Janie Howard Wilson, agreed that her students have benefitted from learning alongside college students.
"At the elementary school level, we're not going to get into as much detail as you would at the college level," she said. "Through this project, I've expanded my own knowledge, and I think that has been the same for the students as well. "
Bok Academy science teacher Lita O'Neill added:
"I think, for the younger students, it's a neat thing to realize that older people are learning about the same things they are. It makes what they are learning more meaningful," she said.
Florida Fish and Wildlife Conservation Commission Fisheries Biologist Paul Thomas attended one of the recent sessions on Crooked Lake. He and his colleague Lee Grove collected fish from the lake to discuss with the students aboard the floating classroom. He said he hoped to teach the students how to apply what they've learned to their everyday lives.
"I hope they gain a greater appreciation for the environment and that it sparks their interest in careers," he said. "This is a very rewarding profession."
Whitcomb frequently makes the outdoors her classroom. In 2014, the College received Polk Vision's Livable Polk Trendsetter Award for Whitcomb's ongoing rain garden project. For the last several years, Whitcomb has had students plant rain gardens on the Winter Haven campus to learn about the effects of urbanization on the natural environment and Florida-friendly landscaping.