Polk State English Department announces major-specific Composition courses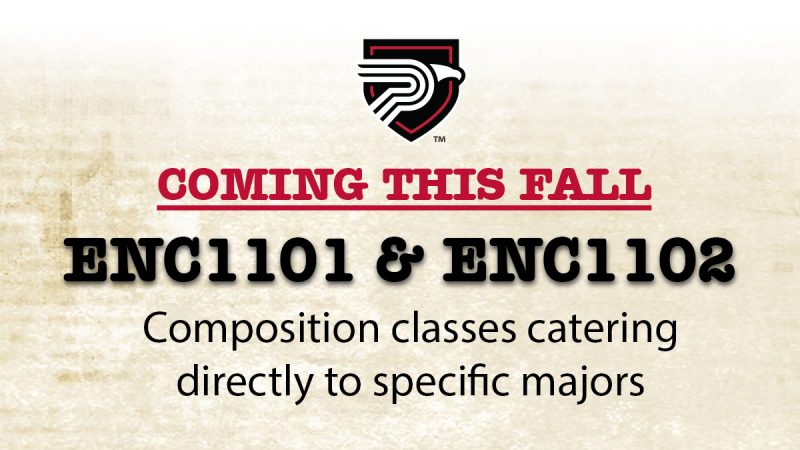 English composition is a required course for any Polk State College student looking for an Associate in Arts or bachelor's degree. The English Department, however, is taking a more targeted approach based on students' fields of study.
Beginning in the fall, the department will be offering Composition I and II (ENC1101 and ENC1102) for students with five select majors: business, education, nursing, occupational therapy assistant (OTA), and psychology. The courses will prepare the students to write for their chosen careers. Students who have declared one of the five majors and who are interested in enrolling in a major-specific English course can search for the section number in Passport to register.
| Major | Professor | Days | Time | Location | Section |
| --- | --- | --- | --- | --- | --- |
| Business | Rebecka Ramos | Tuesday and Thursday | 12-1:15 p.m. | Live via Zoom | 104379 |
| Education | Carol Martinson | Monday and Wednesday | 1:30-2:45 p.m. | Lakeland | 103679 |
| Nursing | HD Childree | Tuesday and Thursday | 9-10:15 a.m. | Lakeland | 103265 |
| OTA | Sherry Siler | Student's pace | Student's pace | Online | 1102979 |
| Psychology | Rebecka Ramos | Tuesday and Thursday | 10:30-11:45 a.m. | Live via Zoom | 102580 |
"Gateway courses like Comp I have high dropout rates," said Rebecka Ramos, Professor of English. "One reason is that students just don't see the value in it. Research shows us that the sooner students can get connected to their career, the more likely they are to stay in college."
The classes are part of Polk State's Pathways model, which provides step-by-step directions and program maps for obtaining specific degrees.
"It is an awesome opportunity for students to apply an English/literary lens to their selected pathway," said Larry Pakowski, Associate Vice President for Student Services. "Often times, students will connect more richly with a subject matter that aligns with their specific interests, passions, and goals."
Ramos said the idea originated during Polk State's Professional Development Day in April. More than 20 English Department professors gathered for a "listening tour" when Sherry Siler, also a Professor of English, expressed the idea. Ramos said the group embraced the concept.
"One of the reasons I think we have so much support is because there aren't a lot of institutions focusing on composition for career paths," Ramos explained. "Not many institutions are catering to the students' needs in this area. For the entire department to agree on something like this, it's a big deal."
Whereas most composition courses are taught in Modern Language Association (MLA) instruction, usually reserved for arts and humanities, the cohorts will be taught in American Psychological Association (APA). That format is more commonly found in technical works for the social sciences.
"Business majors may not need to be able to write an essay, but they'll need to know how to write a business composition," Ramos said. "We'll be working closely with the department directors to make sure the curriculum is consistent with that major."
The five majors selected are among the most common for Polk State students. Only one course for each of the five majors will be offered in the fall but Ramos hopes that will grow. She also expects that the English Department's targeted approach will eventually be available for more majors.
"We're paying close attention to see which cohorts are in high demand," she said. "As we get more professors, we'd love to see more cohorts."
Although it will be the English Department instructing the courses, Ramos said the success of the cohort will be a collaborative effort.
"The most important thing is that this isn't a standalone initiative," she said. "It's part of our department's strategic plan, but we're relying on Student Services, our program directors, our (Quality Enhancement Plan), and so on. We've been working with the students in mind to get them what they need to be successful."