Polk State ELITE Program Awards First Legacy Scholarship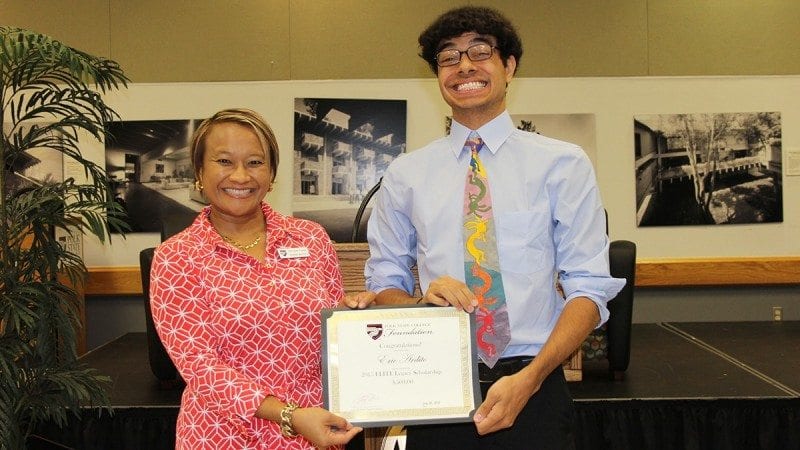 Polk State's ELITE Educational Leadership Enhancement Program has awarded its first scholarship to student Eric Ardito, who described the award as "humbling" and "an honor."
Ardito, 20, a resident of Winter Haven who is pursuing his Associate in Arts degree, received the ELITE Legacy Scholarship during ELITE's Third Annual Ambassadors Luncheon on Friday at the Winter Haven campus.
"It's very significant to be the first in anything," said Ardito, who is studying public relations and psychology.
"Polk State has helped me grow as a person and encouraged me to take a leadership position. That this scholarship was awarded by leaders at the College carries special significance for me."
The ELITE (Exceptional Leaders with Innovative Talents & Excellence) Educational Leadership Program, now in its ninth year, provides professional development and leadership opportunities to mid-level minority and female employees.
Each year, ELITE assembles a new class of participants, or "ambassadors" as they are known on campus. During the 11-month ELITE experience, participants read and discuss books about leadership, meet regularly with mentors from the College's administration, attend conferences, and develop project proposals. The experience culminates with the annual Ambassadors Luncheon.
In 2014, ELITE Class VII established the ELITE  Legacy Scholarship to recognize students who have demonstrated leadership potential, service to the community, and commitment to professional development. Recipients are selected based on their resumes, essays on leadership, and letters of support from ELITE Ambassadors.
ELITE Class VII Ambassador Orathai Northern, an English professor, presented the scholarship to Ardito at the luncheon.
Ardito is president of Polk State Winter Haven's Student Activities Board, which plans campus events and activities, and is also a student-worker for the Winter Haven Student and Activities Leadership Office (SALO).
After he graduates from Polk State in 2016, Ardito plans to continue his education at the University of Florida or the University of Nevada, Las Vegas. Ultimately, he would like to work in student life.
The $500 ELITE Legacy Scholarship, he said, gets him one step closer to his goals.
"This is going to help me continue my education, which will give me the ability to help others," he said.
"Polk has opened so many doors for me, and this scholarship is just another example. People say Polk State is a second chance. I would have to agree with that."
Friday's luncheon celebrated members of ELITE Class Class VIII, including: Osubi Craig, director of the Polk State Lake Wales Arts Center, Marguerite Maxwell-Terrell, reading professor, Tania Ortega, college and career advisor, Kimberly Pearsall, academic success counselor, and Allison Walker, coordinator of student activities and leadership.
ELITE plans to award scholarships annually. To donate, visit https://secure.qgiv.com/for/pscfd/restriction/ELITEScholarship/.
Donations may also be made through the Cashier's Offices at the Lakeland or Winter Haven campuses; specify FD account F3738. Donations may also be mailed to the Polk State College Foundation, 999 Ave. H N.E., Winter Haven, FL, 33881. Write "F3738" in the check memo line.