Polk State Eagle Flies West – Way West
He may not have made any Best Dressed lists, but OCPA's David Steele was recently spotted wearing a tux and a Polk State cap at the 54th Annual GRAMMY Awards at the STAPLES Center in Los Angeles.
In the photo below, he is showing off his headgear as Paul McCartney, Bruce Springsteen and other legendary guitarists perform on stage in the evening's dramatic finale. Note: the hat Steele is sporting in this photo is available at both Polk State campus bookstores — not the exact Grammy-worn hat, but one just like it.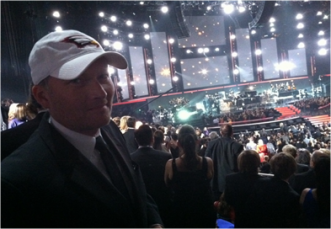 Also during his trip to California, Steele sported a long-sleeved Polk State T-shirt on Venice Beach. Yep, that's the Pacific Ocean in the background. To our knowledge, this is the farthest west the Polk State Eagle has flown. (The shirt is also available in the campus bookstores.)