Polk State District Board of Trustees, Community Members, Faculty, Staff and Students Honor Dr. Eileen Holden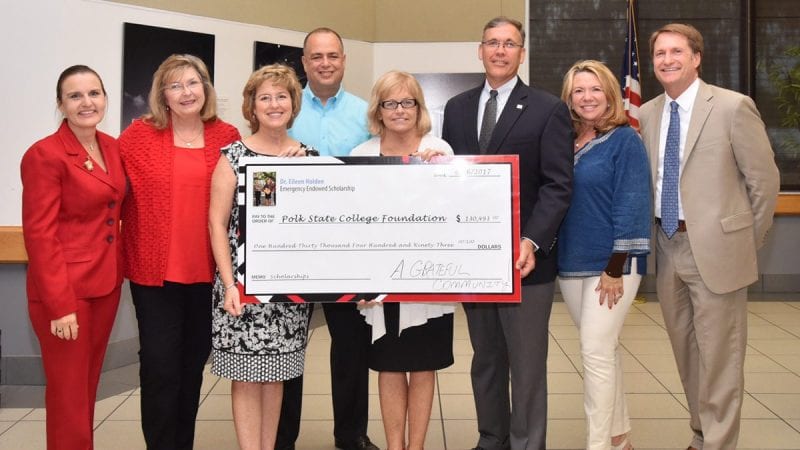 During the June Polk State College District Board of Trustees (DBOT) meeting, the Trustees completed a major feat— surprising retiring President Eileen Holden.
In honor of Dr. Holden's eleven and a half years of service to the College and with more than 100 community leaders, staff, faculty, and students in attendance, the Trustees and Polk State College Foundation presented Dr. Holden with a most unexpected gift – a check representing contributions made to the Dr. Eileen Holden Emergency Endowed Scholarship Fund. Foundation Chair-Elect Bonnie Parker presented Dr. Holden with a check in the amount of $130,493. This impressive dollar figure represented community contributions made to date to the scholarship fund named for Polk's fourth College President.
Parker noted, "This contribution signifies what you have meant to all of us in Polk County and to Polk State College. We knew that the best way we could honor you was to support the students. For you, it's always been about the students."
The purpose of this fund is particularly important to Dr. Holden. Emergency Scholarships, serving more than 100 students annually, are awarded to students needing tuition assistance or textbook funds. Often, without these funds, students will "stop out" of school which delays the completion of their degree.
The surprises, however, did not end there.
Following the check presentation, DBOT Chairman, Greg Littleton, read a resolution and asked for a Board vote. The resolution conferred the honorary title of Polk State College President Emerita to Eileen Holden in recognition of "the dedication, tireless efforts and outstanding leadership provided to Polk State College during her tenure as President." With a unanimous vote, the DBOT formally adopted the resolution.
"It has been the greatest honor of my life to serve as president of Polk State College," Holden said. "There are no words to express my deepest gratitude to the Trustees, faculty, staff, and students, for providing me with the opportunity to lead this amazing institution."
Dr. Holden will officially retire on July 31. Her successor, Dr. Angela Garcia Falconetti, begins her term on July 17.
For more information or  to contribute to the fund, please visit the Dr. Eileen Holden Emergency Endowed Scholarship Fund.