Polk State District Board of Trustees names leadership for 2022-2023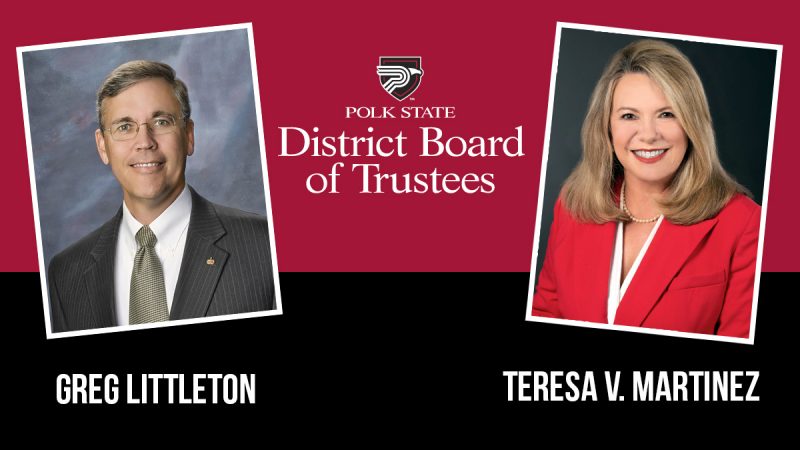 Polk State College's District Board of Trustees (DBOT) elected Greg Littleton as Chair and Teresa V. Martinez as Vice Chair for the 2022-2023 Academic Year on Monday during the DBOT's annual reorganization meeting.
The role of Chair was previously filled by Ashley Bell Barnett and the role of Vice Chair was filled by Littleton. The Board also includes Cindy Hartley Ross. Dan Dorrell, who has served on the Board since 2011, announced his retirement on Monday.
"Our District Board of Trustees is a champion of quality higher education and workforce training for Polk County. I am thankful to Immediate Past Chair Bell Barnett for her hard work, support, and advocacy as we navigated the 2022 Legislative Session which resulted in historic appropriations for our College," Polk State President Angela Garcia Falconetti said. "The future of our institution is bright under the leadership of our Board, and I look forward to working closely with Chair Littleton, Vice Chair Martinez, and the Trustees as we secure even more opportunities for our students in the year to come."
Littleton, a Polk State Distinguished Alumnus who graduated in 1987, has served the Board since 2007, including previous terms as Chair and Vice Chair. The Polk County native is President and Chief Executive Officer of Citizens Bank & Trust. In addition to his Polk State Associate in Arts degree, Littleton holds a bachelor's degree from Freed-Hardeman University and attended the Graduate School of Banking at Louisiana State University.
His leadership has spanned the Polk County community, including service to the Central Florida Development Council, United Way of Central Florida, Greater Winter Haven Chamber of Commerce, Polk Museum of Art, Polk Vision, Lake Wales Arts Center, Lake Wales Chamber of Commerce, and the Florida Bankers Association Board.
"As a graduate of Polk State and member of the District Board of Trustees, our College is near and dear to my heart," Littleton said. "My family and I have experienced the transformational impact of a Polk State education firsthand, and my service to the Board is dedicated to providing that life-transforming opportunity to others for the betterment of our Polk County community."
Martinez, a Polk State Distinguished Alumna who graduated in 1975, has served the Board since 2009, including previous terms as Chair and Vice Chair. She is a Cuban exile who enrolled at what was then Polk Junior College shortly after arriving in the U.S. She is the founder and President of the Institute of Spanish Communications, Inc., and serves as Publisher of ¡Viva Polk! Magazine. Martinez was formally a Spanish teacher at Lakeland High School and an international interpreter for the Miss Universe pageant.
She has served on the boards of the Lakeland Area Chamber of Commerce, the Central Florida Speech and Hearing Center, the Imperial Symphony Orchestra, Club Hispano de Lakeland, Heart of Florida Regional Medical Center, and Polk Vision, and is a graduate of Leadership Lakeland and Leadership Polk.
"It is an honor to serve Polk County's largest higher education institution and I am proud to be part of the Polk State family," Martinez said. "I will continue to work with the District Board of Trustees and President Falconetti to open doors of opportunity for our students and the residents of Polk County."
Dorrell, a member of the College's first graduating class, announced his retirement after 11 years of service to the Board.
In addition to his Polk State Associate in Arts degree, he holds a bachelor's degree from Florida State University and is a veteran of the Florida National Guard. He is also a retired certified public accountant. His community involvement has spanned many organizations, including the Sebring Chamber of Commerce, the Sebring Utilities Commission, the Highlands County YMCA, and alumni associations for both Florida State University and Polk State College.
"Trustee Dorrell will be missed, however, his lifelong service to Polk State will always remain through the growth and success our College has experienced as a result of his leadership and support," Falconetti shared. "The entire District Board of Trustees is comprised of members with genuine hearts for Polk State College and the greater Polk County community. I could not be more grateful."