Polk State District Board of Trustees Chair Teresa Martinez named Lakeland CityMaker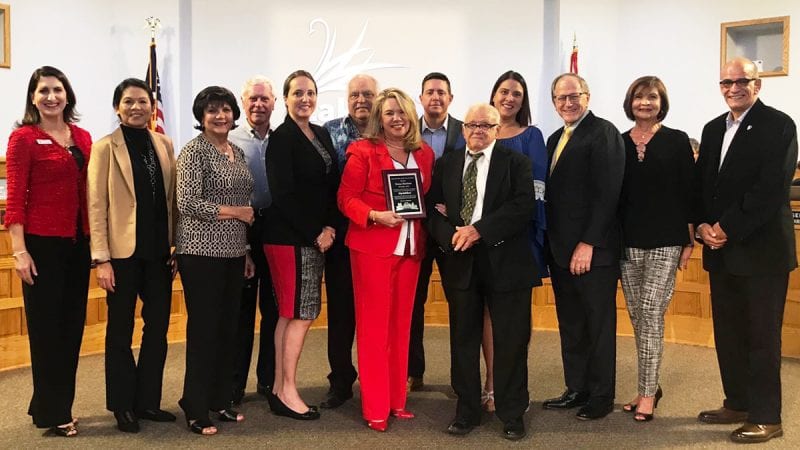 Teresa Martinez, Chair of the Polk State College District Board of Trustees, is Lakeland's November 2019 CityMaker, recognized for her dedication to serving the city and her ability to connect Polk County to the global community.
Martinez, who has served on the Board since 2009, was recognized during Monday's Lakeland City Commission meeting.
"A champion of the Hispanic community, our November 2019 Lakeland CityMaker is proud to call this city of ours home," the City of Lakeland highlights. "In sharing her talents and expertise with the businesses and individuals that need her help the most, she's connecting our community with the world at large."
Martinez, a Polk State Distinguished Alumna and native of Cuba, is the founder and President of the Institute of Spanish Communications, Inc., serves as Editor-in-Chief of ¡Viva Polk! magazine, and hosts radio show Hablemos on WQXM (99.9 FM, 1460 AM). She also is the author of "Success in Exile – Five Decades of Cuban Stories," in which she details the lives of Cuban families and their struggles fleeing the island.
Martinez's own story is one of inspiration. She exiled from Cuba to the United States in 1970. She has been part of the Polk State family since 1973 when she enrolled at what was then Polk Junior College. She was one of few Hispanic students but recalls faculty and staff making her feel welcome and giving her the tools she needed to create a better life for herself.
Today, Polk State's student population is 24 percent Hispanic and the College is working diligently to become a designated Hispanic Serving Institution under Martinez's leadership. To become a Hispanic Serving Institution, a college's enrollment must be at least 25 percent. The national designation would make all Polk State students eligible for federal grants that assist first-generation and low-income students.
"Chair Martinez continues to serve in the best interest of Polk State's students and I could not be more grateful for her leadership both at the College and throughout the greater community," Polk State President Angela Garcia Falconetti said. "It is evident through her service and dedication that she loves Lakeland, Polk County, and our College unconditionally."