Polk State District Board of Trustees and President advocate for College in D.C.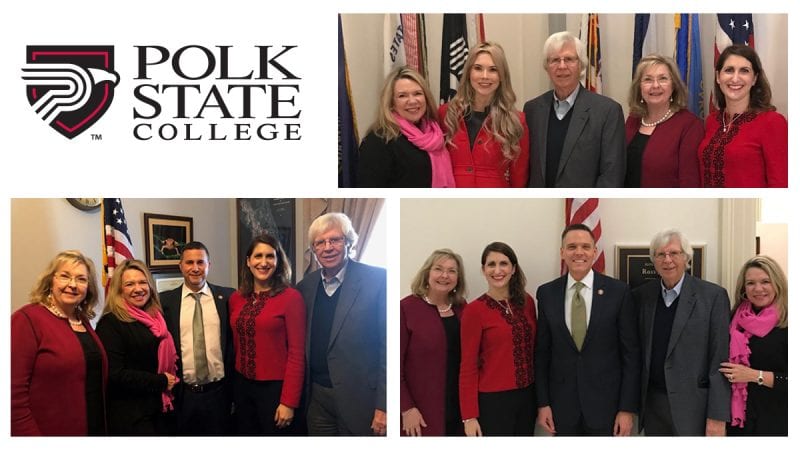 The Polk State College District Board of Trustees and President Angela Garcia Falconetti recently advocated for national, state, local, and College legislative priorities in Washington, D.C., during the Association of Community College Trustees (ACCT) National Legislative Summit.
Chair Dan Dorrell, Vice Chair Teresa Martinez, Trustee Cindy Hartley Ross, Trustee Ashley Bell Barnett, and Falconetti met with U.S. Representative Darren Soto and U.S. Representative Rick Spano, in addition to participating in professional development sessions that focused on investing in education and workforce development.
"Our Trustees are instrumental in effectively advocating at the national level for the advancement of community and state colleges while sharing the positive impact of Polk State on the growth of our community," Falconetti said. "The support Polk State receives from its District Board of Trustees is unparalleled and I could not be more honored to work with our dedicated members toward success for all students."
While in the nation's capital, Falconetti and the Trustees shared Polk State's priorities for the 2019 Legislative Session with local members of the U.S. Congress.
The College is advocating for:
$2.5 million in recurrent operational funding to enable the College to reduce its advisor-to-student ratio, to support the Pathways Initiative, and to increase safety and security through the addition of law enforcement officers across campuses and centers.
$16.27 million in Public Education Capital Outlay (PECO) funding to complete the renovation of a 67,000-square-foot academic and workforce classroom facility on the Winter Haven Campus.
$2.23 million in PECO funding to address College-wide safety and security measures through enhancements to existing surveillance, mass communication, and target-hardening systems.
Maintenance of the current legislatively mandated performance measures and metrics.
The National Legislative Summit allowed Trustees and Falconetti to further learn how the College's priorities align with those of the American Association of Community Colleges'.
"Our national priorities align with our College priorities by focusing on student success, completion, and workforce and economic development," Chair Dorrell said. "This reassures us that we have our finger on the pulse of what our students need, and we will advocate at every level to ensure student success."