Polk State Corporate College Advisory Board Members Visit Clear Springs Site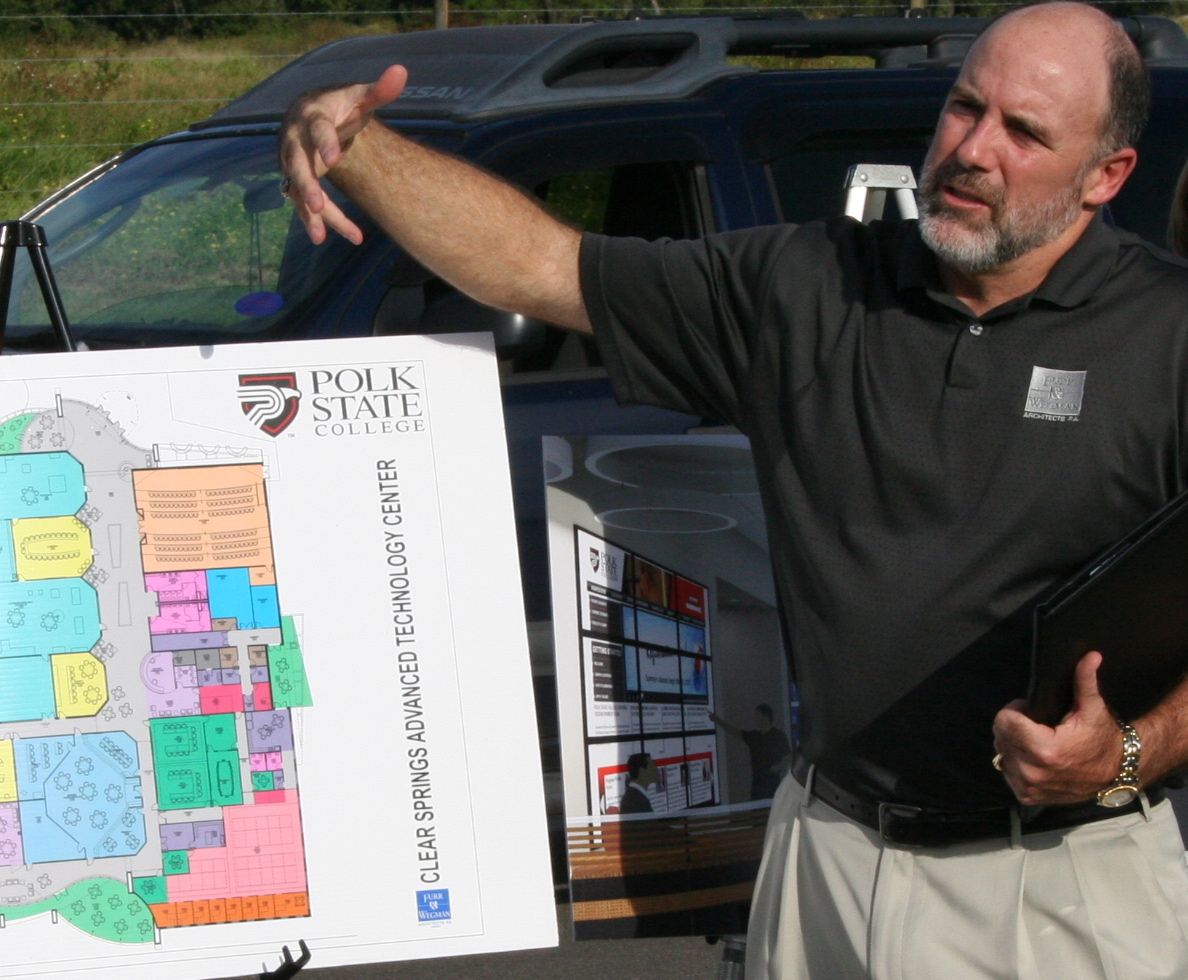 Members of the Polk State Corporate College Advisory Board traveled to the Bartow site of the Polk State Clear Springs Advanced Technology Center on Oct. 2, where they got a firsthand update on the project many describe as a "jewel."
The group of about 50, including members of the Advisory Board and other representatives from the College, gathered at the intersection of Technology Drive and Venture Bend, just southwest of the 20-acre site that has been cleared for the Polk State Clear Springs Advanced Technology Center.
Infrastructure has been installed and vertical construction will begin soon. As the building takes shape, it will become a marvel of design and technology, Phil Wegman, architect with Furr & Wegman, told the crowd.
"It's going to be the jewel of Polk State College," he said.
Using a series of easel-supported poster boards, Wegman described the look and layout of the more than 40,000-square-foot building. The contractor on the project is Rodda Construction.
The exterior will incorporate the College's color scheme and will make extensive use of metals to give the building a glimmering, high-tech feel. The interior will be strikingly bold and modern, and will be outfitted with, appropriately enough, the most advanced technology around. Examples include a touchscreen that will display a floor plan of the building as well as nearby sites; a warehouse simulator; and labs for training in robotics, biofuels and sustainability.
Doug Connor, vice president of development for Clear Springs, said the Polk State Clear Springs Advanced Technology Center will be the "crown jewel" of the Clear Springs project.
"The corporate park is being designed around this 20 acres," he said.
Housed inside the structure, scheduled to open in early 2014, will be Polk State Corporate College's Advanced Manufacturing Institute, Design Construction and Sustainability Institute, Information Technology Institute, Supply Chain Management Institute, and Workforce Safety Institute; as well as high-tech degree programs including Engineering Technology, Supply Chain Management and Computer Network Technology.
Polk State Corporate College Director Rob Clancey said the site will be an ideal facility for the College's advanced manufacturing training initiatives. The College has recently received millions of dollars in grant money to create new training options for manufacturing workers, allowing them to quickly learn the skills that are increasingly in demand by employers.
The topic was of particular interest for Doug Wimberly, president of ButterKrust Bakery. In an industry where "mixers are run by computers and robots move pans," his business, like manufacturing options across the nation, struggle to find workers with the skills they need.
"The key words I heard today are 'Supply Chain Management,' 'IT' and 'robotics,'" he said. "Those are all buzz words in manufacturing right now and it's going to be exciting to have a facility like this so close to us."
Clancey also discussed that the College is targeting veterans with its manufacturing training initiatives, a point that caught the attention of Cyndi Jantomaso, deputy director of the Haines City Economic Development Council.
"That is my mission also when I'm looking at industries to bring into Haines City. It's very near and dear to my heart," she said.
The Polk State Clear Springs Advanced Technology Center is possible thanks to the donation of $12 million and 20 acre to Polk State from Clear Springs, led by owner and chairman Stan Phelps. Clear Springs' gift is the largest single donation in the history of Florida's state and community colleges.
The Polk State Corporate College was formed in 2002. Through workforce training provided by its various institutes, it supports existing industries in Polk County and attracts companies to the area.