Experience, Hard Work Helped Eagle Land Capitol Internship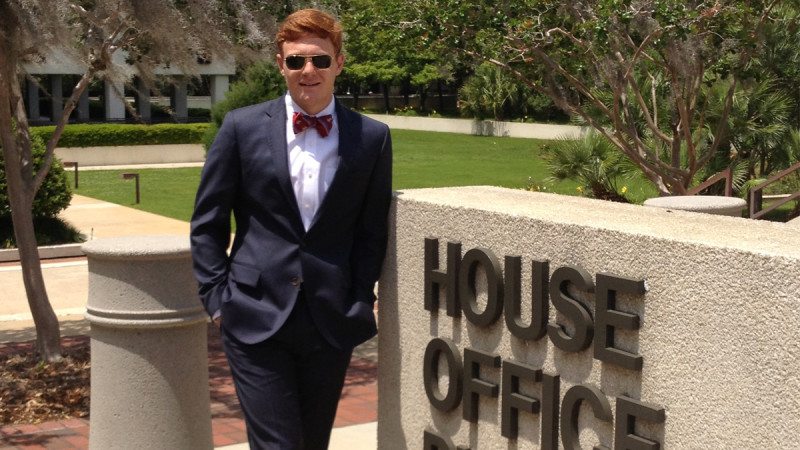 Polk State student Alexander Price is in the final days of a life-changing internship at the state Capitol, working in the office of Rep. John Wood.
Price, 20, graduated with his Associate in Arts from Polk State in fall 2012.
While completing his AA at Polk, Price started the College's Republican Club and volunteered for Wood's re-election campaign; Wood was elected to his third term in November.
Price parlayed his election work into an internship for Wood this spring, during the 2013 session of the Florida Legislature.
In the two months since, Price said he's learned invaluable first-hand lessons about politics — and himself.
"Being here is just a totally different playing field. I've learned about the ways committees work, how bills are written. I've just gotten a great overview of state politics and it's opened my eyes a lot," he said.
Price's internship has included a host of activities, from assisting with communications to sitting in on meetings with lobbyists.
Among the most interesting things he's learned, he said, is how critical it is for a bill to progress simultaneously through the House and Senate.
"You have to have an identical bill go through the House and Senate at exactly the same time so that it ends up on the governor's desk," Price said. "The most minute things can alter which side's bill goes through at what time — and when that happens, you have less hope of your bill becoming law. I never knew that the two sides work simultaneously."
Price, a Polk County native who graduated from Lake Region High School, has also learned a lot about projecting a professional image.
"I'm learning to make a name for myself," he said. "I meet everyone who comes into the office. I state my name clearly. If they're from Polk County, I talk about home with them."
While loaded with serious learning opportunities, Price's internship has had some lighter moments, too. With his red hair and fair complexion, Price bears a resemblance to Polk County native and Florida Commissioner of Agriculture Adam Putnam, which has created some funny moments at the Capitol.
"Rep. Wood calls me 'Commissioner Price' because I look a lot like Commissioner Putnam. On my first day at the Capitol building, a gentleman said to me, 'Hey, Mr. Secretary,' thinking I was Putnam. I was so shocked," he said.
His internship with Wood has inspired Price to continue following his long-held dream of a career in politics.
"The sky's the limit. I would like to run for office. I could see myself starting at the city level, and from there moving on to county or state, and then maybe even national," he said.
(Update: After one semester at Florida State University, Price returned to Polk in fall 2013 to study in its Bachelor of Applied Science program, following the Public Administration concentration. Price said Polk's small class sizes were a huge factor in his decision to return.)
Polk State offers dozens of student clubs, for interests as varied as environmental stewardship, student government and salsa dancing. For more information, contact the Student Activities and Leadership Offices on the Lakeland and Winter Haven campuses.