Polk State College closed for winter break 12/16 – 1/2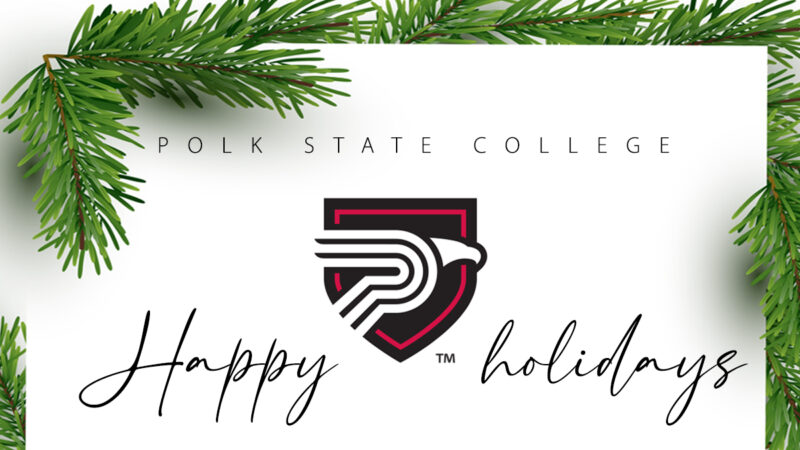 Polk State College will close at 3 p.m. on Thursday, December 15, for winter break. The College and collegiate high schools will be closed from Friday, December 16, through Monday, January 2; however, registration continues to take place for the Spring 2023 Semester and assistance is available via email while campuses are closed.
Students should note that the bookstores on the Winter Haven and Lakeland campuses will be open during the following hours:
Thursday, December 15 & Friday, December 16 from 10 a.m. to 4 p.m.
Monday, December 19, through Thursday, December 22, from 10 a.m. to 3 p.m.
Tuesday, December 27, through Friday, December 30, from 10 a.m. to 3 p.m.
Staff will be monitoring emails to the addresses below and students should expect responses to their inquiries within 48 business hours. Students should note that staff will be answering general questions during this time; any requests for changes to records, such as updating residency or removing holds from an account, will be addressed when the College reopens.
Students who need advising assistance should email onlineadvisinga@polk.edu (for students with last names beginning A-M) or onlineadvisingz@polk.edu (for students with last names beginning N-Z).
Students who need assistance with admissions should email admissionsa@polk.edu (for students with last names beginning A-M) or admissionsz@polk.edu (for students with last names beginning N-Z).
Students with questions related to financial aid may email financialaid@polk.edu. General inquiries may be emailed to registrar@polk.edu.
Students are encouraged to visit Polk State's Admission Steps, which walk through the registration process and answer frequently asked questions.
Currently enrolled students may register through PASSPORT. They should also check PASSPORT for possible holds on their accounts that may prevent them from registering so that those holds can be resolved.
Prospective students can submit a free online application to Polk State. Information on how to complete orientation and register for classes is included in email communications after the student applies, as well as in the Admission Steps.
Also, students are encouraged to begin the financial aid process as early as possible. The first step is to complete the Free Application for Federal Student Aid (FAFSA). Assistance completing the FAFSA is available through the Office of Student Financial Services.
Throughout the registration and financial aid process, students should regularly check PASSPORT and their College email accounts for important registration and financial aid information from the College.
The College will reopen on Tuesday, January 3, and classes will start on Monday, January 9.