Polk State College "Start Right" Campaign Supports the Lake Wales Community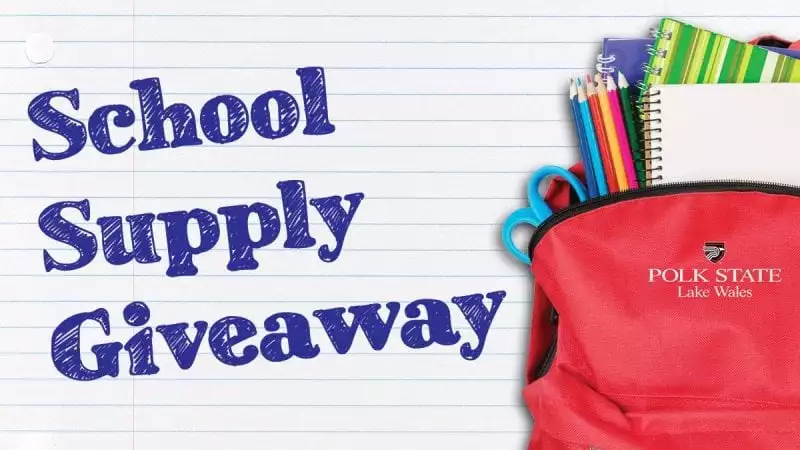 The Polk State College Foundation, in coordination with the Polk State JD Alexander Center, is excited to announce the Polk State Start Right Campaign: School Supply Giveaway. The event will be held Saturday, July 29 at 10 a.m. at the Polk State JD Alexander Center, 152 E. Central Avenue, Lake Wales. The event will include food, music and free haircuts from barbers at Faded Fresh and Urban Trendz. Students from kindergarten through college are eligible for a backpack filled with school supplies. One backpack per student while supplies last.
Many Lake Wales families struggle with providing school supplies for their students. The Start Right Campaign, launched this year, is an initiative aimed at supporting those families by providing the tools students need to be successful in the classroom. This campaign emphasizes the need to "start right" on the first day of class with the proper materials and support to be successful during the academic year. The goal is to have 500 backpacks full of school supplies including pencils, pens, notebooks, and paper. A note of encouragement from a Polk State student is also being placed in each bag.
This year, during the 2017 legislative session, the Polk County community showed its collective support for education in Lake Wales by fighting to save funding for Polk State's Lake Wales campuses. The College is deeply committed to supporting students in the Lake Wales community – preparing them to be successful at any age. The Start Right Campaign is designed to give students all the materials needed for class starting on day one.
"We are grateful to the Lake Wales community for their continued support of Polk State College," said Polk State JD Alexander Center Director Andy Oguntola. "We value our relationship with this community.  As a resident of the city of Lake Wales, I have witnessed many students come unprepared for the first week of school. Without the supplies they need to be successful, students can find it difficult to keep up with coursework and assignments which can cause more academic issues. These are the same students who will one day be the future leaders of our city and state. We must invest in them and improve their efficiency in the classroom. It's amazing what a backpack and school supplies can do for a student and his or her family."
Donations and supplies are still needed and can be provided by visiting foundation.polk.edu/startright or by delivering items to the JD Alexander Center.
"The generous support of this new initiative will make a positive impact in the lives of Polk State students and the entire Lake Wales community," said Polk State Foundation Director Tracy Porter. "All contributions will play an important role in transforming lives through the power of philanthropy. Great beginnings lead to great futures, allowing this community to soar."
More information about the Polk State College Foundation can be found at: foundation.polk.edu. Information about the Polk State JD Alexander Center in Lake Wales can be obtained by visiting: polk.edu/JDAlexanderCenter.