Polk State College Partners with the University of Central Florida to Offer UCF Transfer Connect to Students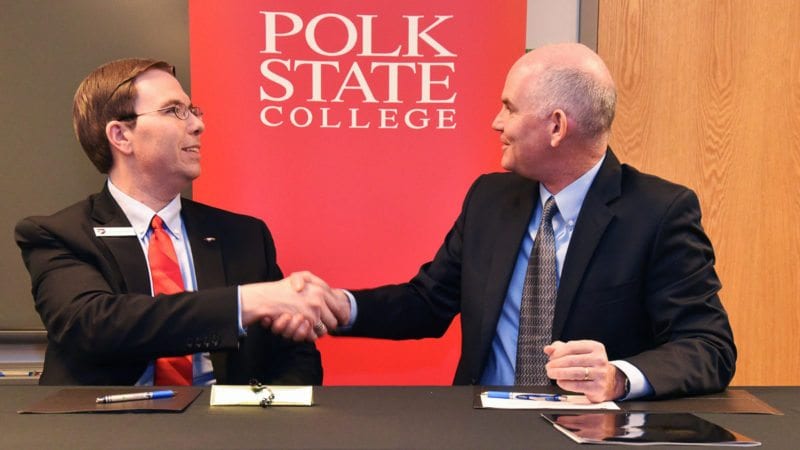 Polk State College and the University of Central Florida (UCF) are pleased to announce an exciting partnership serving students who are seeking admission to undergraduate and graduate degree programs offered through UCF Online. The Transfer Connect Program offers Polk State College students an opportunity to engage with UCF Online student success coaches who can help students transfer into one of  UCF's many fully online baccalaureate programs without having to travel to Orlando. Further, with articulated 2+2+2 pathways, this program can also lead to an online master's degree.
Staff, students, and faculty members attended the formal ceremony for the signing of the agreement at the Polk State Lakeland Campus on Friday afternoon. Dr. Donald Painter, Interim Vice President of Academic Affairs, and Dr. Dale Whittaker, UCF Provost and Executive Vice President, formalized the agreement.
Through Transfer Connect, a student can jumpstart enrollment at UCF by declaring an intention to transfer into one of the UCF Online degree programs while still pursuing a Polk State College associate's degree. The UCF Online student success coach then helps the student create a plan that ensures a seamless transition to the university. The partnership also includes reduced fees, and in some cases waived fees, as well as student success coaching, and other benefits.
"Entering into this agreement with the University of Central Florida provides our students with significant access and expanded opportunity," said Dr. Painter. "It allows students to earn their degrees through the university without traveling and at a reduced cost. It also connects them to success coaches who will ensure they stay on the pathway to achieve their goals."
"UCF has been at the forefront of distance learning for more than two decades, helping students obtain a high-quality and affordable online education. This partnership expands access and creates a new avenue for Polk State College graduates to become UCF Knights," Dr. Whittaker said.
The ceremony included remarks by former Polk State and current UCF Online students Tracey McNeil, Tisa Newcombe, and Amber Qureshi.
"I am a 30-year-old mother of a vivacious 9 year old," said McNeil. "I am also a full-time human resources and payroll specialist at a local nursing facility, a part-time pharmacy technician at a local hospital, and a UCF Knight–a Knight who flew in on the wings of an Eagle."
She continued, "I have chipped away at both my associate's degree, which I earned in 2015, and my bachelor's degree for a collective nine years now. I am, finally, a senior at UCF. And at a pace of two classes per semester, I am growing ever closer to realizing my goals and proving to my daughter that you can do anything you set your mind to, no matter your obstacles. This progress was only made possible by my ability to continue to chase my dreams from behind a computer screen."
Students can learn more about the Transfer Connect Program to UCF Online, at: ucf.edu/online/polkstatecollege.
Located in Winter Haven, Florida and established in 1964, Polk State College is a multi-campus institution serving over 15,000 students with Bachelor of Applied Science, Bachelor of Science, Associate in Arts, and Associate in Science degree programs, as well as a wide range of certificate and workforce training options. The College also operates three charter high schools. Polk State's advantages include small class sizes, hands-on learning, dedicated faculty, day and night classes, online options, affordable tuition, and excellent financial aid options, as well as a diverse community and vibrant student life, including fine arts opportunities, clubs, and intercollegiate athletics.