Polk State Chain of Lakes' top students pursue passions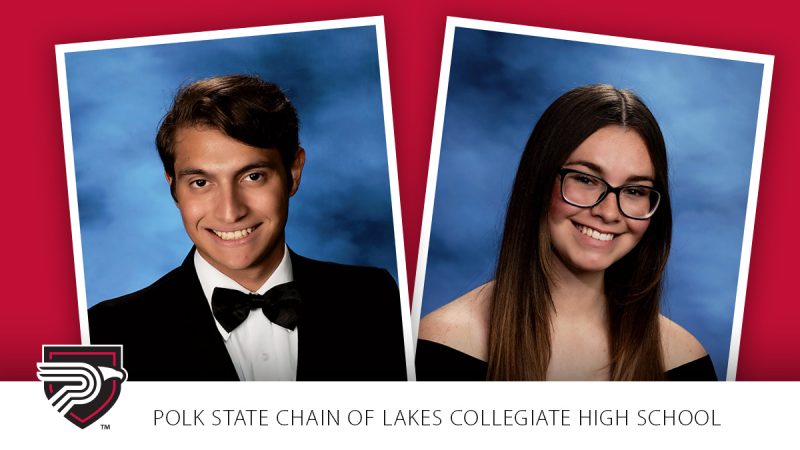 Polk State Chain of Lakes Collegiate High School's valedictorian and salutatorian see computers and animals, respectively, in their future.
Fabian Rosario topped Chain of Lakes' 2022 class as valedictorian with a 4.662 grade-point average. Landen Nations, the school's salutatorian, finished with a 4.656 GPA.
"It means a lot to me," Rosario said. "I didn't expect it. It's great to be valedictorian."
Born in Puerto Rico, Rosario moved to Polk County with his family in 2009. Rosario started his high school career at Polk Pre-Collegiate Academy in Auburndale before spending his last two years at Chain of Lakes.
Nations began her first two years at Lake Wales High School before finishing at Chain of Lakes. Each earned an Associate in Arts degree.
"I put a lot of hard work into these four years of high school," Nations said. "To be salutatorian, this is an incredible opportunity."
Rosario was a member of National Honor Society and actively involved with the youth group at his Lakeland church, Iglesia Casa de Amor y Fe. When not busy with school, Rosario simply enjoys spending time with his loved ones.
"I just like being around my friends and family," he said. "Everyone in my family and all my friends have really supported me. They're always there for me."
Nations was also a member of National Honor Society at Chain of Lakes. As a member, she participated in several volunteer activities from community outreach to supporting law enforcement to assisting foster families through their Guardian ad Litem. Nations was also a member of Key Club and Phi Theta Kappa.
"Taking college classes online has really helped me to get where I want to be," she said. "NHS had a bunch of different volunteer opportunities that I really enjoyed."
Nations is off to the University of Florida to study Animal Science. Her father, Loren Nations, is a veterinarian and owner of Veterinary Healthcare Associates in Winter Haven. She's had a chance to learn firsthand at his practice.
"Working with my dad has definitely piqued my interest," she said. "The broad Animal Sciences will allow me to decide which direction I want to go. My family and especially my dad have been really supportive of me. He's been an incredible mentor."
Rosario will be attending Florida Polytechnic University in August. He plans to major in Computer Science with a focus in software engineering. The youngest of two sons, Rosario was in eighth grade when he built his first computer.
"Ever since I was little, I've always had a passion for technology," he said. "I've always been interested in seeing and learning how things work."
Polk State's three collegiate high schools provide juniors and seniors with the opportunity to complete requirements for both their high school diplomas and associate degrees simultaneously and at no cost to them. The majority of Polk State collegiate students graduate with their associate degrees in hand.
Rosario is happy with his decision to attend Chain of Lakes.
"With the pandemic, the teachers and the staff have all been great," he said. "You can tell they're passionate about the students."
Despite taking classes almost exclusively online, Nations echoed those sentiments.
"They're all really incredible," she said of the staff. "Professor (Alric) Fischle (III) was really great to work with. He helped me a lot."