Polk State Chain of Lakes Students Get Hands-On Introduction to Robotic Surgery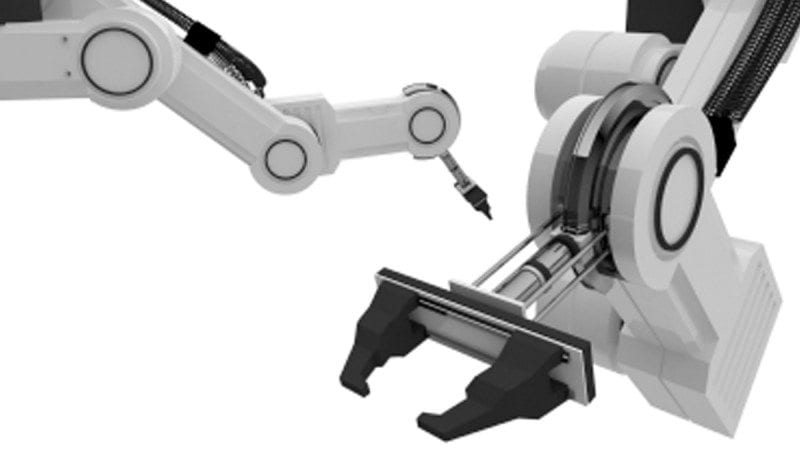 More than a dozen students from Polk State Chain of Lakes Collegiate High School were recently introduced to the growing field of robotic surgery, and were even allowed to try their hands – pun intended – at operating a robotic surgery system.
The students spent about two hours on the afternoon of Jan. 6 visiting Winter Haven Hospital, where Dr. Sijo Parekattil explained the advantages of less-invasive robotic surgery and the potential for the field.
In the future, he explained to the captivated students, surgeons may be able to control robotic equipment from thousands of miles away, operating on a patient who is in another state or country.
"The way we do medicine now may not be the way we do medicine in the future," he said.
"We hope that we can stimulate you to pursue a career in the sciences. There are a slew of possibilities out there."
Parekattil is Winter Haven Hospital's director of urology and robotic surgery. He also serves as director of Polk State's robot-assisted surgery credential, a new program developed with Winter Haven Hospital that launches this year.
The Polk State credential is unlike any other in the country, establishing formalized, hands-on training for nurses and technicians who participate in robot-assisted surgery. Even as doctors and patients increasingly embrace robotic surgery, training options remain limited for those who assist in those procedures – a void Polk State's credential will help fill.
Participants in the credential will complete online studies, as well as a workshop in which they will hone their skills using Winter Haven Hospital's da Vinci Surgical System.
During the Polk State Chain of Lakes Collegiate visit, the students were each permitted several minutes to try the da Vinci Surgical System. Sitting in the control console, they maneuvered the machine's arms, trying to build a tower of Legos.
The experience was especially exciting for Gregory Pruitt, 16, a junior who lives in Haines City.
Pruitt, who intends to study veterinary medicine, is also interested in robotic surgery. With the encouragement of Dr. Suzanne Halverson, Polk State Chain of Lakes professor of anatomy and physiology, Pruitt and another student recently assembled a robotic arm and attempted to use it for a dissection project.
"We found that the arm wasn't powerful enough to make the initial incision," Pruitt said.
Parekattil offered his expertise, explaining that in surgical procedures on living humans, the initial incision is made by hand using a scalpel. The robot is then used for the internal work.
Pruitt appreciated Parekattil's insight and was thrilled to have the opportunity to spend a few minutes controlling the $2-million da Vinci system.
"It was a little intimidating because I didn't want to break it. I thought it would be more like a joystick, but really you use hand motions. Like if you want to pinch, you actually pinch your fingers," he said.
Student Katie Stine, 17, a junior from Winter Haven, said she started to get a feel for the machine within a few minutes.
"It's hard to learn, but once you got it down, it was pretty easy. I was surprised that I could feel the pressure of objects when I used the arms to pick them up," said Stine, who also is interested in a career as a veterinarian.
All 17 students who participated have an interest in medicine, engineering and/or technology. Some are students in Halverson's STEM (Science, Technology, Engineering, Math) course, others are in her Honors Anatomy & Physiology course. Some are Allied Health Science students and members of the school's chapter of Health Occupations Students of America.
"I am so pleased that our students had the opportunity to visit Winter Haven Hospital and were provided with hands-on experience with robotics used in microsurgery," said Halverson, who also serves as the school's allied health science/STEM coordinator. "It's wonderful that the students have been exposed to this potential career option, and the day was a great complement to our classroom studies."
Polk State Chain of Lakes Director Bridget Fetter agreed.
"At Polk State Chain of Lakes, we seek opportunities to introduce our students to the wealth of possibilities their futures hold. Our visit to Winter Haven Hospital was phenomenal, and our students returned with their eyes widened and their imaginations sparked," she said.
Polk State Chain of Lakes Collegiate High School was established as a public, charter high school in 2006. It serves 270 students in grades 11 and 12. Admission requires a 2.5 grade-point average. Applications for the 2012-2013 school year will be available Feb. 1. For more information call 863-298-6800.