Polk State Chain of Lakes Collegiate High School student is National Merit finalist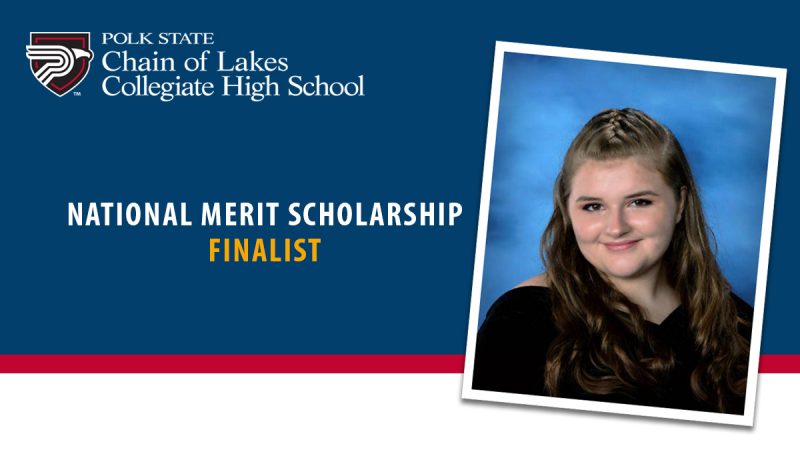 Polk State Chain of Lakes Collegiate High School senior Shayna Dimmer is part of only 1 percent of the nation's high school seniors to be named finalists in the 2021 National Merit Scholarship Program.
More than 1.5 million juniors in about 21,000 high schools entered the 2021 National Merit Scholarship Program by taking the 2019 Preliminary SAT/National Merit Scholarship Qualifying Test. Of those students, only 15,000 have reached the finalist pool.
"When I got the news that I was a finalist, I was really excited," Dimmer expressed. "While looking at colleges, I have realized many offer additional scholarships and opportunities to National Merit finalists. Being one of those students to have those opportunities open to me is very exciting and empowering for me in my future college decisions."
As one of seven siblings, scholarship opportunities will assist her in funding her higher education. She plans to attend the University of South Florida to study biology and botany.
Inspired by growing up in a rural part of Polk County as well as science classes at Polk State, Dimmer aspires to a career in field studies researching history and cultures through plant biology.
She holds a 4.0 unweighted grade-point (GPA) average, a 4.567 weighted GPA, a score of 34 on the American College Test (ACT), and is on track to achieving her Polk State Associate in Arts degree in conjunction with her high school diploma when she graduates in May 2021 like many of her Chain of Lakes peers.
"I think my drive comes from how I grew up," she explained. "Ever since I was little, I have known that education is the best way I can succeed in life. As I have gotten older, I have realized that I can also help others who are less fortunate through my success."
Dimmer has participated in a variety of extracurricular activities including weightlifting, National Honor Society, and Key Club. As secretary of the Key Club, an organization that encourages leadership through serving others, Dimmer has helped younger students in a variety of ways.
"I have seen firsthand through my younger siblings who are being homeschooled due to the pandemic, things can be really stressful and if we can provide students with any sense of normal or just a small pick-me-up, then we want to help," she said.
She added that the faculty and staff at Polk State Chain of Lakes Collegiate have been supportive in her educational and volunteer endeavors.
"At Chain of Lakes, the classes are small, and you get to know the faculty and staff on a personal level," Dimmer said. "The best part is the friendliness and closeness of everyone at Chain of Lakes."
She also thanked her family as well as the staff and teachers at Sandhill Elementary School and Dundee Ridge Academy's International Baccalaureate Program.
"I can't name everyone who has supported me along the way – it would be a very long list," she said with gratitude.
Dimmer shared her advice for other students and aspiring National Merit finalists.
"Try to do your best," she said. "When people see you trying your best, they are going to help you reach success. And join a program that has that kind of support. Polk State and Chain of Lakes Collegiate both do."
"If you are in a good program with good people and you are trying your best, you are not going to fail," she added. "They won't let you."