Polk State Chain of Lakes Collegiate High School Students Complete Hospice Training Program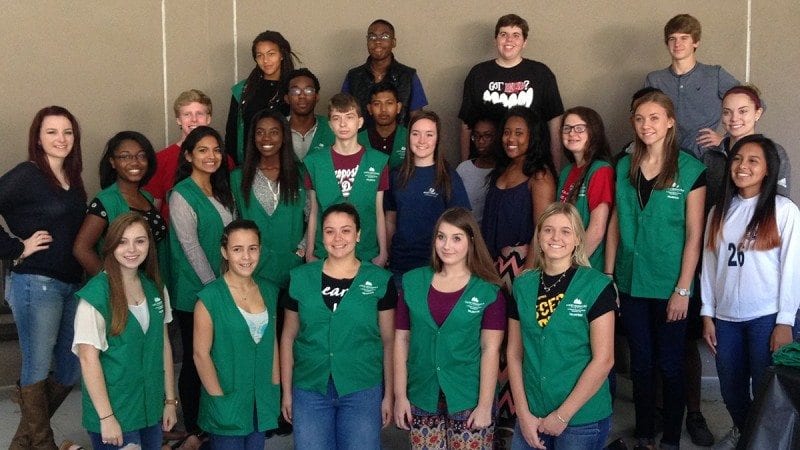 A group of Polk State Chain of Lakes Collegiate High School students recently received certificates marking their completion of Good Shepherd Hospice's volunteer training.
But ask any of them, and they'll tell you that a piece of paper was the least of what they received from the experience.
"I learned to show compassion, to be more tolerant and accepting, to show respect," said Rylee Buckley, a junior at Polk State Chain of Lakes.
The nine-week training program is required of all Good Shepherd volunteers, said Rachel Ogaian, volunteer coordinator. Students in Anatomy and Physiology Professor Suzanne Ramjattan Halverson's Executive Internship class took the training as part of a class assignment to learn more about hospice. However, the majority of Halverson's students have signed on as volunteers with Good Shepherd, which was not part of their class requirement. The students who will be volunteering also received green vests during a recognition ceremony Tuesday morning.
This is the first year Polk State Chain of Lakes Collegiate has partnered with Good Shepherd, and Halverson said she couldn't be more pleased with the results.
"We are so happy about your hard work during the last nine weeks," Halverson said to her students during the  ceremony.
"You have learned about the history of hospice, the experiences of healthcare workers who work in hospice — it's been phenomenal."
During their training, the Polk State Chain of Lakes Collegiate students met twice weekly to learn about proper conduct for hospice volunteers, from how to communicate with patients and their families, to appropriate attire for volunteering.
"They learned Hospice 101," Ogaian said. "These students engaged in the process, they asked questions. I think they really matured during the course of the training."
Good Shepherd Hospice provides palliative care services to patients diagnosed as having less than six months to live. Good Shepherd currently has approximately 550 patients in Polk, Hardee and Highlands counties.
As volunteers, Ogaian said, the students will spend time with hospice patients, talking with them, listening to their memories, and offering them comfort in the last weeks of their lives.
"A lot of patients don't have family here," Ogaian said. "Imagine being in your bedroom for six months with no human contact, no one to talk to. The volunteers bring encouragement and comfort during those end days."
The training was an invaluable experience even for students who do not plan to volunteer with the organization.
Savannah Lawson, a junior at the school, plans to study radiology.
"This training will help me relate to my patients," she said.
Polk State College operates three public charter high schools, including Polk State Chain of Lakes Collegiate in Winter Haven, Polk State Lakeland Gateway to College Collegiate, and Polk State Lakeland Collegiate. All three high schools allow students to fulfill requirements for their diplomas while also earning college credits.