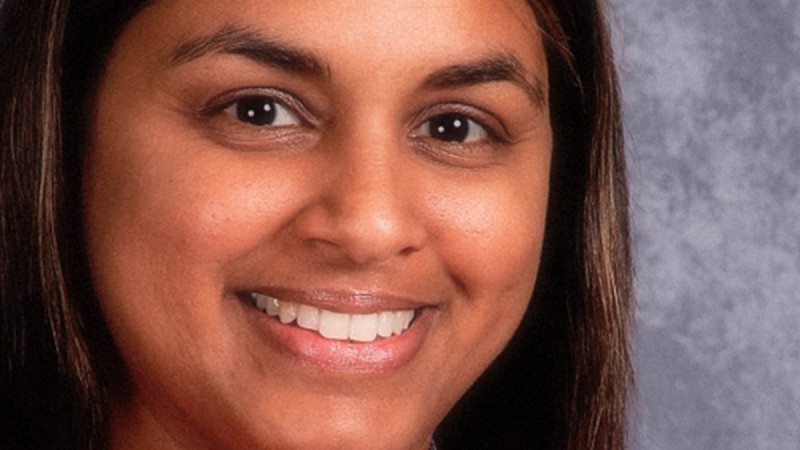 Having won at the chapter and state levels, Polk State Chain of Lakes Collegiate High School Professor Suzanne Ramjattan Halverson is now in the running for the Air Force Association's National Teacher of the Year Award.
"I am truly honored to have been selected as Teacher of the Year for both the Air Force Association's Central Florida Chapter and the State of Florida," Halverson said.
"I am grateful to be an educator at Polk State Chain of Lakes Collegiate, which allows educators to teach students how to solve problems and apply critical-thinking skills. I am thankful to be able to collaborate with an awesome team of faculty, staff and students."
Halverson teaches anatomy and physiology and coordinates the STEM (science, technology, engineering and math) program at Polk State Chain of Lakes.
The Air Force Association is a nonprofit organization that promotes the United States Air Force, but also advocates and supports STEM and aerospace education. The Central Florida Chapter includes Lake, Orange, Osceola, Seminole and Polk counties.
Before she could compete for the national award, Halverson had to be selected as Teacher of the Year on the chapter and state levels.
Central Florida Chapter President Gary Lehmann attended Polk State's District Board of Trustees meeting in April to present Halverson with her state award. He said her recent work in underwater robotics set her apart from the competition.
"She has a great shot at nationals," he said.
During the spring semester, Halverson took part in a multidisciplinary underwater robotics project, leading students in her STEM Research course as they soldered, welded and assembled a robot that is capable of collecting video and water samples from as deep as 300 feet. The robot will be used by science classes in future semesters to help students understand the effects of water pollution.
Halverson said she views her work with STEM as preparing students to be successful in their future educational and professional endeavors.
"Educators must be set to prepare all students to be proficient in STEM disciplines, and ready to inspire all students to investigate STEM and pursue STEM careers," she said.
This isn't the first time the Central Florida Chapter of the Air Force Association has honored Halverson.
Polk State College operates three public charter high schools, including Polk State Chain of Lakes Collegiate in Winter Haven, Polk State Lakeland Gateway to College Collegiate, and Polk State Lakeland Collegiate. All three high schools allow students to fulfill requirements for their diplomas while also earning college credits.