Polk State celebrates Mark G. Turner's service to District Board of Trustees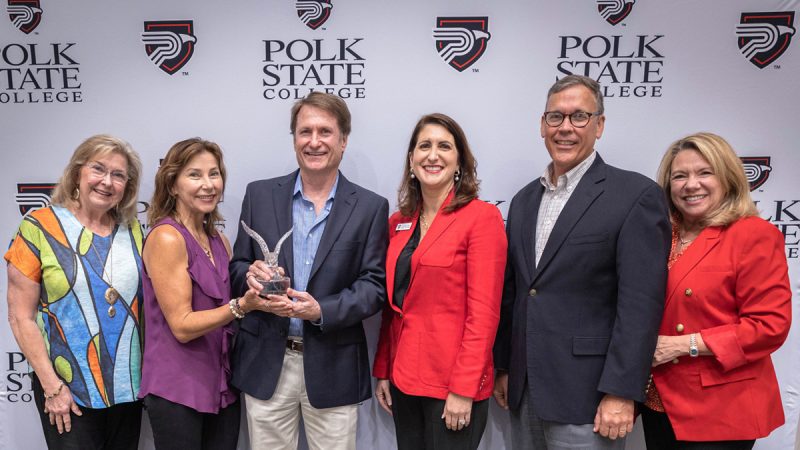 At the May meeting of the Polk State College District Board of Trustees (DBOT), Mark G. Turner was thanked for his commitment to the College and its students as he ends over a decade of service as a member of the Board.
"It has been a very rewarding period and I feel very privileged to have served on this Board. I have no doubt that Polk State will continue to be at the forefront as the most affordable, most accessible higher education institution in the county and will only continue to grow in importance," stated Turner.
A principal with Straughn & Turner, PA, Turner is a Winter Haven native who was first appointed to the Board in 2011 by Governor Rick Scott and reappointed by Governor Ron DeSantis in 2020.
His tenure as a member of the Board was marked by numerous milestones for the College including the construction of the Polk State Center for Public Safety, the expansion of academic programs to include baccalaureate degree programs in Criminal Justice, Aerospace, and Education, the reinstatement of operational funding for the Lake Wales Campus, and the selection of Polk State's fifth president, Dr. Angela Garcia Falconetti.
In 2017, Turner, then Vice-Chair of the District Board of Trustees, served as the Chair of the Presidential Search Screening Committee, a 22-member committee comprised of students, faculty, staff, and community members charged with ensuring that the DBOT received presidential candidates who were a good fit for the College and who best exemplified the statement: We are Polk.
Turner's belief that Polk State is the community's college was evident in his position during the process when he stated, "Community involvement in the presidential search is a crucial component of the selection process. We welcome the opportunity to hear from community members as they share their thoughts on what they would like to see in our next president." Under his leadership, the Board selected Falconetti, and Turner spent the first year of Falconetti's term as the Chair of the DBOT.
"Trustee Turner has been an amazing representative for the College; he was right by my side as I was a first-time, first-year president and has never faltered in his support of me, and more importantly, of our institution," said Falconetti.
Falconetti presented Turner with the Polk State Eagle Leadership Award, created to recognize the leadership and commitment of community members who have supported Polk State College.
Turner is universally admired by his colleagues, as evidenced by their remarks regarding his service and leadership.
"You have been a model of what a trustee should be for our College and after 11 years of service, we really appreciate all that you have done for Polk State," said Vice Chair Greg Littleton.
"Mark has been an asset to our institution for the past 11 years. He has been dedicated and faithful to ensuring that our DBOT has been led by excellence and due diligence. He has volunteered his time to ensure our students have been provided with a rigorous and competitive learning opportunity. Mark has been a sounding board and a faithful servant with a heart willing to go above and beyond to ignite change. He will be sorely missed," Chair Ashley Bell Barnett said.