Polk State Bass Fishing Club to compete in national championship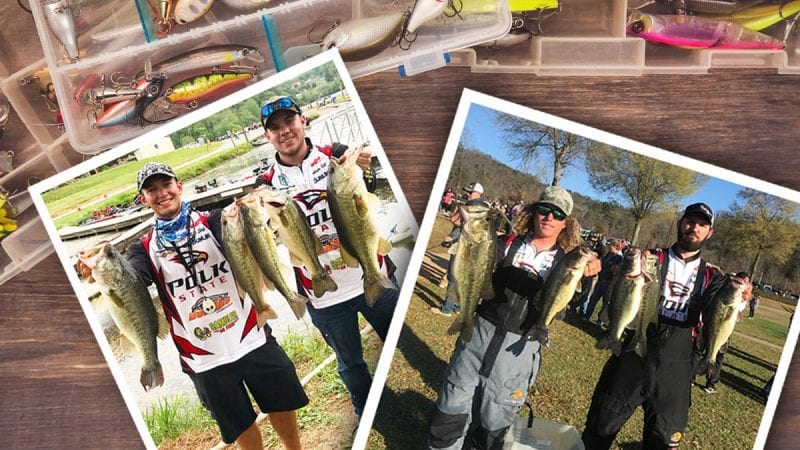 Two teams will represent Polk State College's Bass Fishing Club in the Fishing League Worldwide (FLW) 2019 YETI College Fishing Championship.
Austin Bell and Kyle Stafford, and Jerod Gadd and Trever Stephens will compete in the championship in May 2019.
Bell and Stafford recently placed 15th out of 136 teams on Lake Chickamuaga in Tennessee, landing them a spot in the championship. Bell graduated in May with a Bachelor of Applied Science in Supervision Management with a concentration in Business Administration. Stafford is currently pursuing the same degree.
Gadd and Stephens placed 27 out of 273 teams on Lake Guntersville in Alabama. Gadd is working on a Bachelor of Science in Criminal Justice and Stephens is currently enrolled in the Bachelor of Applied Science in Supervision Management Program, concentrating in Business Administration.
"This is a huge feat for Polk State," Stafford said. "We couldn't be more excited to represent a school that has supported us tremendously."
The Bass Fishing Club was chartered in September 2012 as one of the first sanctioned fishing clubs in Florida and the first competitive club among the Student Activities and Leadership Office's (SALO) clubs on the Winter Haven Campus.
The club is sanctioned through the North American Tournament Association, allowing the anglers to participate in FLW events.
YETI FLW College Fishing teams compete in three regular-season qualifying tournaments in one of five conferences – central, northern, southern, southeastern, and western. Polk State competes in the southeastern region.
The top 10 teams from each division's three regular-season tournaments and the top 20 teams from the annual FLW College Fishing Open advance to the 2019 FLW College Fishing National Championship.
Polk State's Bass Fishing Club also participates in the Carhartt Bassmaster College Series presented by Bass Pro Shops. In this series, colleges may participate in any of five qualifying events around the country.
In 2014, ESPN Bassmasters ranked Polk State's Bass Fishing Club fifth in the south and seventh in the nation.
The club has 10 members and is actively recruiting anglers.
"There is a lot of opportunity within the club to travel and receive free gear at these events," Stafford said. "These next few years will be really interesting for Polk State's Bass Fishing Club."
The club meets the third Tuesday of every month during the fall and spring semesters, alternating between the Winter Haven and Lakeland campuses. Students who are interested in joining should email Stafford at kylestafford96@gmail.com.