Polk State, Alumnus Receive Spirit of Leadership Polk Awards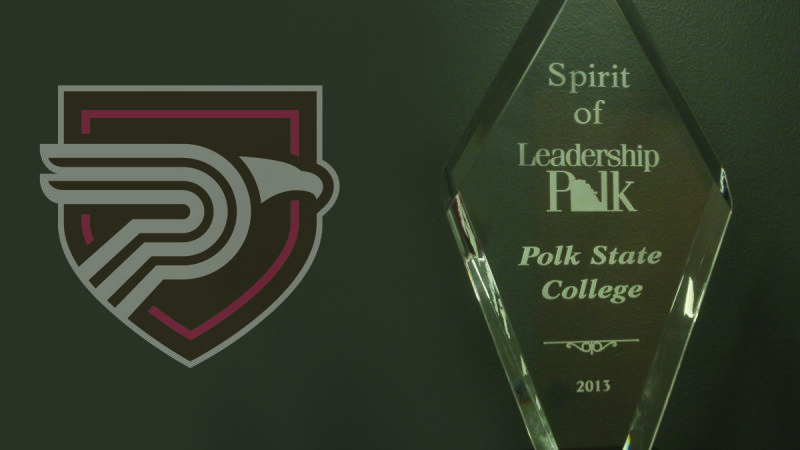 On Thursday Polk State College received the Spirit of Leadership Polk Award from the Leadership Polk Alumni Association, an honor President Eileen Holden immediately described as "clearly a highlight of our year."
Established in 2011, the Spirit of Leadership Polk Award recognizes organizations and individuals working for the good Polk County as a whole.
In addition to Polk's receipt of the organizational award this year, one of the College's alumni and trustees received the individual award.
This is the first time Polk State has received the award, but the College has been used as a benchmark in selecting recipients since the award's inception. In fact, the presentation of the first Spirit of Leadership Polk Award included the following description of potential honorees: "We're looking for groups of individuals that are 'like Polk State College' — though they may not necessarily be Polk State College."
Polk State received the award at the closing retreat and graduation of Leadership Polk Class VI at The Club at Eaglebrooke, in Lakeland.
Leadership Polk is a Polk Vision program that brings together leaders from across Polk County for 10 months of learning about the county and issues it faces. Alumni of the program select recipients of the Spirit of Leadership Polk Award.
"The winner of the organizational award is an institution that everyone in this room has some connection to — through a child, a spouse, a neighbor, a co-worker, or perhaps you yourself are a graduate of this institution," said presenter Cindy Price of TECO.
"(Polk State's) motto says it all: 'We are Polk.' Polk State College is continually striving to make a positive difference for all of Polk County. Under the remarkable leadership of Dr. Eileen Holden, Polk State has inspired us all to look beyond our own cities and think of ourselves as part of one big Polk County community. Their commitment to the core values of Service, Integrity, Knowledge, Diversity, and Leadership, are permeating into all areas of our county, improving lives and making Polk County a better place to live, work and play.
"Polk State's own students and employees are involved in a variety of boards and organizations across the county, including Leadership Polk and Polk Vision — seven Leadership Polk alumni are currently working at Polk State College.
"As the only college or university that is exclusively and specifically focused on the higher education of Polk County, today we celebrate Polk State College and its commitment to students, to the community, and to all of Polk County."
Accepting the award on behalf of the College were Director of Equity & Diversity Valparisa Baker; Corporate College Director Rob Clancey; District Dean of Academic & Student Services Patricia Jones; Foundation Executive Director and District Vice President for Institutional Advancement Tracy Porter; and Dean of Academic Affairs Martha Santiago.
At the same event, Greg Littleton was honored with the individual Spirit of Leadership Polk award.
Littleton is a 1987 graduate of Polk State College and president and chief executive officer of Citizens Bank & Trust. He is also a member of Polk State District Board of Trustees and past board chairman of Polk Vision. His community involvements include the Central Florida Development Council, United Way of Central Florida, Greater Winter Haven Chamber of Commerce, Polk Museum of Art, and Lake Wales Chamber of Commerce.
Littleton was also honored in 2012 as a Distinguished Alumnus of the College.
According to Holden, both honors were particularly gratifying: "We pride ourselves on the extent to which we are an extension of the communities we serve. We have been huge supporters of Polk Vision and Leadership Polk, because we see the potential of a united region. We are proud to have played a part in bringing our county together, and we are very excited about our shared future."
"Nobody is a better example of what our College means to the county than Greg Littleton. His continued service to his community and his alma mater are an inspiration to us all. We are Polk."