Polk State Alumna Who Made Local Law Enforcement History Returns to Campus to Teach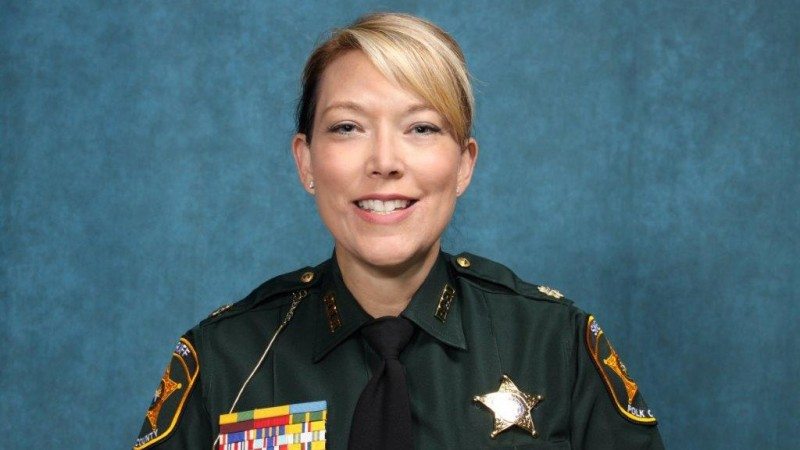 A Polk State College alumna, who earlier this year became the highest-ranking sworn female law enforcement officer in Polk County Sheriff's Office history, has returned to campus to teach criminal justice students.
Polk County Sheriff's Major Kimberley Marcum is currently teaching Introduction to Corrections at the Winter Haven campus. Her class takes place Thursday nights from 6:30 to 9:30 p.m.
"Polk State College's Criminal Justice program is ecstatic to offer Major Marcum's wealth of knowledge and expertise," said Polk County Sheriff's Sgt. Christen Shea, director of Polk State's Criminal Justice Program.
"One of the greatest strengths, and one of the things that sets Polk State's Criminal Justice Program apart, is its partnerships with area agencies. Through our partnership with the Polk County Sheriff's Office, we are able to provide our students with instructors like Major Marcum, who have achieved great success in the field and who are eager to share their knowledge with the next generation of law enforcement professionals. We're so happy to have Major Marcum at Polk."
Marcum began her career in 1995, as a detention deputy for the Polk County Sheriff's Office. She has steadily climbed the ranks ever since, and in March, she was promoted to major, becoming the first female in the agency's history to hold the rank.
In her position, Marcum is in charge of both jails in Polk County, including the Central County Jail in Bartow and the South County Jail in Frostproof.
"If it concerns jail security or inmate housing, it is my responsibility," Marcum said.
Marcum earned her Associate in Science in Criminal Justice from Polk State College in 2002, and went on to earn a Bachelor of Science in Business Management from Western Governors University and a Master of Science in Criminal Justice from Troy University.
While ascending the ranks at the Sheriff's Office, Marcum also entertained another career aspiration: to teach college students.
"I have always enjoyed teaching as an instructor for Polk State's Kenneth C. Thompson Institute of Public Safety," she said, referring to the law-enforcement training academy based at Polk State Winter Haven.
"It has always been my desire to teach a more in-depth course of study at the collegiate level. I hope to impart a professional and positive outlook toward the field of law enforcement and corrections through my instruction."
Marcum's Introduction to Corrections covers topics including the history of America's corrections system, inmate characteristics, community control and probation, and types of offenders. The course is required for students pursuing the Associate in Science in Criminal Justice Technology, but may also be taken as an elective for the Associate in Arts degree.
In addition to what is outlined on the course syllabus, Marcum hopes she can provide students with unique insight into the field of corrections.
"I hope to provide my students with a positive role model and a positive example of law-enforcement leadership. Today, the law enforcement community is facing challenges from ever-changing social dynamics and pressure from mainstream and social media. It is important for criminal justice students to have a realistic, but positive, outlook on our criminal justice system," she said.
In the spring semester, which begins Jan. 7, Marcum will teach Juvenile Justice, also on Thursday evenings from 6:30 to 9:30 p.m. on the Winter Haven campus. Marcum's section of Juvenile Justice, CCJ 1500, is listed under reference number 065630. Students may register for the course through PASSPORT.
In addition to associate's and bachelor's degrees in Criminal Justice, Polk State Public Safety includes degrees and training in Emergency Medical Services and Fire Science Technology, and the CALEA with Excellence-accredited Polk State Kenneth C. Thompson Institute of Public Safety.