Polk State alum lands job at the College before having degree in hand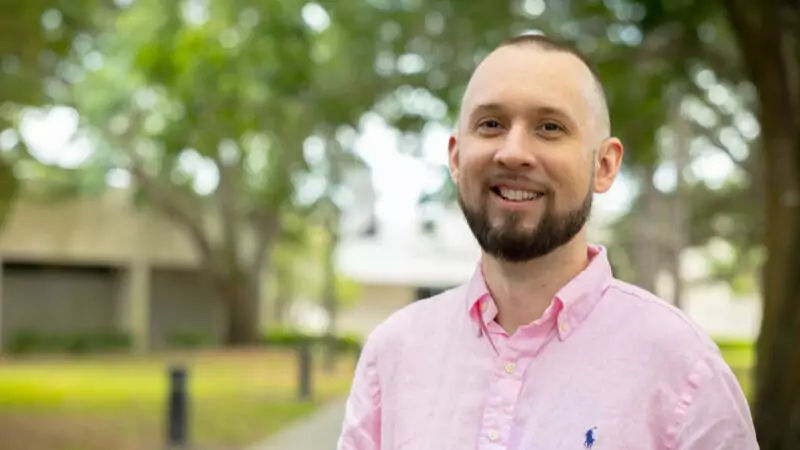 A single father to two preteen daughters, Jeremy Brown serves as proof to his girls that they can accomplish anything they put their minds to.
Brown, 38, has had an interest in computers and technology since he was a young boy. The opportunity to work in the field, however, didn't come until he was hired full-time at what is now his alma mater, Polk State College, in August 2021.
"I basically graduated and got my career started at the same time," Brown said. "Polk State is an awesome place. I love working here."
A Network Support Specialist for Polk State's Institutional Technology Department, Brown first attended college out of high school but dropped out at the age of 18. For 15 years, Brown worked in a chemical plant. He attempted to take classes multiple times over that span but with a schedule that alternated days and nights, Brown found it difficult.
Brown ultimately left his job in the fall of 2018 and spent some time as a stay-at-home dad. Shortly after, he enrolled at Polk State where he graduated Magna Cum Laude with an Associate in Science in Network Systems Engineering Technology/Security in May 2022 with better than a 3.8 grade-point average.
"It was a lot of hands-on experience," Brown said. "The professors are really helpful. The staff is really nice. As a student, I had a great overall experience."
Brown began with the IT Department as an intern in June 2021. Two months later, he was hired on a full-time basis – nine months before graduating.
"I'd always been interested in computers," he said. "Growing up, I played games and built networks. How networks work has always been interesting to me. I didn't realize how involved it was until I started taking classes."
Matina Wagner, Polk State Coordinator for Internships and Experiential Learning, noted that a handful of Network Systems Engineering Technology graduates have gone on to get jobs at the College. She credited the Network Systems Engineering Technology Program Department for giving the students the knowledge they need to excel in the field.
"(Program Director) John Stewart's program is one of the best I've ever seen," Wagner said. "I haven't had a single student out of that program that hasn't been top notch."
Often times, Wagner said, those entering the IT field need experience to get hired or even internships. She's worked closely with Bob Stack, Vice President for Institutional Technology and Risk Management, to make sure students can get the experience they need at Polk State. In the process, the College finds employees already familiar with its systems.
"One of the big issues IT had was finding qualified candidates," Wagner explained. "What Bob has done is he's built a talent pipeline. The students get the mentoring and coaching they need to be successful. Jeremy has turned out to be outstanding. His customer service ability is second to none and you can tell he really cares."
Since his hiring, Brown has taken on major projects that affect multiple campuses.
"Jeremy offers exceptional customer service and is always ready to go the extra mile when needed," said Lee Malone, Polk State's Director of Infrastructure and User Support. "He is always available after hours to offer assistance to the unit when needed and that is a major in the IT world."
For Brown, returning to College and beginning a second career was not without its challenges. Fortunately for Brown, he had mentors to show him the ropes. Among them was Freddie Acevedo, a former member of Polk State's IT Department and a current Networks Systems Engineering Technology professor.
"Freddie had been here for 20 years and was such a great knowledge base," Brown said.
Another mentor, Malone, helped Brown transition to a new type of workplace.
"I had never worked in a professional environment before where Lee had worked professionally his whole life," Brown explained. "Lee really taught me how to work in a professional environment."
Brown noted that he was paid well at his previous job. For the first time, however, he finds his work rewarding.
"It's neat, because there's a lot of problem-solving," he explained. "There's really a sense of achievement when you figure something out. It's been a nice transition. I feel like I'm doing more, helping staff, students, and just contributing."
Brown remains enrolled at Polk State as he works toward his bachelor's degree. Brown said his daughters Alaina, 12, and Ava, 9, are proud of his hard work.
"My oldest thinks it's the coolest thing I work here at the College," he said. "She thought it was great that I went back and graduated, but she thinks it's really awesome now that I work here. They saw me graduate and I hope it shows them that they can do it too."