Polk State Aerospace student lands UPS Airlines internship and scholarship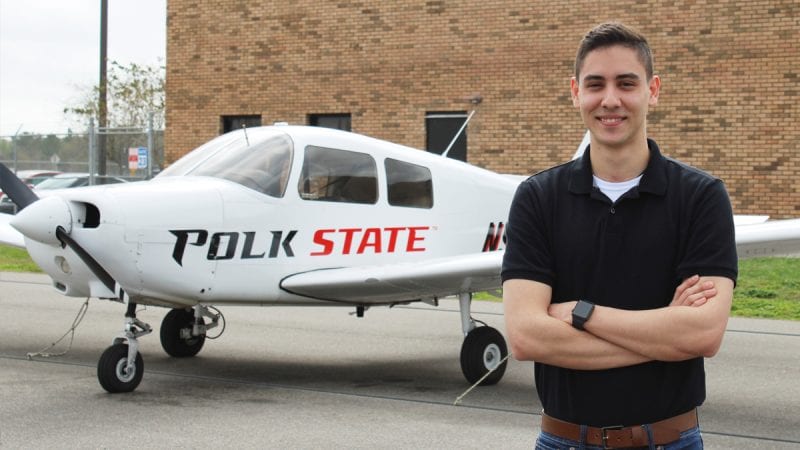 If someone told Ismael Jimenez-Barreto three years ago that he would be interning with one of the largest cargo airlines in the world, he would have doubted them.
He was an aeronautical university dropout working a full-time customer service job, but his passion for flying and motivation to achieve his degree persisted.
"Polk State College makes flying possible for people like me," Jimenez-Barreto said. "It allows students to get the same education as the big, expensive schools for a fraction of the cost."
Jimenez-Barreto achieved his Polk State Associate in Science in Professional Pilot Studies in August 2018 and is on track to receiving a Bachelor of Science in Aerospace Sciences from the College in May.
Within three months of starting the program, he earned his private pilot certification from the Federal Aviation Administration (FAA). He also holds single-engine land, multi-engine land, and instrument ratings and is a certified flight instructor.
His success landed him a one-year internship with the UPS FlightPath program in Louisville, Kentucky. He started in June and in December, he was awarded a $2,500 scholarship from the Regional Air Cargo Carriers Association. The award helped to fund his training and check ride for his multi-engine land rating he accomplished in February.
But Jimenez-Barreto wasn't confident at first that he would qualify for the internship, let alone a scholarship through the program.
"When I was looking at pilot jobs, I kept seeing UPS but I thought there was no way I had the experience. It's a major airline and it is very competitive with pilots applying from all over the country," he said. "Then Polk State Aerospace sent out internship opportunities and I saw UPS again. I knew I just had to try."
Because he tried, Jimenez-Barreto is now on a path full of opportunities and a possible career with the international company that reaches nearly 700 destinations in more than 220 countries daily through a network of 500 aircraft.
The program offers two paths that lead to guaranteed interviews for employment, including the route Jimenez-Barreto is taking to complete 12 months as a UPS Flight Operations intern and 30 months as a pilot with Ameriflight.
"At first, I doubted myself a lot, but if I didn't try, I wouldn't have the opportunities I have today. My advice to other students is to make them tell you no – don't tell yourself no," he said. "At first, I was telling myself no – that I didn't have the money or the experience.  But I put the work in and I tried."
UPS FlightPath Program Coordinator Adam Kik recognized Jimenez-Barreto's strong work ethic, passion for flying, and commitment to his education and future career. He recommended Jimenez-Barreto apply for the Regional Air Cargo Carriers Association UPS FlightPath scholarship.
"Ismael has been an outstanding participant in the UPS FlightPath program and has become a leader among his peers," Kik said. " His positive, lean-forward attitude makes him a great advocate for Polk State and UPS. We hope to see him back in a UPS pilot uniform soon."
In an essay to the Regional Air Cargo Carriers Association, Jimenez-Barreto highlighted his life-long fascination with airplanes, his participation on the Polk State Flight Team, and his commitment to returning to UPS after accumulating enough flight time through Ameriflight for potential employment.
"While here, I strive to soak up as much information I possibly can to help me become a better well-rounded pilot," he wrote.
Jimenez-Barreto has wanted to fly since he was 8 years old and awestruck by a U.S. Air Force Thunderbirds demonstration in his native Puerto Rico.
"It was the loud noise, the professionalism, the precision," he recalled. "I wanted to be that good."
His family left Puerto Rico in 2012 with nine pieces of luggage and no plan, he said. He started at Lake Gibson High School in the 10th grade and started flying through a James C. Ray Scholarship by 15.
When it was time for him to apply for college, he considered Polk State's relatively new Aerospace program but found himself allured by the longstanding reputation of a private aeronautical university.
"It's a great school, but I ran out of money," he admitted.
At Polk State, students have the ability to achieve degrees in aerospace for as little as $7,819 a year, compared to traditional pilot schools and aerospace degree programs that can reach an average cost of $135,000 annually. And they don't have to sacrifice quality.
Jimenez-Barreto highlighted the professionalism and the heart of faculty and staff at Polk State. He enrolled in May 2017 but after his first class, his appendix was about to burst.
"When I returned a month later, one of the staff members who helped me enroll remembered me and told me that she had been worried about me," he recalled. "That's the best thing about the Polk State Aerospace program – everyone here knows you, everyone here roots for you, and everyone here pushes you to be the best you can be."
"If you don't show up for class, someone will call. If you stop flying, someone will check up on you," he added. "Unlike bigger schools, at Polk State, it really is like a family."
During his time at the College, Jimenez-Barreto has also served as a member of the Polk State Flight Team and served as its first officer in the 2018 National Intercollegiate Flying Association competition.
Once he achieves his bachelor's degree and completes his internship, Jimenez-Barreto plans to gain 1,500 flight hours with Ameriflight before returning to UPS with the aspiration to fly the Boeing 747. He also hopes to fly fighter jets for the U.S. Air Force and plans to apply with a reserve unit.
"All of these opportunities are possible because of Polk State, hard work and determination, and because I tried," he said.