Polk County Sheriff's Sgt.: "You Have to Have Your Education to Be Successful"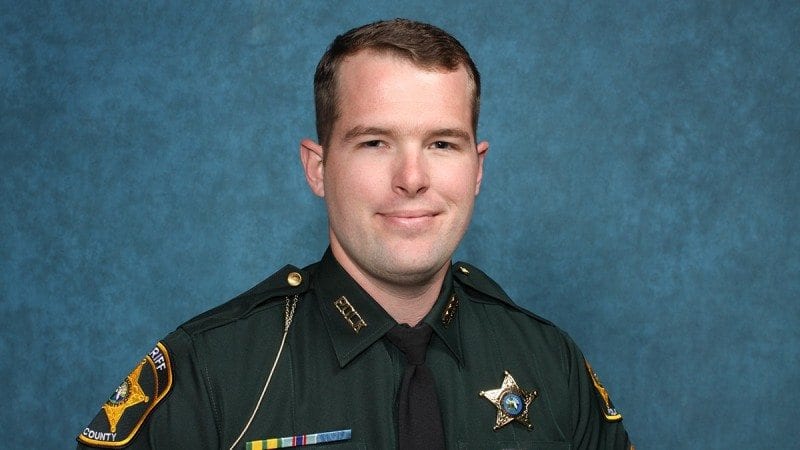 Newly promoted Polk County Sheriff's Sgt. Austin Milligan has some advice for law enforcement officers seeking a college degree:
"College," he said, "just has to feel right."
For Milligan, what "felt right" was Polk State College, and thanks to it, he's achieved the rank, and the responsibilities, he set his sights on years ago.
Milligan had briefly attended Polk State right out of high school. After a stint in Tennessee, he returned to Polk County in 2005 and joined the Polk County Sheriff's Office. At the time, law enforcement was just a job. He had friends on the force, so he figured he might as well join up, too.
"I thought it was temporary, something I would do maybe a year or two," he said.
As the days turned into weeks, Milligan began to see every shift as a chance to make a meaningful impact in his community. His temporary plans morphed into his life's work.
"I can't imagine doing anything else," he said.
In 2008, Milligan finished his Associate in Arts degree at Polk State. The following year, he was recognized as a Polk County Deputy Sheriff of the Year for his work in taking down a large-scale cocaine operation.
It was around that time that Milligan began assessing both his career and the expectations of the agency he serves. It was obvious to him that if he was going to climb the ranks, he needed his bachelor's degree.
"The importance of higher education is ingrained in our agency's culture," said Polk County Sheriff Grady Judd, a Polk State alumnus. "Education raises the level of professionalism in law enforcement. It makes our agency members better problem solvers and communicators. To put it simply, by educating and improving ourselves, we are able to deliver a higher standard of service to our communities."
Originally, Milligan enrolled in an online bachelor's degree program through a school based in Alabama.
"But something about it just didn't feel right to me," he said. "I looked up the address and found out it was in some cornfield in Alabama. It just didn't feel like a real school to me."
For something as important as the education that would, he hoped, lead to promotions and more income for his growing family — Milligan recently celebrated the birth of his third child — he wanted to attend a place that felt "real" and "right." The answer, he decided, was to return to Polk State.
"It felt local, and it felt like home," he said. "It's regionally accredited, and I felt like I could trust the education it would give to me."
Milligan completed his online Bachelor of Science in Criminal Justice in late 2014, and was promoted to sergeant just weeks later. Now, he supervises eight other officers who work as a crime suppression team in Northeast Polk County.
The team responds to areas where crime is on the rise. Using crime statistics, they are able to target neighborhoods, even particular streets.
"We go in, we question residents, we make arrests," Milligan said. "The goal is to find whoever is committing the crimes, put them in jail, and then move on to the next area that needs help."
For Milligan, the work is highly personal. Whether his team is investigating a string of petty thefts or armed robberies, he is always mentally putting himself in the shoes of the victims.
"If it were me, I would want to know that there is someone out there looking for the person who did it and working to put them in jail. I would want to know that someone is working to make sure it doesn't happen again," he said.
Law enforcement officers, Milligan has come to realize, are better equipped to work for the victims when they have college degrees.
"You have to have your education to advance and to be successful," he said. "It's for your own good. It makes you, and your career, better."
In addition to online associate's and bachelor's degrees in Criminal Justice, Polk State Public Safety includes degrees and training in Emergency Medical Services and Fire Science Technology, and the CALEA with Excellence-accredited Polk State Kenneth C. Thompson Institute of Public Safety.
Polk State College's history is rich with stories of alumni who have gone on to make impacts, whether in the classrooms and laboratories of prestigious universities, the rough and tumble of commerce, or the halls of political power. Over the years, thousands of Polk State graduates have leveraged their education and experiences at Polk to transform their own lives and the lives of others. This transformation is the essence of what it means to "be Polk." Whether in big ways or small ways, Polk State alumni embrace the challenge of living lives that matter. News@polk regularly profiles these alumni. Their story is the story of Polk. They are The Pride of Polk.