Polk Alumna Named Sportswoman of the Year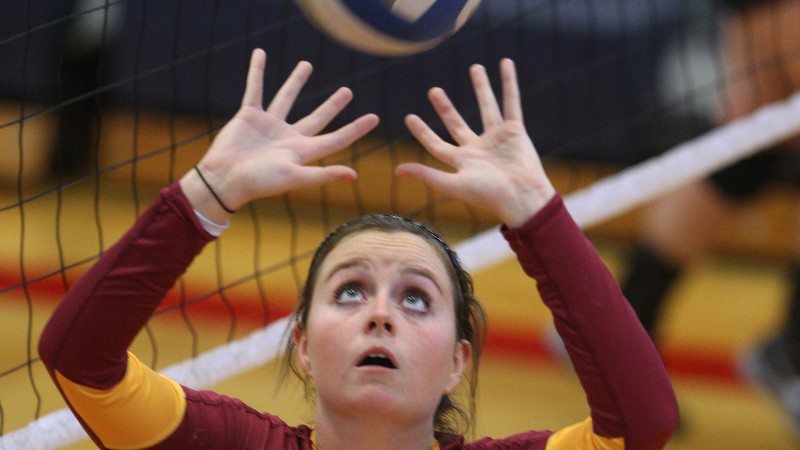 Polk State Chain of Lakes Collegiate High School valedictorian Ali Mann, 18, has added another credential to her name — Sportswoman of the Year.
The St. John Fisher College (Rochester, N.Y.) volleyball player earned the prestigious honor in a sport she had given up after high school.
Mann, who is a junior academically thanks to the Associate of Arts degree she earned from Polk State College in May, downplayed the honor.
"I'm really honored to have received this award and to play the sport that I love," Mann said.
It was an honor she didn't expect.
Mann, the daughter of Capt. Bill Mann, director of Polk State's Kenneth C. Thompson Institute of Public Safety, and Tracy, a financial analyst at the College, began playing volleyball as a little girl.
She played at Winter Haven High School for four years while attending Polk State Chain of Lakes Collegiate High School.
But eventually, she lost her passion for the game. Four years of turmoil at Winter Haven High had turned her off, and the four-year team captain and setter had given up the game.
However, thanks to a thoughtful email from a club coach, she not only returned to the court, she earned one of its highest honors at St. Johns Fisher College.
Mann was recommended to St. John Fisher coach Kelly Greapentrog by Tim Edfors, Mann's AaWamb club coach.
The email turned out to be a blessing for Greapentrog and Mann.
"It was like Christmas day," said Greapentrog of Mann joining the Cardinals. "(Edfors) thought Ali was a player who could help us out."
Like a setter assisting a hitter, the email assisted both Mann and Greapentrog.
It gave Mann back her joy and handed Greapentrog an unexpected player she thought so highly of that she nominated her for St. John Fisher's Sportswoman of the Year.
The honor is born out of an initiative through the Empire 8 Conference, which St. John Fisher belongs to, that emphasizes "competing with honor and integrity as an essential component of a student-athlete's experience in conjunction with an institution's educational mission. Honorees have distinguished themselves and consistently exhibited the critical traits as outstanding sportsmen and sportswomen."
It is unusual for a freshman to be nominated, according to Greapentrog.
"It typically goes to an upperclassman," Greapentrog said of the honor. "Ali was our floor captain and did a really great job at that. She made some honor calls."
Honor calls are when a player calls a foul on herself during a match, possibly admitting she touched a ball when an official signals she did not.  
"I stress to our team to play with honor and integrity and Ali displayed that throughout the season," continued Greapentrog.
"Ali was constantly working on what she was trying to do. She is incredibly coachable and very easy to work with. She earned it."
Mann began playing volleyball in fifth grade at St. Joseph's Catholic School in Winter Haven. She also played club ball with AaWamb, Orlando Volleyball Academy and Impact.
She was a four-year captain at Winter Haven, where the program saw several head coaches come and go over her four years. Other problems also plagued the program.
But Mann hung on, earning honors like Breakthrough Player and Most Valuable Offensive Player, while also trying to hold the team together through the challenges. The team reached the regionals three times.
However, volleyball didn't fit into her college plans.
Since her family often visited relatives in New York, Mann decided to go to school in the area, choosing St. John Fisher for its pharmacy program.
"I had it in my mind I was done playing," she said. "I wanted to focus on school."
After receiving the email speaking highly of Mann from Edfors during the summer, Greapentrog asked Mann if she wanted to participate in the pre-season activities with the NCAA Division III program.
Mann decided to give it a try.
"I was worried at first," she said. "But, I got the hang of it."
Greapentrog had a positive feeling about Mann. Usually she gives players she did not recruit a one-day tryout. But, she invited Mann to attend the pre-season workouts.
Mann not only made it through the first round of cuts, she continued to impress Greapentrog through the pre-season training. 
Although the Cardinals had a sophomore setter who started for them in her freshman year, Mann's height (5'9") and maturity were in her favor.
 "We thought we had something," Greapentrog said. "We wanted to give her something as long as possible to see what she could do. When she got here, she fit in right away. She got along instantly with a lot of upperclassmen. She carries herself like a junior or a senior. She's smart and she makes good decisions."
Mann not only made the team, she started in a lineup that used two setters, dishing out 390 assists.
"She's got beautiful hands," said Greapentrog. "She's very quick. She makes setting look like it's the easiest thing in the world and she's very deceptive. She also connects well without middles (blockers). She is probably also one of our best servers this year."
Despite the fact that coaches are wary of taking on players who are studying in the demanding pharmacy field, such was not the case with Mann.
"It's very difficult to do athletics and pharmacy," Greapentrog said. "She has the temperament. She's competitive, but very calm. We love having her."
Mann is just as pleased.
"I think it was a pretty good first season," she said. "It was fun. I made a good choice and made a lot of good friends. I'm glad I was able to play and go to school at the same time."