OTA tips on overcoming anxiety, reaching student success during midterms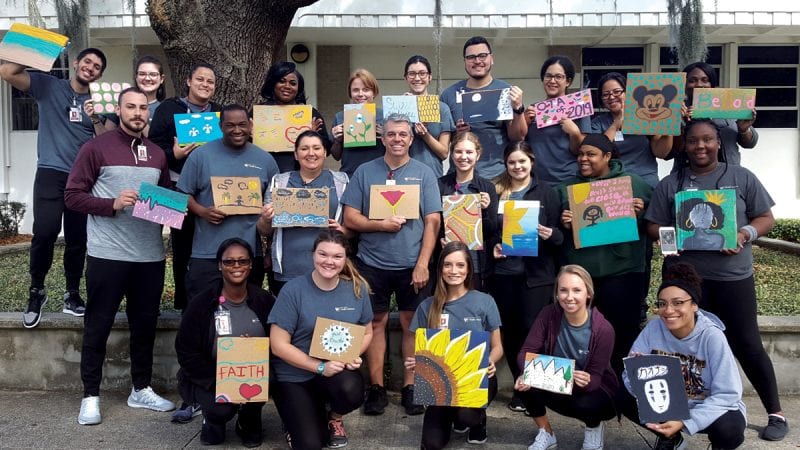 The middle of the college semester is usually synonymous with increasing stress.  With projects and papers due, research, exams, and homework, it is challenging to find time for anything else.
Did you know that research has linked stress and anxiety with decreases in learning? Yes, it's true. Managing stress and controlling anxiety is pivotal for student success. So, try something new, even if it's a 20-minute break from studying.
Senior Occupational Therapy Assistant (OTA) students brainstormed ways to manage stress and anxiety after engaging in a stress-relieving painting activity led by OTA Coordinator of Clinical Education Annette Bullard.
As student Laura Beth Baker put it, "The painting break completely changed the atmosphere of the classroom – you could feel everyone's stress and anxiety decrease as we were in between testing."
Bullard explained that painting, which is more of a right-brain task, allows the left side of the brain, where studying, memorizing, and evaluating take place, to revitalize.
Students used the "perceived stress scale" to report their stress and anxiety, which decreased more than one level during the activity. Additionally, their resting pulses decreased, on average, 10 beats per minute in just 30 minutes.
"It's important for students to take a step back, analyze their mental health, and take measures that will decrease their stress and anxiety," Bullard said. "These steps are critical for student success."
"You can tell from the expressions and attitudes of students across campus during midterm time that they're a little more stressed than usual, and we want to offer our expertise in OTA to help our peers during what can be a really difficult time."

— Laura Shuping
OTA senior
OTA students were so relieved, and inspired, by the class activity that they innovated ways to bring this important message to their peers at Polk State through a newsletter available on the Winter Haven Campus in the Science and Math Building (WSC), Fine Arts Theatre (WFA), and Student Services/Financial Aid Building (WAD), and on the Lakeland Campus where Student Services and Financial Aid are housed in the Technology Building (LTB) and in the Teaching Learning Computing Center (TLCC).
They also have an eye-catching display on the bulletin board outside of their classrooms in the Winter Haven Campus Rehabilitative Health Building (WRH) titled "No Brain, No Flowers." Rain clouds include stressors such as poor sleep schedules, procrastination, and securities and doubts, while a watering can sprinkles in some ways to manage and overcome those stressors such as exercise, reading a book, coloring a picture, and spending time outside.
"We want to promote a healthy mental state to all students," student Lara Shuping said. "You can tell from the expressions and attitudes of students across campus during midterm time that they're a little more stressed than usual, and we want to offer our expertise in OTA to help our peers during what can be a really difficult time."
OTA's tips for decreasing stress and anxiety include:
Engaging in relaxing activities such as painting a picture, practicing yoga, or going for a walk.
Participating in student life including a club or organization, student event, athletics game, or perks around midterm time like free coffee in the library.
Maintaining healthy habits including balanced nutrition, plenty of sleep, and regular exercise, such as routinely visiting Polk State's well-equipped weight rooms or walking tracks.
Taking a simple brain break while studying. Five-minute brain breaks allow students to focus and retain information better.
Utilizing college resources such as the BayCare Student Assistance Program, which offers confidential assistance with managing anxiety and stress 24-7 by calling 1.800.878.5470 or on the Winter Haven and Lakeland campuses from 1 p.m. to 5 p.m. Wednesdays in WLR 237A and from 9 a.m. to 1 p.m. Tuesdays in LTB 1274.
Student Wendy Sims added that students shouldn't be embarrassed to seek out and take advantage of the resources available to them.
"The help you need is available right here at Polk State, and you shouldn't be scared to ask for it," Sims said. "These tools can help you prioritize and balance your life, which will lead to a healthier future."
Her peers echoed similar sentiments, encouraging students to take a step back from their studies to dedicate time for self-care. After all, that's what OTA is all about, student Scot Pollard explained.
"Mental health awareness is important in treating any patient for anything," he said. "In OTA, we are aware of what someone's mental state can do to them physically, and our job is to treat them holistically so that they can return to their occupations and their life."
The students have different goals on how they will use OTA in the field, but lessons on managing stress and anxiety have been critical for each one.
Bryan Adkins, for example, aspires to work with wounded veterans.
"They are probably more mentally and physically stressed than any other group," he said. "Polk State's OTA Program has really opened my eyes to the effects mental health can have, and it has given me the knowledge I need to be more effective in my career."
Baker plans to work with Alzheimer's patients.
"The biggest takeaway for me is that mental health and memory care is important because it can affect us in the future," she said.
And Shuping wants to go into pediatrics.
"Managing stress and anxiety in children is especially important because it can have affects on them later in life," she said. "It's also important in stressful situations involving children such as foster care."
As the senior OTA students prepare to jump into their careers, they want to leave a lasting impression on Polk State by helping their peers during stressful times like midterms.
"We hope students take the time to step back, relax, and give their minds a break," Baker said. "It really works."