Oldest, Youngest Graduates at Upcoming Ceremony Separated by 65 Years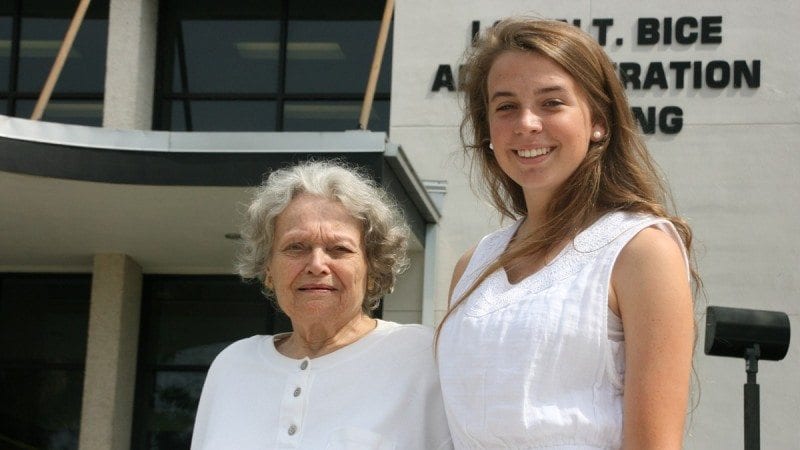 The oldest and youngest graduates at Polk State's upcoming spring commencement are separated by 65 years.
Put another way, one of Shirley Keller's earliest childhood memories is the day the Japanese attacked Pearl Harbor. Hannah Long, meanwhile, has fuzzy recollections of playing at her aunt's house while planes flew into the World Trade Center on Sept. 11, 2001.
Different as they are, their lives will intersect next Thursday, when they both cross the stage to receive their first college degrees.
"It's a neat story," said Keller, 82, a resident of Winter Haven who is receiving her Associate in Arts degree. "Hannah is just a little older than my great-grandchildren."
Keller, a self-described "daily learner," had done coursework at the University of Vermont and Northwestern University in the 1950s and 1960s, but never made it to graduation.
"It was mostly because I had children," she said. "I've been busy with life."
She enrolled at Polk State College a few semesters ago after encouraging two of her grandchildren to pursue their own college degrees. She and her grandson even made a $100 bet on who would be the first to graduate.
The grandson won the money, but Keller was determined to finish what she'd stared.
Despite being decades older than most her classmates, Keller found the transition to the classroom easy. Her enthusiasm for learning trumped any nervousness she might have felt.
"I'm constantly learning things. I read everything I can. I have magazines and newspapers stacked up so high that I'll never get through them all," Keller said.
"I feel like if I'm not learning something every day, then I've failed."
Keller, who's held a wide assortment of jobs, from administrative assistant to computer lab manager for an elementary school, doesn't plan on stopping her education at her associate's degree. She intends to enroll in Polk's Bachelor of Applied Science program in the fall — and keep on going.
"How old will I be when I get my doctorate," she said.
As for Long, at 17, she has a huge head start on her goal of becoming an elementary school teacher. She was home-schooled most of her childhood, and was such a good student that she completed the seventh and eighth grades in the same year.
When her junior year of high school came around, she enrolled at Polk State Chain of Lakes Collegiate High School. There, she's completed all the requirements for her high school diploma and enough credits for her Associate in Arts degree.
She's heading to Clearwater Christian College in the fall to earn her bachelor's degree in Elementary Education.
"I'm going to be done with college early, too," said Long, also a Winter Haven resident. "I'll still be really young when I graduate with my bachelor's and start my career."
Keller and Long met for the first time about a week before graduation, where they discussed the many differences between them.
Keller didn't have a TV until she got married. Long grew up with two in her house.
For Keller's generation, proper dress for women included girdles and pantyhose. Long grew up in a time when it was trendy to wear short shorts and bangle bracelets.
Keller considers her wireless home phone a godsend. Long has had a cell phone since she was 14.
Yet, despite all that's different, they have one thing in common: they both have found just what they needed here at Polk.
Polk's spring commencement will take place at 6:30 p.m. on May 8 at The Lakeland Center.