Mosaic Employees Graduate from Apprenticeship Program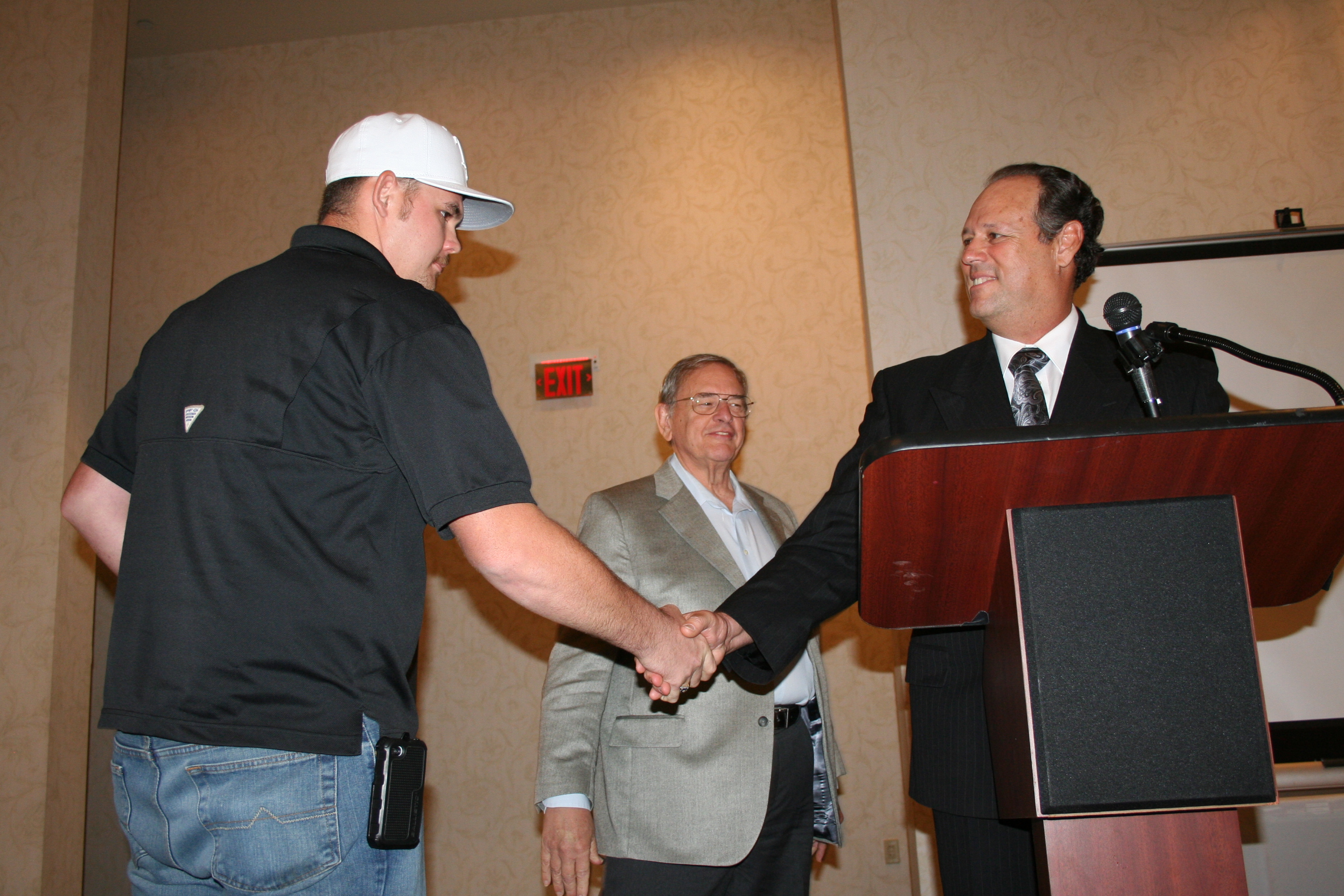 For 26 employees of The Mosaic Company, Friday marked a new beginning in their careers.
The employees graduated from Polk State Corporate College's Mosaic Apprenticeship program, a two-year combination of classroom studies and on-the-job training that equips them with advanced skills in demand at Mosaic.
Mosaic is a Fortune 500 company that mines phosphate and manufactures fertilizer and feed for livestock; it is headquartered in Minnesota and has operations in Polk County.
"I can't tell you how important it is that you've taken this step in your work life and education," said Bo Davis, senior vice president of phosphate operations, during a graduation luncheon Friday afternoon at The Palmetto Club in Lithia.
Davis added that highly trained employees such as those graduating on Friday are key to operating and maintaining Mosaic's current facilities, as well as mines that may come on line in the future.
The Mosaic program began in late 2008 after the company approached Polk State Corporate College with a dilemma: It did not have enough highly skilled workers in line to fill available positions, and the problem only stood to worsen.
Working together, the College and Mosaic created an accelerated apprenticeship program — it is two years shorter than other programs of its kind — to quickly begin filling the company's needs. As of Friday, five classes of apprentices have graduated from the program; two more classes just began their studies.
Of the 26 graduates on Friday, 18 completed training to become Millwright/Mechanics, and eight trained to become Electrical, Instrumentation and Automation Technicians, earning state and national certifications along the way.
With their apprenticeships completed, the employees stand to earn between $26 and $29 an hour, said Rick Johnson, training specialist at Mosaic; at 40 hours a week, their salary range would be between $54,000 and $60,000.
Garry Talley has worked for Mosaic for 16 years and was previously an assistant plant operator. He completed the apprenticeship program to become an EIA technician — and he's excited for the opportunities his future now holds.
"It's an opportunity to advance," Talley said. "Before, I just operated the plant, now I can diagnose problems and make repairs."
Apprenticeship completers earn 31 credit hours that can be applied to Polk State's associate degree in Engineering Technology — which Josh Kelley can't wait to earn.
Kelley, 22, a resident of Lakeland, is taking two classes at a time — working around his job at Mosaic — and hopes to graduate next summer.
"Hopefully that will help me move up in the company," he said.
Polk State Corporate College Director Rob Clancey said on Friday that no matter how far they choose to take their education, the graduates have already established themselves as among Mosaic's — and the manufacturing industry's — best.
He cited a recent National Association of Manufacturers study that showed American manufacturing companies can't fill as many as 600,000 positions because of a lack of skilled laborers — laborers such as those graduating on Friday.
"You are an elite group," he said.
Dawn Griffin, coordinator of the Polk State Corporate College Advanced Manufacturing Institute, agreed.
"You are prepared to be the best of the best," she said.
Polk State Corporate College was established in 2002 and is located at Polk State's Airside Center in Lakeland. Each year it trains nearly 12,000 members of the Polk County workforce, equipping them with certifications and updated skills in fields as diverse as insurance and advanced manufacturing.