More than 500 New Freshmen Attend Polk State Lakeland Convocation, Speaker Encourages Hard Work, Campus Involvement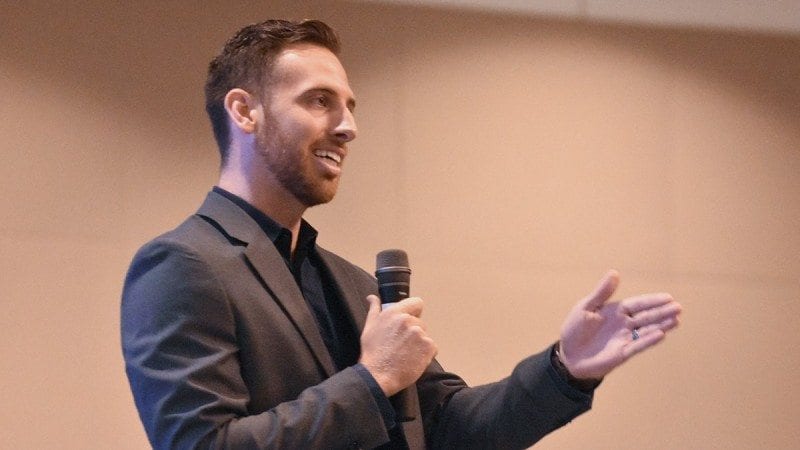 More than 500 new freshmen attended Polk State Lakeland's inaugural First Flight Convocation on Friday, where they were encouraged to work hard in the classroom, get involved on campus, pursue their passions, and make every day count toward their goals.
President Eileen Holden began the event by welcoming the students gathered in the LTB auditorium — and others watching via live video feed — and assuring them that they have the College's full support.
"Polk State College is 100 percent committed to helping you achieve your goals and finish what you started," she said.
"Think about what you want to accomplish. Think about your timeline. Then go for it."
Following Holden to the stage was Tim Moore, an alumnus of Polk State's sister school, Pasco-Hernando State, who founded Diamond View Studios, a video production company with three locations across Florida that does work for clients such as Disney, Purina and Overstock.com.
Before he founded Diamond View, and long before the company was making $5 million in annual sales, Moore said he was a complacent college student who lacked direction and discipline.
"I was waking up late every morning, cheating on my homework, and partying the night away," he said.
"I was a lazy, cheating scumbag."
A counselor at Pasco-Hernando helped Moore see that he was headed for a dead end unless he made positive changes in his life.
"The next semester, I woke up at 6 a.m. every morning just to see the sun rise," he said.
Moore also got involved on campus, acquiring leadership and public speaking skills while serving as Student Government Association president. His grades improved. He began making professional contacts and doing free video production work  to expand his network.
"That was really the beginning of my business," Moore said.
When he graduated in 2007, the country was in the throes of recession, and Moore found that the only way to succeed was to work even harder.
"I was working 70 to 80 hours a week. It was sundown to sun up, just working on my come-up," he said.
The students attending convocation, Moore said, must be prepared to work for whatever they hope to achieve.
"The dream is free, but the hustle is sold separately. That's what you're going to do here — hustle," Moore told the assembled freshmen.
Moore added that if students think opportunity is going to come knocking just because they get a degree, they're wrong.
"You've got to get a hammer and you have to build the door. Opportunity is not waiting for you. You have to work for it," he said.
Aside from hard work, the other key to success, he said, is a positive attitude.
"I have realized that success is just going from one failure to another without losing the enthusiasm to try again," he said.
Students at the Lakeland event also heard from Polk State Lakeland Provost Steve Hull and Polk State Lakeland Student Government Association President Chris Ly, both of whom welcomed and encouraged the new freshmen.
After the convocation ceremony, students broke out into SOAR (Student Orientation for Academic Readiness) sessions intended to help them develop better communication skills and understand the differences between high school and college.
The day before the Lakeland event, Polk State Winter Haven hosted a First Flight Convocation featuring Winter Haven City Manager Deric Feacher.
Polk State began First Flight Convocation in 2014 to help new freshmen transition to college life. Last year, the event took place at the Winter Haven campus only. This year, it was expanded to both campuses to serve more students. Combined, approximately 1,000 students attended the convocations this year.
In addition, the Lakeland event was streamed live via polk.edu. Students who were unable to attend may watch it here: https://www.polk.edu/online-polk-state/first-flight-student-convocation/.