Moon landing anniversary brings Polk State Lake Wales tutors together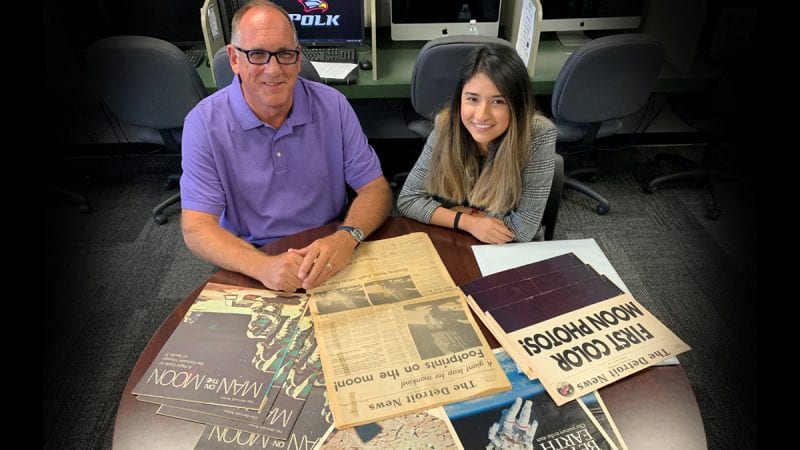 Fifty years ago today, Apollo 11 made its historic landing on the moon and astronaut Neil Armstrong famously declared "one small step for man, one giant leap for mankind."
It was something 23-year-old Diana Ortiz had only read about in textbooks from the time she was in elementary school to a Lake Wales High School's International Baccalaureate student dual enrolled at Polk State College, where she ultimately achieved her Associate in Arts degree in August 2018.
Her IB exit essay focused on the 20th-century space race and, now a University of Central Florida political science major, Ortiz's fascination with space travel hasn't fizzled. In fact, she's currently enrolled in a military space policy course, which caught the attention of her colleague at the Polk State JD Alexander Center's Teaching Learning Computing Center (TLCC).
"Not a lot of people are geeked about the militarization of space," Teaching Lab Assistant John Gilboe said. "It's important for folks like me to pass on history, and that's why I felt compelled to share some artifacts with Diana from the days following the moon landing."
They gathered at the Polk State JD Alexander Center TLCC 50 years to the day Apollo 11 blasted off on its mission to the moon.
Despite 40 years between them, Gilboe and Ortiz reveled over issues of his hometown paper The Detroit News from July 21, 1969, with the big, bold headline "Footprints on the moon!"
"I'm almost afraid to touch it," Ortiz said.
Gilboe was a 13-year-old paperboy when the moon landing took place.
"I realized that I was witnessing a truly historic event and decided that I needed to keep a copy of the newspaper I delivered that day," he recalled.
He gifted Ortiz with the souvenir edition of The Detroit News published August 5, 1969, donning the first colored photos of the moon, and Man on the Moon: A Flight Guide to the Fantastic Voyage of Apollo II also published by The Detroit News that year.
Gilboe worked as a paperboy until he was 17 to finance college. He achieved a degree from Michigan State University in education and enjoyed a career teaching English and social studies before retiring to Lakeland and joining the Polk State JD Alexander's TLCC team.
"I've come to know some extraordinary people," Gilboe said of his first few months with the College. "One of them is Diana. She is the face of America – of the 'new generation' our country relies upon to move America forward."

She is on a prelaw track and aspires to work in immigration law.
Gilboe added that her combined interests in math, science, history, and geopolitics reflect many of the academic areas in which Polk State students find exceptional learning opportunities and support.
"I'm glad there is such a strong support system in place for students here at Polk State," Ortiz said. "I was able to receive a more personalized education and was given the foundation I needed to help me academically as well as financially."
Now Ortiz is dedicated to assisting students like her as a mathematics and Spanish tutor, with Gilboe by her side.
"We're here to share our knowledge, skills, and abilities with the students," Gilboe said. "It's special when we are able to also share what we are passionate about with one another, and I am glad to pass this little piece of history on to someone who appreciates it."