Migrant Worker Turned Polk State Graduate: "I Knew I was Going to Be Someone One Day"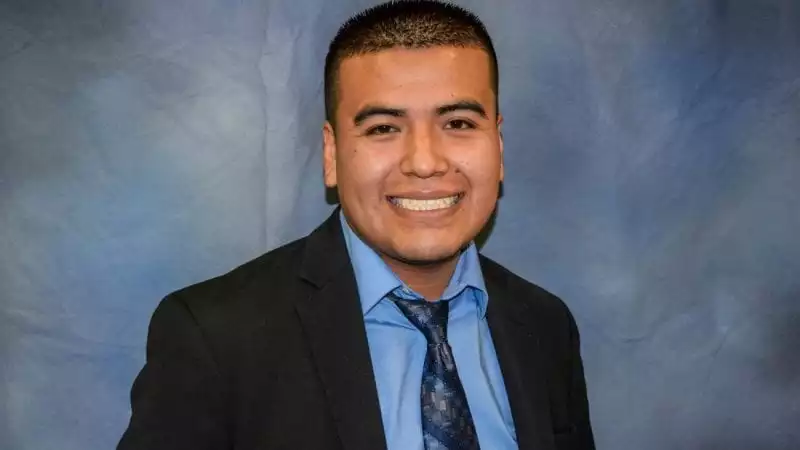 There were days when a 6-year-old Leonel Navarrete, new to the U.S. and surrounded by English-speaking classmates, felt lonely.
There were days when a teenage Navarrete, having worked all day picking or planting, was so sore he could barely move.
There were days when a 21-year-old Navarrete, clean and working in an air-conditioned retail store while his mother toiled in the sun to pick strawberries, felt guilty.
Through all those days, it was the thought that one day he would graduate from college that sustained Navarrete. This Thursday, that day will finally come, when he graduates from Polk State with his Associate in Arts degree.
"I knew I was going to be someone one day," said Navarrete, now 22.
Navarrete's journey to Polk State's commencement stage began in 2001, when he left his native Olinala, Mexico, to join his mother, Demetria, who had immigrated to South Florida a few years earlier, determined to give her boy a better life even if it meant she would work in the harshest of conditions.
The culture shock was immediate and at times difficult.
"I was envisioning New York City," said Navarrete. "Everyone talked about 'the North' being this big land of opportunity. But I was in a trailer in Clewiston, Fla. It was definitely different than what I expected."
As he grew up, Navarrete acclimated to America, but often with the sense he was living two lives. He went to school, learned to speak English, came home and did his homework every afternoon. But by the time he was 11, he was spending his summers in the fields with his mother.
They would begin in South Florida, picking strawberries, tomatoes, bell peppers, and blueberries. As the season wore on, they followed the crops up the Eastern Seaboard. Georgia then North Carolina. New Jersey then Michigan. Then back to Florida to start all over again.
Navarrete is sparing with the details of his life as a migrant farmworker, but what he does share helps to paint a picture of just how difficult a life it is.
In North Carolina, he and his mother lived in a trailer that was "literally falling apart." In New Jersey, dozens of workers were housed in a single large room, their only privacy achieved by hanging sheets around their cots. Around noon every day in Florida, with the heat and humidity intensifying by the minute, he could "feel his skin burning." No matter where he was working, he would end the day in pain.
"Your back and legs hurt so much it's hard even to put socks on," he said. "The first day is the worst because your body isn't used to working like that."
Day after day, season after season, Demetria, who has no formal education, encouraged her son to pursue his own. She didn't understand his homework, and couldn't correct him if he got an answer wrong, but she insisted he study every day.
"She wanted me to get the education she never got," Navarrete said. "She would always say to me in Spanish, 'work hard.'"
Navarrete attended schools in Clewiston before he and Demetria moved to Polk County to be closer to family. Here, he completed eighth grade at Mulberry Middle School, and ninth and 10th grade at Mulberry High School. In his junior year, he transferred to Traviss Career Center to study in the school's electricity program because he was uncertain if he would be able to attend college and needed a way to make money.
As it happened, he received a scholarship to attend Polk State, and here he thrived around others serious about a getting an education too. After his Associate in Arts, Navarrete plans to stay at Polk State to receive his Bachelor of Science in Elementary Education. In a few years, he hopes to be teaching third or fourth grade, and encouraging students of all backgrounds to take their education as far as they possibly can.
Last month, Navarrete was invited to the National Association of State Directors of Migrant Education Annual Conference in San Diego, where he received the Frank C. Kazmierczak Memorial Scholarship, which is given to migrant students who are interested in teaching.
In his address to the 1,400 conference attendees, Navarrete described the days he spent in the fields, and his excitement over the day he's been looking forward to for so long: graduation.
"These past two years have been a success for me, and this coming May 5, I will be graduating from Polk State College with my Associate in Arts degree," he said in his speech. "It has been two years of intense work, but the hard work pays off. I will continue my education and receive my bachelor's degree in the next two years. This degree will help me settle down and establish roots, get a job with my own classroom and my very own students."
His education, he added during an interview Wednesday, will also help him buy a house for his mom so she can retire from the fields.
"That will be a very good day," he said.
Polk State College's 114th commencement ceremony will take place at 6:30 p.m. on May 5 at The Lakeland Center. A total of 1,084 graduates qualify to march in the ceremony. In addition to the Bachelor of Science in Aerospace Sciences, degrees to be awarded include the Bachelor of Applied Science in Supervision and Management, Bachelor of Science in Nursing, Bachelor of Science in Criminal Justice, Associate in Arts, Associate in Science, Associate in Applied Science, as well as a variety of workforce certificates.