Manufacturing Day: Polk State and local manufacturers lead national effort locally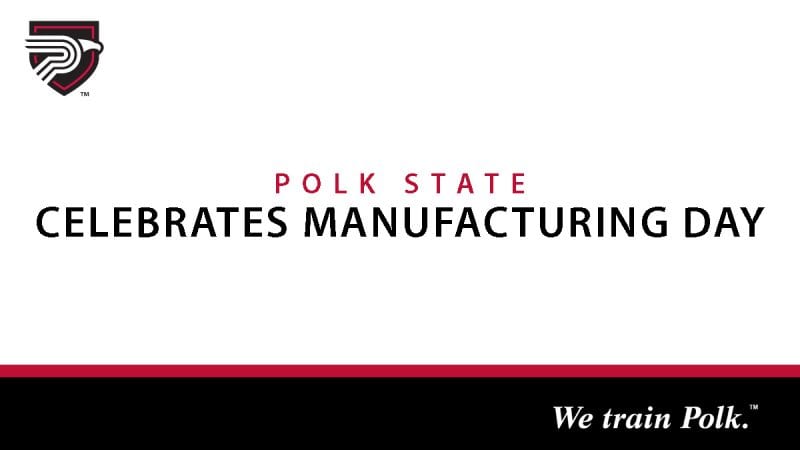 Polk State College, partnered with local manufacturers and high schools, will provide nearly 400 students with the opportunity to participate in Manufacturing Day with tours of leading manufacturers in Polk County. The national effort aims to address the industry's skilled labor shortage by introducing young students to possible careers while dispelling misconceptions about the field.
Manufacturing Day is traditionally held on the first Friday of October. Polk State will hold tours Thursday, October 3; Friday, October 4; and Monday, October 7, giving a diverse group of students from Polk County Public Schools, Lake Wales High School, and McKeel Academy behind-the-scenes looks at some of Polk County's leading manufacturers and employers.
Members of the media are invited to attend tours and are asked to contact Madison Fantozzi at mfantozzi@polk.edu by Friday, September 27, for the schedule of tours and to coordinate attendance.
Polk State's mission to train a skilled workforce in areas needed by local and regional employers aligns directly with this national effort. Polk State Corporate College provides approximately 12,000 students each year with high-tech degree programs and short-term training options that fulfill local workforce needs in industries including advanced manufacturing.
With nearly 385,000 manufacturing jobs in Florida, opportunities in the field are diverse and seemingly limitless with an average annual salary of $61,735, according to the Florida Department of Economic Opportunity.
Polk State has teamed up with the following manufacturers to offer this year's tours.
Coca-Cola in Auburndale
Createch Machine & Design in Lakeland
Dura-Cast Products, Inc. in Lake Wales
Givaudan Flavors Corp. in Lakeland
ITW Professional Automotive Products in Lakeland
Kegel in Lake Wales
MaxPak in Lakeland
Medline Industries, Inc. in Auburndale
Mid-State Machine and Fabricating Corp. in Lakeland
PCA-Packaging Corp. of America in Winter Haven
Pepperidge Farm in Lakeland
Rooms To Go in Lakeland
Saddle Creek Logistics in Lakeland
Sofidel America in Haines City
Students learn about the manufacturing industry, career opportunities, and the Polk State degree and workforce certification programs that can put them on paths to futures in the growing industry.
"Our goal is to spark interest in rewarding education and career opportunities that will benefit students as well as our local community," Polk State Career Pathways Coordinator Christopher Yannes said. "We are grateful to our industry and education partners for making Manufacturing Day tours successful events for Polk County's students each year."