Lake Wales Proclaims Polk State JD Alexander Center Recognition Day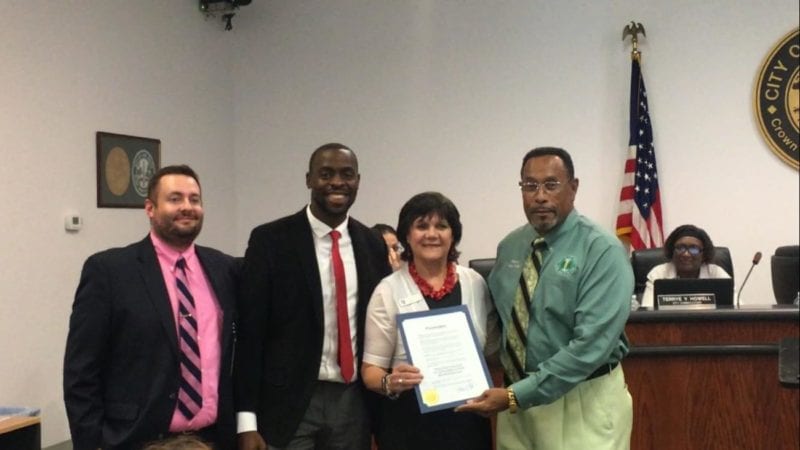 The City of Lake Wales recognized Polk State College, the Polk State JD Alexander Center, and Director Andy Oguntola for their commitment to the community during the Tuesday, Sept. 19, City Commission meeting.
Mayor Eugene Fultz proclaimed Sept. 7 as Polk State JD Alexander Center Recognition Day and thanked Oguntola for leading the College's Start Right Campaign, which distributed 500 backpacks with school supplies to Lake Wales families in July.
The Polk State JD Alexander Center, in coordination with the Polk State College Foundation, collected items including pencils, pens, notebooks, and paper, to put in the backpacks for students from kindergarten through college. Each backpack also included a note of encouragement written by a Polk State College student.
The idea was for Lake Wales students to start the school year off right on a positive note with the materials they need.
"Polk State College staff understands that these young people may be future students at Polk State College and that the staff's job is to make sure we invest in their education in every possible way and support the families who cannot afford school supplies," Fultz read from the proclamation. "Andy Oguntola… understands the benefits of partnerships and worked with the Lake Wales Area Chamber of Commerce, the City of Lake Wales, and other volunteers and organizations to make this event a success."
Oguntola accepted the proclamation with Winter Haven Provost Martha Santiago and Winter Haven Dean of Student Services Larry Pakowski.
Santiago thanked the City on behalf of Polk State College President Angela Garcia Falconetti.
"Thank you for your support and for everything you do for Polk State College," Santiago said. "We have graduated more than 430 students already from the JD Alexander Center, so we know how valuable the Center is for Lake Wales."
The Center opened in 2009 and is ideally situated to serve residents of southeast Polk, which is critical in a county where 38.8 percent of the population is classified as transportation disadvantaged.
During the 2017 legislative session, the Polk County community showed its collective support for education in Lake Wales by fighting to save funding for the Lake Wales campus.
After pleas from the community, House Bill 1A restored partial funds to Polk State, allowing the College to maintain a physical presence in southeast Polk County. The Polk State JD Alexander Center has expanded education and economic opportunities for the approximate 1,100 students who utilize the campus.
Enrollment has increased by 17 percent at the location since 2011.
"Six months ago, we were on the verge of closing – we didn't know what was going to take place," Oguntola said while accepting the proclamation. "This proclamation shows the importance of Polk State College and the City of Lake Wales, and how we as a community can work together to make sure students and families in the city are educated continuously with the help of Polk State College."