Incoming Freshmen: First Flight Convocation Will Take Place Aug. 20 and 21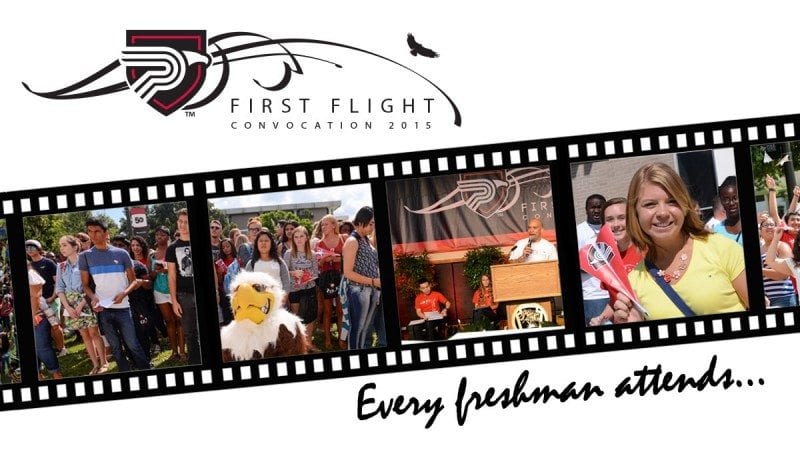 Polk State College will host First Flight Convocation events for incoming freshmen at both the Lakeland and Winter Haven campuses.
"Last year was the first year for student convocation, and while we conducted academic tours at both campuses, the main event took place in Winter Haven," said Vice President for Student Services Reggie Webb.
"This is a highly informative event, and it's important that as many freshmen as possible attend. To make it as easy as possible on our freshmen, we've added the second convocation event in Lakeland."
First Flight Convocation will take place at 10 a.m. on Aug. 20 at Polk State Winter Haven and at 10 a.m. on Aug. 21 at Polk State Lakeland.
The Winter Haven event will feature guest speaker Deric Feacher, city manager of Winter Haven and longtime Polk State supporter.
The Lakeland event will feature guest speaker Tim Moore, a Pasco-Hernando State College alumnus who founded Diamond View Studios, a video production company with three locations across Florida that does work for clients such as Disney, Purina and Overstock.com.
In addition, students at both events will hear from Polk State President Eileen Holden and the provosts and Student Government Association presidents of the respective campuses.
Following the speakers, students at the Winter Haven campus will take an academic tour, during which they will get to know numerous professors of various subject areas.
Meanwhile, in Lakeland, students will participate in SOAR (Student Orientation for Academic Readiness) sessions, including "U Talkin to Me: Communicating in a Professional World" and "Differences Between High School and College."
"At First Flight, students are going to make contacts — with faculty, staff and with each other. They're going to gain information and inspiration. They will leave better equipped to succeed in their first year of college. If you are an incoming freshman, we highly encourage you to attend," Webb said.
The Lakeland event will also be live-streamed at polk.edu for students who cannot attend in person.
For more information on First Flight, or for special accommodations, email salo@polk.edu.