Hurricane Heroes: Polk State employees go "above and beyond" to ensure campus safety during Hurricane Ian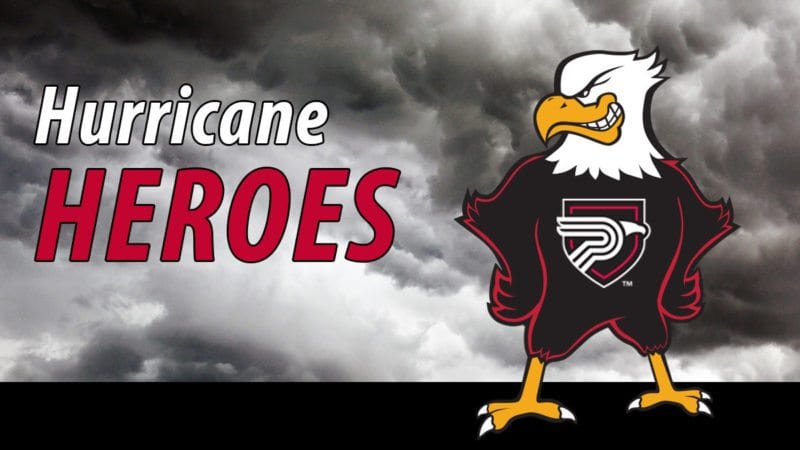 For Polk State College, the damage from Hurricane Ian was minimal, but the efforts to make sure the College was prepared beforehand and safe afterward were anything but.
The Emergency Management Team began meeting daily by phone on Sept. 25 ahead of the storm. Multiple departments played integral roles in the efforts, including Facilities, Custodial Services, Institutional Technology (IT), and Campus Security. The Polk County Sheriff's Office and contracted Evolve Landscaping were also instrumental.
"I am grateful for and proud of our Polk State team," Polk State President Angela Garcia Falconetti said. "The silver lining to a situation such as the natural disaster we just incurred is witnessing the collective commitment of our College family as well as the tenacity of our Hurricane Heroes who worked tirelessly to ensure the safety and security of our campuses and centers."
Before the Storm
Prior to the storm, staff members spent about a day and a half preparing the College's campuses. That included inspecting roofing, drainage, and pumps.
"It takes a team," said Jose Ramos, Maintenance Mechanic. "Many people worked together to make sure everything was running to the best of its ability. I'm really grateful for all of them."
Potential debris was removed, and sandbags were placed where they were needed. Campus Security oversees making sure facilities are secure.
"These men and women all go above and beyond," said Robbie Manikis, Manager for Planning and Construction. "The teamwork between these departments was phenomenal. They're out here taking care of things when no one else is around."
In total, more than 25 people were involved throughout the process. Other duties included bagging electronics to protect against water damage, shutting off electrical systems susceptible to power surges, and purchasing items needed for after the storm. The Facilities Department spent more than 300 hours on hurricane preparation and response.
"Things can get a little chaotic," Manikis said. "I think a lot of us are used to it by now."
After the Storm
Hurricane Ian's impact on the area lasted through the night on Wednesday, Sept. 28, and into the early morning hours on Thursday. Some employees arrived as early as Thursday in response to Hurricane Ian.
"Everyone pitched in and helped out with the cleanup," said Keith Smith, Interim Assistant Superintendent for Facilities. "We had folks come in without power at home and they were more than eager to help."
Vonta Hubbard, a supervisor for Custodial Services, was among the employees back on campus Thursday. Hubbard, along with another Custodial Services employee, spent about four hours walking the entire Winter Haven Campus, cleaning water from leaks and debris that flew under doorways. While walking through every room, Hubbard marked leaks, so that they could be easily seen by maintenance personnel.
"We all communicated and worked together," Ramos said. "What one person couldn't accomplish, another one would."
After checking the campus on Thursday, Hubbard and three other custodial employees returned on Sunday to make sure nothing was missed. Hubbard, who has worked at the College for about 12 years, said she takes pride in keeping facilities clean and safe.
"If we have debris or leaks, we have to be ready to get it up," she said. "I love doing it. I really feel privileged to be able to take charge."
Following Hurricane Ian, Polk State experienced just minor damage, including water leaks and intrusions and some damage to electrical systems.
"I'd give a lot of credit to the Sheriff's Office," Smith said. "They did the initial assessment after the storm. Our lawn care contractor Evolve Landscaping has been working very hard to get the debris picked up."
The All-Clear
Thanks to the hard work of many, all Polk State campuses were able to safely reopen on Monday.
"We had people who didn't have power and water at home doing whatever they needed to at our campuses," Manikis added. "There's always a lot of (hypothetical) fires to put out after a storm like this. Our goal is to get the campuses safe and operational as quickly and as safely as possible."
Some employees, including Smith and Ramos, worked at Clear Springs Advanced Technology Center (ATC) well into the evening Sunday. With a network out, the two assisted IT in helping get things back up and running.
"It's important to make sure everything is functional," Ramos said. "I take pride in all the work I do. I want everyone who comes into the buildings to take pride in it, too. It's like a home – you have to take care of it, so that it's safe for everyone who uses it."