Holiday Has New Meaning: Polk State Students Thank Service Members on Memorial Day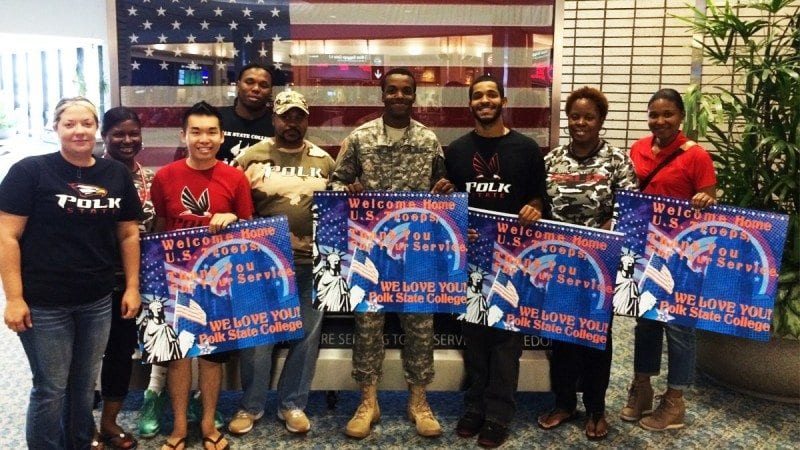 For many, the meaning of Memorial Day is no deeper than backyard barbecues and sales at the mall.
Not for members of Polk State Lakeland's Black Student Union — especially not after Monday.
While they could have been sleeping in or lounging at the beach, members of the club spent this Memorial Day holiday at Tampa International Airport, greeting traveling service members and thanking them for their sacrifices.
"They protect us and fight for our freedom," said Black Student Union President Deonte Washington, a Lakeland resident studying in the College's Bachelor of Applied Science in Supervision and Management program.
"We want to welcome them home, and show them that we support them."
Washington and a handful of other students arrived at the Tampa airport early Monday. They wore Polk State T-shirts and carried signs that read, "Welcome Home U.S. Troops … Thank you for your service … We Love You, Polk State College."
For several hours, they stationed themselves near the airport monorails, welcoming service members — easily identified by their fatigues — headed to or from their flights.
"I didn't want to be selfish. This is a holiday for those who serve our country. Last year, I was at a cookout. This year, I wanted to look for the real meaning behind Memorial Day," said Stephanie Benton, a Lake Wales resident and BAS student who also works at the College as a student services assistant.
"I hope they feel that we really do appreciate them and their hard work. All the long nights and time away from their families — it's not all in vain."
Accompanying the students were BSU adviser and assistant registrar Yulonda Bell, academic success counselor Kim Pearsall, and veterans academic advisor Byron Loyd.
Loyd, who spent 27 years in the Army, including deployments to Afghanistan and Iraq, has been on the other side of the students' community service project. He's walked through many airports, and had strangers spare a few moments to thank him, shake his hand, or just give him a smile.
And those moments made all the difference, he said.
"It showed me that someone cared. They put aside the other things they were doing to welcome me home," he said.
"Memorial Day is when we are supposed to remember those who have made the ultimate sacrifice. But for those who are still here, and still serving, their lives are still in jeopardy. We need to thank them."
The first service member Polk State students thanked on Monday was U.S. Marines 1st Sgt. Jason Sepeda.
"I think it's absolutely awesome what they're doing," said Sepeda, after shaking hands with the students outside the USO office at the airport.
"A lot of people lose touch with why we have Memorial Day. For them, it's just a day off work. That these students are here and they get it, it means a lot."
Black Student Union is one of more than 50 clubs and organizations offered through the College's SALO (Student Activities and Leadership Office).