The Guy In the Sky: Six Things You Didn't Know About Professor of Aerospace Sciences, Ryan Wallace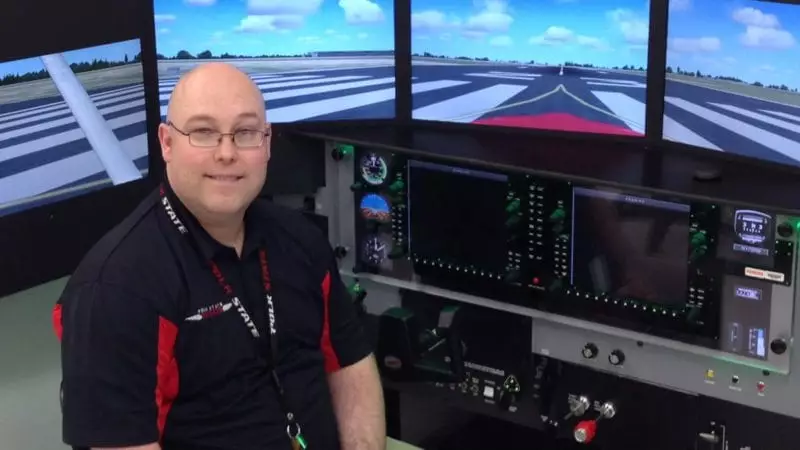 It's a bird! It's a plane! Almost…it's Ryan Wallace!
As a Professor of Aerospace Sciences in Polk State's Aerospace Program, Wallace prepares students in all facets of the aerospace industry. And with his impressive academic and professional credentials, he is the perfect mentor and advisor for students and the greater aerospace community.
Hailing from the great state of North Dakota, Wallace earned both his Bachelor of Science in Aeronautics and his Master of Science in Aviation from UND. In 2013, he earned a Doctorate in Applied Educational Studies with a specialization in Aviation and a graduate certificate in Aviation Security from Oklahoma State University.
His career has spanned both the public and private sector, having worked for organizations such as the United States Air Force, Boeing, and now, Polk State College.
Professor Wallace has been an integral part of the Polk State College Aerospace Program, launching several courses in aviation management, safety, and security, as well as courses on unmanned aircraft–a topic of particular expertise. He also serves as a mentor to students as they move toward entrance into the professional arena.
These are just a few of the better-known facts about Wallace, but there is much more to the man than just his impressive résumé. Here are just a few more facts about this guy in the sky.
He is an Air Force Veteran.
Wallace entered the Air Force directly after college and served for seven years. During his career, he amassed more than 1500 flight hours, flying to locations all over the world. He was deployed twice overseas, and served in the United Arab Emirates. Asked of his coolest missions, he lists providing air coverage for the President of the United States as one, where he was responsible for ensuring that air space was clear and safe during travel.
He is an active learner and researcher.
Wallace is passionate about data and research. He has been published twelve times in a series of academic journals and textbook chapters. His favorite topics are drone policy and research associated with unmanned aircraft. His academic and research prowess has garnered him positions as both the Editor of The International Journal of Professional Aviation Training and Testing Research and the Chair of the Unmanned Aircraft Systems Committee for the University Aviation Association, a national association for promoting and furthering aviation education as a collegiate academic discipline. "I love to share my passion for aviation and learning with my students," claims Wallace.
He lives in Florida, but his heart is in the Dakotas.
Wallace easily exclaims, "Once you are from North Dakota, you are always from North Dakota." Proud of his roots, Wallace still keeps the house cold year round, despite Florida's short winter days. This is his third year living in Florida, but he admits that part of him yearns for the serene landscape and unique tranquility of his home state. "While I don't miss shoveling snow or scraping ice off my car windshield, I do miss North Dakota!"
He has been teaching since he was in College.
Even before becoming a professor, Wallace worked as an emergency medical services instructor while he was a college student. In the military he served as an Instructor Air Battle Manager, where he taught new aircrew members to operate the systems aboard the E-3 AWACS aircraft.  At the Boeing Company, he taught Turkish Air Force members the systems and capabilities of the new E-7T aircraft. Before coming to Polk State, he taught as an Adjunct Professor at Embry-Riddle Aeronautical University.
He is a resume-writing aficionado.
Over the years, Wallace says he has learned the art of writing a great resume. Finding a job can be a challenge for many individuals entering the workforce. Wallace, who has applied his research skills across a broad spectrum of talents and interests, studied the art of professional communications and has been able to create winning professional resumes for himself and many others. Today, he uses this skillset to help his students write solid and successful resumes to ensure they make a great first impression for potential employers.
He is an avid computer gamer.
When he isn't flying across the sky, publishing research, or helping students soar, Wallace likes to play computer games. His games of choice: wilderness survival and aviation management games, of course!
Wallace is always happy to talk to current and prospective students about the Aerospace Program. His office is located at Polk State Airside East. He can also be reached at rwallace@polk.edu. 
Polk State Aerospace offers the Associate in Science in Professional Pilot Science, the Associate in Science in Aerospace Administration, the Associate in Science in Aviation Maintenance Administration, and the Bachelor of Science in Aerospace Sciences, which has concentrations in both Pilot Science and Administration. More information may be found at polk.edu/aerospace.