Guide to online tutoring at Polk State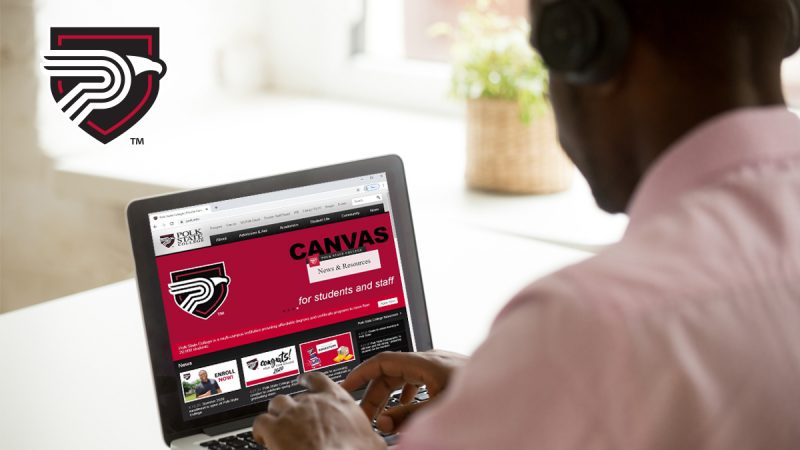 Polk State students have the advantage of online tutoring and support even though campuses and centers remain closed.
"When courses went fully online due to COVID-19, we wanted to make sure that students wouldn't miss out on the support they find in the Teaching Learning Computing Center (TLCC) tutors," said Kim DeRonda, Testing and Tutoring Manager and Librarian.
"We want to let students know that, while we can't connect in-person, we are still here to help in the online environment," she added.
"Our tutors are ready and waiting and can be easily accessed through links in each Canvas course. While we are still evolving these services, we look to continue to support students online through the summer term as well."
Students can make a direct connection to Polk State tutors from the Lakeland, Winter Haven, and JD Alexander Center TLCCs.
"We have created a Canvas course called TLCC Online Tutoring where students can drop off a paper for writing tutors, speak with tutors in real-time through Conferences, or leave quick questions on discussion boards," said Ryan Criss, TLCC Tutoring Services Coordinator.
Students do not need to make appointments to use these resources.
"They can ask questions via a discussion board, meet with a tutor virtually in real-time to work on a variety of subjects, or submit a paper for The Writing Studio tutors to review, as well as getting technical support for using various online tools," DeRonda explained.
Additionally, the College has partnered with Knack to provide an extra platform to meet with tutors.
Knack is a tutor-matching service where students can request help for a particular subject area. Some of the tutors offer support directly in the Knack site, while others will refer students to connect with them in the TLCC Online Tutoring Canvas platform, depending upon the nature of the request.
"Once a student asks for tutoring, a tutor responds to the request. From there, student and tutor set up a way to meet virtually through either Knack, Canvas, or other means like Zoom, and have a tutoring session," said DeRonda.
Smarthinking and The Writing Studio are also available for students through Canvas. Links to these services are on the left side of the page in any Canvas course.
Smarthinking offers  24/7 tutoring in a wide variety of subjects. Services include live, on-demand tutoring, online writing lab, tutorials, or submitting a question when instant feedback is not required. Students can use up to 10 hours of these services.
In The Writing Studio, students receive tutoring from the College's expert English faculty.
"We work with students to determine what they need to learn," said HD Childree, Professor of English. "Many professors refer their students for help with a particular element, such as avoiding run-on sentences or ensuring that a thesis matches a paper's support. Students receive instructional help that they can then apply to other academic areas."
The Writing Studio has a Canvas course shell that students can join for free.
Instructional modules provide instruction in grammar, writing, and documentation. According to Childree, the most popular element in the course is the Self Check for Grammar and Plagiarism. Students can submit an assignment and receive an automated report from TurnItIn regarding grammar and plagiarism.
"It's the same tool we can use in our classes, and students can get the generated report without our input," she said. "We've experienced tremendous growth this year, especially since we moved to fully online instruction."
For more information, contact the Teaching Learning Computing Center.