Graduating Polk State Student's Journey To Bachelor's Degree Was Filled With Obstacles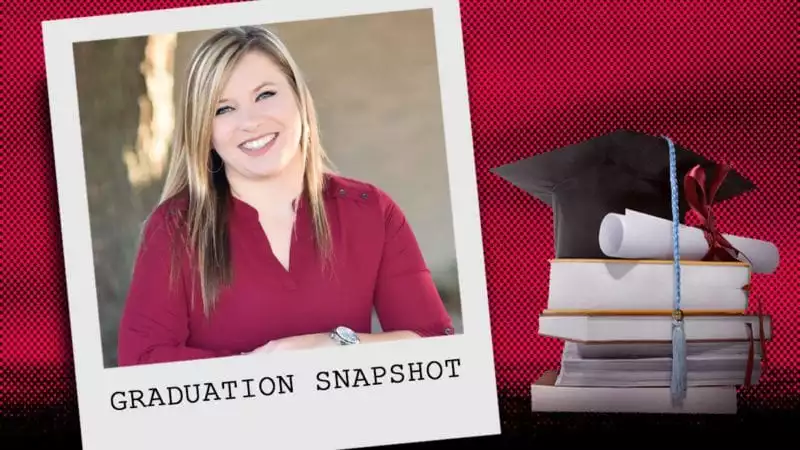 Brittany Hockman has faced many obstacles during her seven-year journey to a bachelor's degree, from a car crash that left her with a broken back and short-term memory loss, to an infection that almost left her blind in one eye.
But despite challenges, Hockman never quit, and even found the career path that's right for her along the way.
"Obstacles may have prolonged my journey, but they never made me give up," Hockman said. "They actually allowed me to find myself and get to where I am today."
The 2008 Lake Region High School graduate planned to start classes at Polk State College in the spring of 2009, but just days before, she was in a car crash that left her with a broken back and short-term memory loss.
Hockman's vehicle was hit by a driver who ran a red light.
"I don't remember what happened or where I was going," Hockman said. "I only started remembering bits and pieces after reading police reports."
She underwent extensive amounts of physical therapy for six months and worked with a psychologist to regain her memory function.
"I had to adjust – I felt like a different person," Hockman recalled.
But she never lost sight of her higher education goals. She enrolled at Polk State in the spring of 2010.
"Obstacles may have prolonged my journey, but they never made me give up."
"I jumped right into school," Hockman said. "I was excited to return to some sort of normalcy and get my education started."
She credits the College with providing the extra support she needed while she continued to recover from the car crash.
"I received assistance through the Teaching Learning Computing Center (TLCC), where I had access to tutoring and was granted additional time on tests," Hockman said, "and my professors were also very supportive by providing extra help and notes."
Hockman herself became a master note taker, which helped with her memory loss, she said.
And Hockman's mom became the "part of the brain I didn't have" by learning along with her daughter. Hockman recalls her mom constantly quizzing her on parts of the body for her anatomy class when she was taking Nursing prerequisites.
But then her grandmother became ill and went into hospice care. Hockman dropped her classes to spend time with her before she passed away.
When she returned to Polk State, Hockman no longer wanted to study Nursing because it reminded her of her grandmother's passing. Instead, she enrolled in some Criminal Justice classes.
"Then I began thinking that my grandmother would be disappointed in me for not following through with my original career goal," Hockman said.
She worked as a Certified Nursing Assistant at Lakeland Regional Health Medical Center for two years in the cardiac unit, where she realized for a second time that nursing was not for her.
"Working in the cardiac unit was very intense, especially emotionally," Hockman said. "It reminded me of what I went through when my grandmother passed away."
After leaving the hospital, she earned her Associate in Arts degree in December 2014.
Hockman started working at Lockheed Martin and decided she wanted to pursue a bachelor's degree in Supervision and Management with a concentration in Business Administration in hopes of moving up the corporate ladder.
She had her daughter, Chesnee, a year later, which gave her the final extra push to complete her degree.
But her education was delayed again when, in March 2017, she woke up with what seemed to be a normal eye infection. When she started to lose her vision, she rushed to the doctor's office, where she was told that if she had waited 12 more hours, she would have gone completely blind in her left eye.
She had suffered from a severe corneal ulcer.
Hockman dropped classes again while she recovered from the eye infection.
"It felt like one thing after the other kept happening," Hockman said, "but every time I was presented with an obstacle I thought, 'if I give up now, all of the work I've already put in would be diminished – it would be all for nothing.'"
She retook the classes she had dropped in the summer before enrolling in her final capstone course this semester. She will graduate with her degree on Dec. 14. The College's 117th commencement ceremony will be from 6:30 p.m. to 9:30 p.m. at the RP Funding Center, 701 W. Lime St. in Lakeland.
"I want to… let students who may experience similar obstacles I encountered know that if they keep pushing, they can achieve anything."
Hockman works in accounts payable at Lockheed Martin, and plans to apply for a job higher up in the company that requires a bachelor's degree, she said.
She has also thought about pursuing a master's degree, but for now, she wants to focus on her career and enjoy the accomplishments she has already achieved.
"It's been a long seven years," Hockman said. "I want to take time to enjoy this achievement, my job, and my family, and let students who may experience similar obstacles I encountered know that if they keep pushing, they can achieve anything."