Graduating Polk State Healthcare Administration student achieves "recession-proof" career through education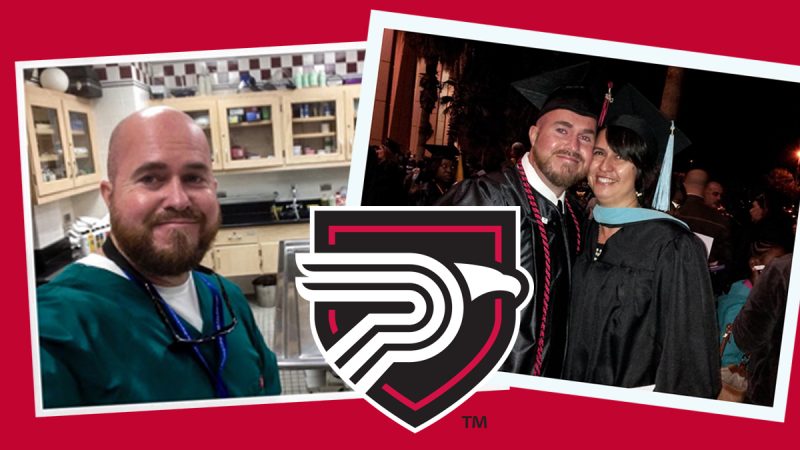 As a mortician and funeral director, Richard Hazelwood is used to the reactions when he shares his profession with others. Some express shock or dismay, while others are overcome with morbid curiosity.
Polk State News was intrigued when it learned a mortician was graduating with the College's Spring 2020 Class. What skills and knowledge obtained at Polk State could possibly assist an undertaker?
"With the goal to one day own my own funeral home business, I really enjoyed the business classes at Polk State. I learned different approaches to running a business, including the use of the regression model to mathematically calculate risks and make decisions," Hazelwood explained. "At Polk State, I have been given the tools to make the best business decisions."
Hazelwood is graduating with his Polk State Bachelor of Applied Science in Supervision and Management with a concentration in Healthcare Administration.
A 1988 graduate of Auburndale High School, Hazelwood enjoyed an almost 20-year career in sales when the 2007 recession shuttered his company's store. As he searched for another job, he felt "pigeonholed" by his age and level of experience.
"I never wanted to be laid off again," he said. "Finding a new career that was recession-proof became my goal."
When considering new career options and whether to pursue his higher education, Hazelwood remembered visiting Kentucky as a child for family reunions. There, a Hazelwood cemetery intrigued him and his brothers, who asked if there was a Hazelwood undertaker.
"At Polk State, I have been given the tools to make the best business decisions."
"My dad told us no, and I thought, 'I could be the undertaker,'" he recalled. "At 7 or 8 years old, that's what planted the seed."
He worked odd-end jobs and enrolled at Polk State in 2010 to start working on his Associate in Arts degree, which covered the prerequisites required for St. Petersburg College's Funeral Services and Mortuary Sciences Program – one of few programs of its kind in Florida.
There were more naysayers than supporters of his choice of career path, he admitted. There was also a level of uncertainty, due in part to the format of mortuary sciences programs that require a year and a half of coursework before students can move on to hands-on applications of what they learn.
"It's the last class where you actually get to embalm and find out if you can actually stomach the job," Hazelwood explained.
"But I believe that if you have a goal and commit, the rest will work itself out," he added. "Today, I pride myself on my ability to make loved ones look at peace for their families."
Hazelwood achieved his Associate in Arts in 2013 and his Associate in Sciences in Mortuary Sciences in 2016.
The Healthcare Administration concentration of Polk State's Bachelor of Science in Supervision and Management Program prepares students for planning, directing, coordinating, and supervising the delivery of different healthcare services, providing them with the skills they need to be successful in all areas of the healthcare environment, including technology, regulations, accreditation, innovation, finance, and insurance.
Hazelwood was motivated by his desire to one day own his own business and was encouraged by his wife, Debra Hazelwood, to enroll in the baccalaureate degree program. She holds a master's degree and serves as Coordinator of Applied Education for Polk State's Early Childhood Education and Management Program.
At Polk State, family members have the opportunity to hand their loved ones their diplomas at graduation. Debra presented Richard with his AA and planned to hand him his bachelor's degree in May, but the College had to cancel the ceremony due to the coronavirus public health emergency.
"I am happy with where I am and with the opportunities that have opened for me through Polk State and my education."
He is still holding out hope for a celebration in late August with his family in Hawaii.
Regardless, Hazelwood is celebrating the "light at the end of the tunnel" after 10 years of college.
"I'm ready to catch a second wind and to possibly pursue a master's degree as well as my goal to open my own business," he said. "But I am happy with where I am and with the opportunities that have opened for me through Polk State and my education."