Governor reappoints two Polk State District Board of Trustees members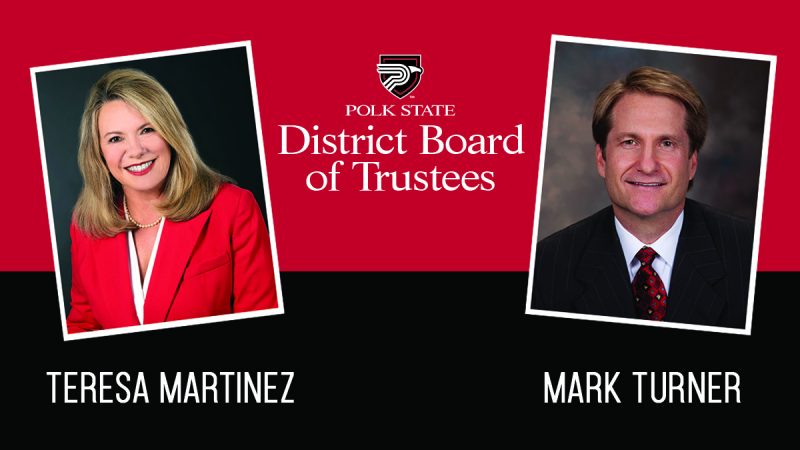 Governor Ron DeSantis announced on Friday the reappointments of Teresa V. Martinez and Mark Turner to the Polk State College District Board of Trustees.
They are continuing their service to the Board alongside Chair Cindy Hartley Ross, Vice-Chair Ashley Bell Barnett, and members Dan Dorrell and Greg Littleton.
"Polk State's District Board of Trustees continues to lead our College to success by serving as strong advocates for students, faculty, staff, and the greater Polk County community," Polk State President Angela Garcia Falconetti said. "I am grateful for the dedication of our Board members and the support of Governor DeSantis."
Martinez has served on the Board since 2009 and is a Distinguished Alumna of the College. She exiled from Cuba to the U.S. and shortly thereafter enrolled at what was then Polk Junior College. She is the founder and President of the Institute of Spanish Communications, Inc., serves as Publisher and Editor-in-Chief of ¡Viva Polk! magazine, and is the author of the bilingual book Success in Exile — Five Decades of Cuban Stories. She serves as a member of several boards, including as past president of the Hispanic Club of Lakeland/Hispanic Festival.
Turner has served on the Board since 2011 and is also a member of the Polk State Foundation Board of Directors. He is a Winter Haven native and practicing attorney with Straughn & Turner, P.A. He has served in leadership roles for several organizations, including as past president of the Polk State Foundation and the Greater Winter Haven Chamber of Commerce.
The Polk State District Board of Trustees is made up of members who are vested with oversight of all College policies, including matters related to programs, building, finances, and personnel.
Florida's governor appoints the members, who serve without compensation. All appointments are subject to Florida Senate confirmation.