For graduating BSN student, Polk State Nursing runs in the family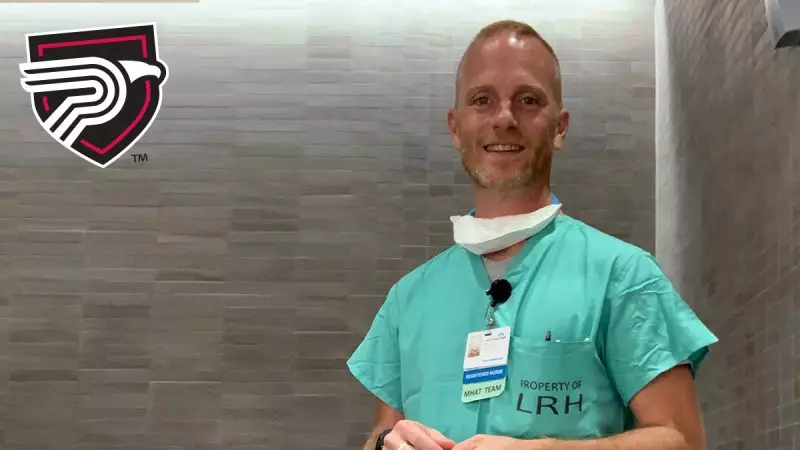 Mother, daughter, and son – all graduates of Polk State College, and all gainfully employed nurses saving lives, one patient at time.
Mom, Patricia Decker, a 2005 graduate of the Associate in Science in Nursing (ADN) Program; daughter, Ricci Decker, 2010 graduate of the ADN Program; and son, Rex Decker, 2005 graduate of the ADN Program and soon to be graduate of the Bachelor of Science in Nursing Program, are all enjoying success in the medical field with the education and training they received through Polk State Nursing.
The Decker family attributes their knowledge and skills to Polk State Nursing's quality and rigor. Graduates of the Polk State ADN Program consistently exceed the state and national averages on the National Council Licensure Examination – Registered Nurse (NCLEX-RN), with Polk State ADN graduates achieving a nearly 96 percent average pass rate in the third quarter of 2020, compared to the state's 68 percent and nation's 84 percent averages.
Decker was 27 when he started nursing school at Polk State.  He had been working in the hotel industry and switched to become a patient care assistant when the availability of jobs in the hospitality industry lessened.
"I was impressed with nurses because they were smart, realistic, and  paid attention to the patients and to the staff," he said. "They managed everyone successfully and were kind when doing so."
He made the decision to apply to Polk State's Nursing Program, but before he did, he asked his mom, Patricia, to apply with him. Patricia was a single mother in her 40s working as a waitress in a sports bar, and her options for employment were limited.

Together, mother and son enrolled in the program, moved in together, rode to school together, and studied together.
"At the beginning, students weren't sure if we were friends, a couple, or mother and son," Decker joked. "We studied together so much that the professors occasionally questioned why our answers on tests were so similar."
Upon completion of the program, both mother and son went to work at Lakeland Regional Health. When Decker's sister, Ricci, saw the success of her mom and brother, she was inspired to pursue her associates degree as well, and graduated from the Polk State Nursing Program in 2010.
"When I was a student in the associates program, I remember being one of the few males studying in the profession," Decker reflected. "Now it is typical for males to choose nursing as a profession."
He also remembers having an epiphany when he was a student at Polk State for the first time. It was his fourth semester, and it was the first week of school. A nursing professor showed a video in an early morning class, and Decker admits that he fell asleep.
"After class, the professor asked me to come to her office. Once there, she gave me some tough love, including asking me why I was in the program and if I was committed," he recalled. "After that, I realized that I was part of something bigger than me, and I needed to take this opportunity seriously."
"Polk State College made the process easy; I didn't feel like a number here like I did at some of the other bigger schools and the enrollment process was seamless."
"That is why I chose Polk State – the staff and professors treat people like people," he added.
That positive experience brought Decker back to Polk State a second time to earn his Bachelor of Science in Nursing.
When he decided to go back to school three years ago, Decker researched a variety of nursing programs.
"Polk State College made the process easy; I didn't feel like a number here like I did at some of the other bigger schools and the enrollment process was seamless," Decker explained.
Decker not only thanked Polk State faculty and staff; he also extended sincerest appreciation for his husband, William, for his support throughout his years of education.
As he reflected on his educational journey as he approaches graduation, Decker shared words of advice for Polk State's students.
"Be open-minded, take control of your own future, don't stand in the background, and take advantage of the experiences," he said. "You will be recognized because you did."
Polk State will recognize Decker and the College's fall 2020 graduates during a virtual graduation celebration on December 10 at 6:30 p.m. on www.polk.edu/academics/graduation and Polk State's Facebook, Instagram, and Twitter.