For Dorothy Dunlap, Polk State Means Family and Dreams Fulfilled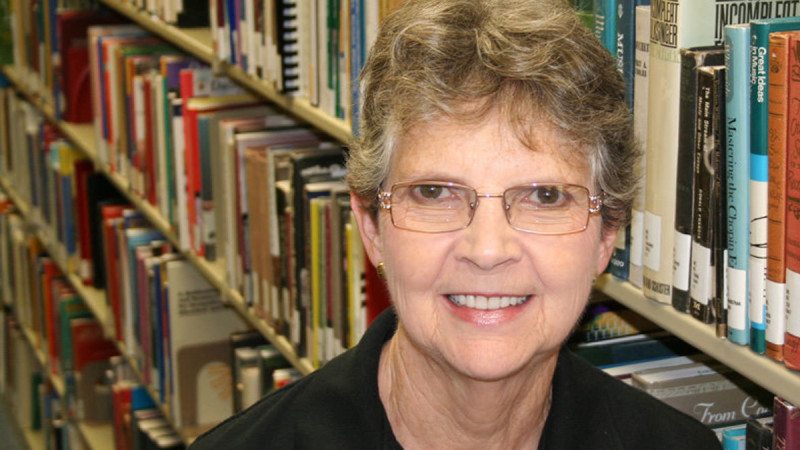 When she first visited Polk State College's Winter Haven campus more than 20 years ago, all Dorothy Dunlap wanted was a job in a library.
She didn't expect that she'd also find a home, a family, and a place that would allow her to achieve a goal she'd long ago been told not to bother pursuing.
For all these reasons, as she approaches retirement on Nov. 30, it will be difficult for her to say goodbye.
"What I'm taking with me is memories of all the people, good people, who have become my friends," she said.
Those friends — found throughout the College— are approaching her retirement with the same tug of sadness in their hearts.
"Dorothy has worked at Polk State for many years and her experiences and her desire for doing the very best job that she can will be irreplaceable — no one will ever be Dorothy," wrote Dunlap's supervisor, Winter Haven TLCC and Learning Resources Director Chris Fullerton, in a statement that Polk State President Eileen Holden read at the October District Board of Trustees meeting.
Dreams and Discouragement
Dunlap, a native of Pennsylvania, first fell in love with libraries in high school, as a member of the Library Club.
"I liked the environment of the library, the organization," she said.
She considered at the time going to college to study Library Science, but abandoned the idea after talking with two high school counselors.
"They told me I could never do that, that I could never go to college, because I stutter," said Dunlap, who added that intense therapy over the years has helped, but she still stutters when speaking in front of large groups.
Discouraged from her interest in college and a career in libraries, Dunlap graduated from high school and set to the business of life. She got married, had a daughter, divorced, worked a number of jobs to support her child — jeweler, factory worker, waitress — remarried and had another child.
"You get so involved in life. My idea of working in a library got pushed into the background," she said.
In the 1980s, 21 years after graduating high school, she found herself laid off from her work as a jeweler, with her interest in libraries still in the back of her mind. After so many years, she decided she had to try, and soon landed a job at Allegheny College in Meadville, Pa.
"I was very fortunate that the library director saw something in me. I started out part-time, typing book cards. But she saw something in me, that I was capable of doing more," Dunlap said.
Dunlap applied for the job of library acquisition assistant — the person who buys the books — and got it. Her career in libraries, one delayed by decades, was finally under way.
"(Working as a library acquisition assistant) was as close as I could get to my dream of becoming a librarian because I had it in the back of my mind that I could never go to college, that it wasn't even worth considering," she said.
Polk County-bound
Dunlap worked that job for nearly a decade, loving every minute of working behind the scenes to help readers and researchers.
In 1991, Dunlap left her position at Allegheny College, as well as family, friends and her personal history, to follow her husband to Polk County, where he had been offered a job with Rooms to Go; John Dunlap is still employed by Rooms to Go as a director of outside service.
"The doors opened up down here and the doors up there closed. It was meant to be," Dunlap said.
Jobs in libraries don't come open all that often, Dunlap said, so when she arrived in Polk County, she did a lot of pavement beating. She made it a point to personally visit what was then Polk Community College, getting her name and face out there in case an opportunity arose — and by 1992, one did.
"I was extremely fortunate that a part-time job opened up for a periodical assistant, the person who purchases and manages the magazines and newspapers. I had watched the person do that at Allegheny, and knew I never wanted to do that job. I didn't think I'd like it, it wasn't as exciting as purchasing books. But it was my chance to get my foot in the door," she said.
Dunlap was hired and within a year was promoted to full-time status.
A Degree, Finally
Her job at Polk was Dunlap's first introduction to community colleges, and their mission of providing quality, affordable higher education to anyone who seeks it.
Maybe, she figured, that mission even included her.
It did.
"I started taking classes, one or two at a time. By the end of 2000, I'd earned an Associate of Science degree. It felt great. I graduated with a 4.0 GPA," Dunlap said.
The story of how others told her not go to college, that she'd never make it, is one she's told time and again to student-workers in the library.
"I tell them, 'don't ever give up'," she said, adding that in recent years she's also been telling the story of her granddaughter, who's beaten many odds in pursuit of two bachelor's degrees that she's nearly completed. "Once you set your mind on something, you can make it happen."
A Legacy of Helping Others
About 10 years ago, Dunlap became an administrative assistant for Learning Resources on the Winter Haven campus, department that encompasses the library and the TLCC, Teaching, Learning Computing Center.
"This position gave me more opportunities to interact with people, instead of being at a desk, managing newspapers and periodicals," she said. "I come from an attitude of helping others. I want to serve people, whether it's my boss, my coworkers or whoever it is. If there's something I can do to help others achieve their goals, that is what I want to do."
Her interest in helping others also led Dunlap to take over coordination of First Days several years ago. Each semester at Polk State Winter Haven, tables are set up around campus during the first two days of classes. College employees —administrators, faculty members and others — take shifts at the tables, offering directions to new students, answering questions, and even handing out such necessities as pencils and pens.
First Days has become a unifying initiative on the campus, Dunlap said.
"It takes at least 50 volunteers from this campus to do First Days. Those people come from almost every area of the College. It's a wonderful time for employees to step out of their offices, meet the students and offer their support for students during that first, very trying week of class.
"First Days has benefitted the faculty, staff and administrators, too, because they spend time with other employees, getting to know them and learn about the jobs they do."
Executive Assistant Brenda Edwards said Dunlap has headed First Days with rare dedication.
"She goes above and beyond. She loves the students, and is really good at interacting with the students — she's like a mother hen. I can remember nights in January when she'd be out there drinking hot chocolate, trying to stay warm. But she'd stay right there because someone might need her," Edwards said.
As Dunlap's time at the College winds down, she is looking forward to getting to her list of "100 things she'd like to do," including pursuing her hobby of making quilts and taking part in an archaeological dig in her native Pennsylvania next summer.
Her coworkers, meanwhile, both in Polk State Winter Haven's Learning Resources Center — but also well beyond — are reflecting on the impact she's made here.
"Dorothy does everything! Yes, on paper, she is the administrative assistant to the Learning Resources area. For the Learning Resources area, this means she is an office manager, accountant, a safety manager, a den mother, a referee. She is the rememberer of all things, and probably psychic and, or clairvoyant because she amazingly takes care of things before most of us even know they will happen or are happening, or takes care of things despite the fact that we — OK, I — often forget to tell her about them. Yes, the biggest complaint we can register about Dorothy is that she's spoiled us," Fullerton wrote in her statement for the DBOT meeting.
TLCC Manager Gerry Hubbs agreed on the "spoiling" point. Dunlap has never missed an opportunity to help.
"She's a very caring person. She can sense when something's wrong and looks for ways to help. She's always been an ear for me. You'll never hear her say, 'No, I don't do that.' Whatever we need to do our jobs — or beyond — she's there to listen and to help," Hubbs said.
The example Dunlap has set has not been lost on Learning Resources Assistant Cori Endicott, who is six years into her career and knows she'll carry lessons from Dunlap as she goes forward.
"She's taught me about paying attention to detail — even if that means you keep three different lists and five copies of everything," she said.
Polk State President Eileen Holden also offered her thanks to Dunlap:
"It's incredible when you can look back on a career and have colleagues say such wonderful things about you, and say they really feel sorry for the person who replaces you because all they're going to hear is 'When Dorothy was here…' and 'What Dorothy used to do…' We thank you for all your years of dedicated service to this College."
Polk State maintains full-service academic libraries to serve students, staff and faculty at both the Winter Haven and Lakeland campuses. The libraries on both campuses provide professional reference and research assistance, information literacy instruction sessions, library tours, academically appropriate print and electronic resource collections, interlibrary loan services, circulation services, computer access and assistance, reserves resources, and Internet access. The Polk State Libraries also provide service to the Polk State Airside Center in South Lakeland and Polk State JD Alexander Center in Lake Wales.