Florida Teacher of Year Christie Bassett "Very Thankful" for Polk State College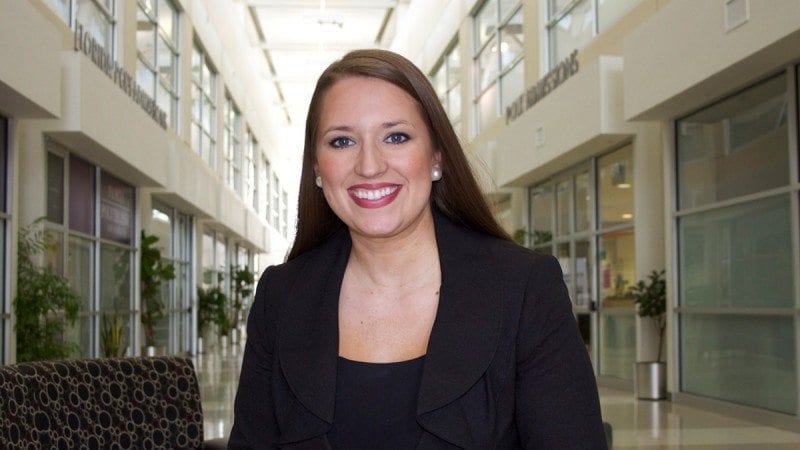 As Florida's 2015 Teacher of the Year, Christie Bassett is often asked about her own educational background, and each time the question is posed, she proudly shares her status as a Polk State alumna.
"I'm very thankful for my time at Polk State College," said Bassett, who was named Florida Teacher of the Year last June.
"Polk State gave me the opportunity to grow into a college student, the ability to figure out my learning style, and it helped me decide that I wanted to have a career as an educator."
Bassett first studied at Polk State as a dual-enrollment student while attending Kathleen High School. When she graduated from high school, the Polk County native transferred her credits to Florida Southern College.
Like students often do, though, Bassett found that she wasn't quite ready for the four-year college experience. She was struggling in math, and she wasn't entirely decided on a major.
After a year, Bassett decided to return to Polk State College.
"I was trying to find myself, to figure out what I wanted to do in life, and it was more affordable to do that here," Bassett said.
While at Polk, Bassett took two developmental math classes that gave her a whole new start in the subject. She also worked full-time as a preschool teacher and studied art, taking several courses under longtime professor Gary Baker.
She may have come to Polk State searching for direction, but by the time Bassett graduated, she knew exactly where she was going — and she was prepared to get there.
"For a while, I thought maybe I would be a graphic designer, but then I took an office job, and I missed being around children. That's when I realized education was where my heart was," said Bassett, 30.
Bassett received her Associate in Arts degree from Polk State in 2004, and then returned to Florida Southern College, where she earned her bachelor's degree in education. She's currently back at Florida Southern, pursuing her Master of Education in Collaborative Teaching and Learning.
Since winning Teacher of the Year, an honor that recognizes educators who are exceptionally skilled at teaching and inspiring their students, and who demonstrate outstanding commitment to professional development and school and community service, Bassett has been traveling the state, serving as a liaison for the Florida Department of Education. She also represents Florida at national Teacher of the Year events; in fact, she will soon head to Washington, D.C., where she will meet President Obama and Dennis Ross (F-Fla.), and attend a barbecue hosted by Second Lady Jill Biden.
In her many tasks as Florida's Teacher of the Year, Bassett's objective is to acquire — and share — knowledge that will help students in the state receive a better education.
"I facilitate professional development sessions and talk to business and community leaders about ways they can support our schools," she said. "What it all comes down to is providing the very best education we can to every student."
When her run as Teacher of the Year is over, Bassett will return to her position as an art teacher at Lakeland's Highlands Grove Elementary School, where she teaches as many as 750 students per week, leading them through lessons that intertwine texture and color with literacy and local history.
As an example of the learning that happens in her classroom, Bassett recalled a lesson in which she taught her students about strawberries, explaining the importance of the crop to the local economy. Students planted strawberries at the school, made artworks that captured each stage of the plants' development, and then picked the strawberries to donate to a food shelter.
Another example: Bassett teaches about the history of Lakeland, while also having her students study the architecture of downtown.
If you thought Bassett taught students how to finger-paint, or if you thought her class was a break from all the real work of the school day, you were very, very wrong.
Reflecting on she has learned as Teacher of the Year, Bassett said she has big plans for her classes in the future.
"When I get back to school, we are going to do even more discussions," Bassett said. "We are going to extend and amplify our discussions, and collaborate even more with one another. I want my students to learn to look at artworks and break them down as if they were reading a text."
In all that she does, and all that she achieves, however, Bassett still carries pieces of Polk State with her. This is where she decided to be an art teacher, and this is where the foundation for her teaching style was laid.
"I always remember Gary Baker saying that it was more important to do something the right way then doing something incorrectly just to finish it," Bassett said.
"Like, if you were weaving a basket, and there was a mistake several rows down, he would have you go back and fix it. It was a lot of work to pull out the rows, but in the end, you were glad that you did, rather than just hurry through it to get done. I try to instill that attention to detail in my own students. If they learn that in my classroom, they will use it in all aspects of their life."
Polk State College's history is rich with stories of alumni who have gone on to make impacts, whether in the classrooms and laboratories of prestigious universities, the rough and tumble of commerce, or the halls of political power. Over the years, thousands of Polk State graduates have leveraged their education and experiences at Polk to transform their own lives and the lives of others. This transformation is the essence of what it means to "be Polk." Whether in big ways or small ways, Polk State alumni embrace the challenge of living lives that matter. News@polk regularly profiles these alumni. Their story is the story of Polk. They are The Pride of Polk.