Florida College System Chancellor Takes Questions from Polk State Students, Encourages Them to Be Leaders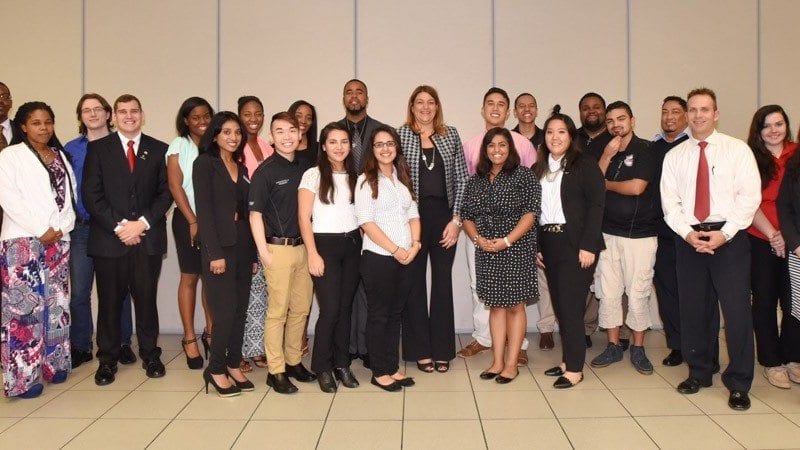 During her visit to Polk State College on Thursday, Florida College System (FCS) Chancellor Madeline Pumariega got a peek at the soon-to-open Center for Public Safety, toured the Winter Haven campus and met with administrators. But the highlight of her day, she said, was the time she spent with students.
"This reminds me of why I haven't seen my daughter in two days because I've been on the road. The decisions I will champion will change your lives," Pumariega said to the 22 students who gathered for a question-and-answer session at the Polk State Winter Haven Student Center.
The students' questions for Pumariega ranged from policy-level to personal.
As an example of the former, one student asked about efforts to ensure FCS institutions remain affordable higher-education options. Pumariega lauded Gov. Rick Scott for his commitment to affordability, and hailed the fact that an "average of $15,000 gets you through a bachelor's degree in the FCS."
"(Gov. Scott) recognizes that when we raise tuition, we leave out those who don't have the economic resources," she said.
Another student asked whether, in light of recent acts of violence on college campuses, Pumariega saw an opportunity for increased dialogue on mental health issues and treatments.
"When you look at these tragic situations, they have been committed by people who have become disengaged, who have lost all hope, and who have turned to violence," Pumariega said.
Pumariega said co-curricular activities and student-life opportunities are key tools in engaging students, giving them a sense of belonging, and helping them to understand one another.
"Prevention is the key to campus safety. More empathy and humanity will make us safer," she said.
Pumariega was also asked about her goals for the FCS.
"To make every student successful," whether they're seeking a bachelor's degree, associate's degree, or a workforce certificate, she answered. Relatedly, she said she would love to see the day when every FCS student is able to complete a paid internship in his or her field of interest.
On the personal side, another student asked Pumariega what she knows now that she wished she'd known when she was in college.
"Confidence," Pumariega said. "When you're going through college, you have no idea what the future is going to bring. Some of you know what you're going to major in already. Maybe you're going to study medicine and you can already see yourself down the hall of a hospital. That wasn't me. If I had known that everything I was doing was going to work out for me, I think I would have engaged more."
Pumariega also reflected on the influence basketball had on her while she was studying at Miami Dade College.
"I really think I'm here today because of basketball," she said. "I needed the structure, partly because I didn't believe I could be a successful college student."
Pumariega also extended a bit of advice to the assembled students:
"Don't wait for a title to lead," she said. "People will follow you because they believe in you, not because of a title."
Polk State Lakeland Student Government Association President Chris Ly said he appreciated Pumariega taking the time to answer students' questions and to share  the perspective she's gained along her rise in higher education.
"I feel very honored and privileged to have met her, and I feel encouraged to continue my own education," he said.
Pumariega concluded her visit to Polk State by serving as guest speaker during its 113th commencement ceremony at The Lakeland Center.
Pumariega began her chancellorship of the 28-institution Florida College System in August. Previously, she was president of the nonprofit organization Take Stock in Children. She also spent 20 years at Miami Dade College, ascending to the position of president of the Wolfson Campus.