Florida Chamber of Commerce Global Outreach Director: Education Is Key to Competing in International Economy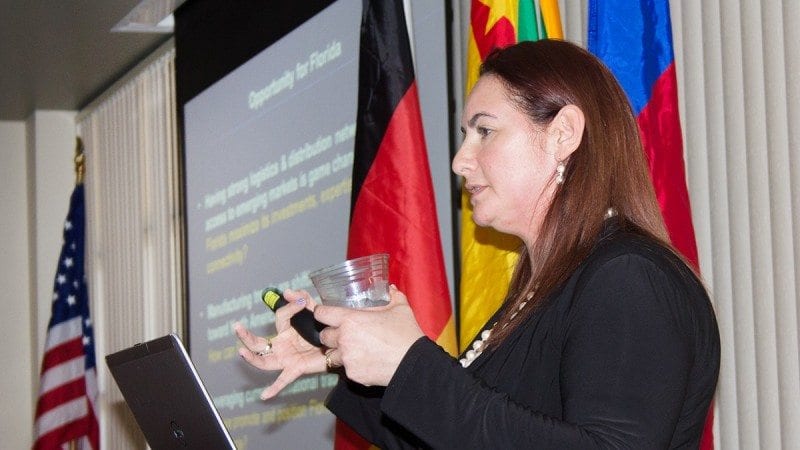 During a presentation at Polk State Lakeland on Friday afternoon, Florida Chamber of Commerce Global Outreach Director Alice Ancona expounded higher education's role in building a workforce equipped to compete in the state's increasingly international economy.
"Education is absolutely essential to growing Florida companies and attracting direct foreign investment," she said.
"Workforce is the currency of the future. It's the workforce that is going to help a company grow year over year over year."
Ancona said to be competitive in a global workforce, students need foreign language skills, relationship-building skills, and hands-on experience. She pointed to the College's Engineering Technology program, in which students augment their classroom learning with applied practice, as a prime example of a program that readies students for success.
Ancona added:
"International trade is an important part of Florida's growing economy. For Florida, international efforts directly equate to more jobs and economic opportunity. Partnering with industry, government and academia to promote the importance of international trade is a crucial step toward securing our state's global future."
Ancona's presentation fell in the middle of a daylong delve into international education for members of Polk State's business faculty. About 20 business instructors, as well as another 20 or so members of the College's business advisory boards, attended the International Business Institute for Faculty at the Lakeland campus.
Facilitating the event were Thomas Hult, director of Michigan State University's International Business Center, and Sarah Singer, assistant director.  Hult and Singer's agenda for the day included a look at where the nation's community colleges stand in their efforts to integrate globalization into coursework, as well as insight on how to develop international courses and international business programs.
Hult and Singer give their workshop at colleges across the nation. This was their first visit to Polk State College.
"The goal is for the attendees to learn how to infuse new international content into existing courses, as well as to help them develop new international courses," Singer said. "If you were teaching an Introduction to Business course or an Introduction to Marketing course, that would mean bringing in more international examples. For example, how does the supply chain work getting products from Europe to the upper Midwest? How does the marketing message look different in an international market?"
Business Professor Herb Nold said he particularly appreciated learning about resources the MSU International Business Center offers to support international education, including a database that helps students in researching foreign countries. Moreover, he said Friday's event helps to position Polk State as an internationally minded institution.
"This is a great opportunity to establish Polk State as a thought leader in the academic and business communities and to facilitate partnerships between the two. When we develop those relationships between business and academics, it creates a win-win for everyone, and the College is better able to produce people who can go into the workforce with the experience employers need," he said.
Polk State's Institute for Global Initiatives offers campus events, study-abroad opportunities, and international internships designed to help students live and work in a globally connected society.