Five Questions With Matt Lenihan: How Polk State and the College Alliance for Advanced Manufacturing Are Helping an Industry Evolve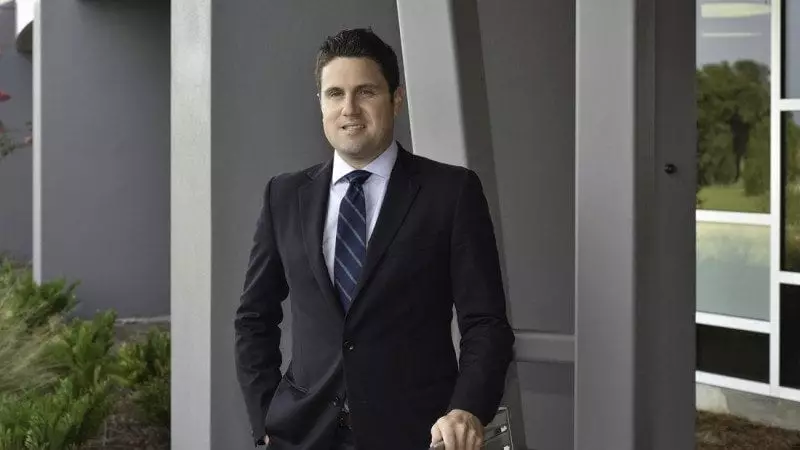 Matthew Lenihan is based at the Polk State Clear Springs Advanced Technology Center, but you won't find him there most days.
He's usually on the road, meeting with manufacturers across the Tampa Bay region to better understand their workforce needs and explaining how Polk State, along with its partners in the College Alliance for Advanced Manufacturing (CAAM), can help.
A coordinator with the Polk State Corporate College, Lenihan represents Polk State in CAAM. CAAM is a partnership between the manufacturing industry and five other public colleges. By combining the resources of its partners, CAAM is able to quickly develop training programs to fill gaps in the regional manufacturing workforce. CAAM's job is no small endeavor. As Lenihan readily shares, manufacturing is undergoing sweeping, technology-fueled changes, and the days of manufacturing employees simply being "widget makers" are gone forever.
Here, Lenihan gives us an introduction to CAAM and explains how it's helping to build the manufacturing workforce of tomorrow.
1. Give us the "elevator speech" for the College Alliance for Advanced Manufacturing (CAAM). What is it? What is it doing for our region? Why should we care about it?
Simply put, CAAM is designing and delivering innovative training programs to meet the manufacturing industry's need for more highly skilled employees. CAAM develops training curricula by drawing on the expertise of its partners both within the industry and within higher education. CAAM markets its programs to the regional manufacturing community and conducts the actual training either at the employer's site or, more often, on the campuses of partner colleges, including Daytona State College, Hillsborough Community College, Lake-Sumter State College, State College of Florida, St. Petersburg College, and of course, Polk State College. CAAM brings together the resources of all the partner colleges to deliver a unified response to regional manufacturing workforce needs.
2. What do the area's manufacturers most need in terms of training, and why?
In this highly competitive global economy, manufacturers must maintain and continuously develop a highly skilled workforce. This is made even more challenging by the fact that baby boomers are retiring in large numbers. Manufacturers are constantly working to recruit new employees. But it's not just a matter of getting bodies to fill vacancies. Manufacturers need employees who are not only willing to work, but who are also willing to advance their skills in specific areas, such as programming and operating computer-controlled tools, or maintaining and repairing sophisticated machinery. These skills require a strong understanding of both mechanics and electronics. That's why manufacturers are seeking CAAM's services; CAAM can deliver timely, relevant courses to fulfill the advanced training needs of employees and employers. Manufacturers need highly skilled workers now, and CAAM can make that happen.
What is the "before" and "after" like for organizations that employ CAAM's services? How are organizations better, more competitive, more efficient, etc., because of CAAM?
One of the best ways to achieve a competitive advantage is to have a highly trained and motivated workforce. A manufacturer's ability to align and adapt flexible resources when a market opportunity arrives can mean the difference between winning or losing existing customers, and attracting or missing out on new business. When manufacturing employees go through CAAM's programs, they gain new skills, as well as a newfound sense of confidence. They realize they have the ability to learn and advance within an organization. They become motivated to add to their skill sets and contribute to the bottom line. One of the employers CAAM recently delivered training to said it best: "cross-training our maintenance and production staff builds confidence, drives continuous improvement and enables them to implement solutions based on a holistic approach to our business."
4. You're on the ground floor of the manufacturing industry, which is undergoing sweeping, technology-based changes. Describe the state of manufacturing in Central Florida. What do you think the area's manufacturing industry will be like five, 10, 20 years down the road?
That's correct. Change is constant and is happening faster and faster because of technology, connectivity and so-called advanced innovation. Take robots. Today, most robots are limited to one task. Newer models will be less costly and will be adaptable for tasks we couldn't have envisioned just a few years ago, such as assembling clothing. Manufacturers have long outsourced clothing assembly to other countries, where workers making low wages do it by hand. The unskilled assembly jobs have exited the U.S., but now they are being replaced by jobs that require the ability to program, modify and repair the latest generation of robots. It's easy to see that, in the future, manufacturing firms will spend less time chasing low-cost labor and will instead make investments in advanced manufacturing assembly processes. These advanced manufacturing assembly processes are going to require advanced feedback and support systems to facility responsiveness to quality, design and the market, but also technically trained and empowered employees. The American manufacturing industry is tech-heavy, and only growing more so, and it needs employees who can keep up with the pace.
5. What role do you think CAAM will play in this evolving industry? What do you think its impact will be not only for individual organizations but also for the region as a whole?
CAAM is well positioned to fulfill the existing backlog of demand for higher skilled and fulfilled employees within the manufacturing sector. I recently saw a quote from the vice president of human-resources policy at the National Association of Manufacturers, indicating that the challenge will be to attract younger people to the manufacturing environment. But I believe that's already happening much faster than previously recognized. The contributions of social networking, connectivity and publicity of the innovation happening within manufacturing is helping tremendously. Three-dimensional printing is a good example of manufacturing's future. Jabil, a St. Petersburg-based high-volume electronics manufacturer with global reach, recently acquired Nypro, a U.S. firm well positioned to leverage 3-D printing. Even as the image of manufacturing and the makeup of its workforce evolve, however, sustained growth will rely on manufacturers having a source of highly skilled labor. At the same time, today's manufacturing workers want an enriching work environment and the ability to improve their skills. CAAM offers a solution to meet the needs of employees and employers alike.
For more information on CAAM, visit polk.edu/corporate-college/CAAM, or contact Lenihan at 863.669.2934 or mlenihan@polk.edu.